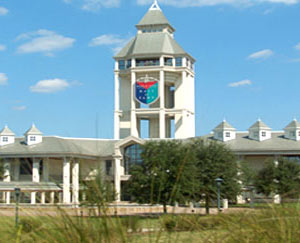 ST. AUGUSTINE, Fla. — The World Golf Hall of Fame doesn't get the media attention that baseball's Hall in Cooperstown, N.Y., or football's counterpart in Canton, Ohio, receive — and that's a shame. It's well worth a visit and some who were there in its first years will be quite impressed with what they'd see there now.I'm embarrassed to say that I never made the trek during my 40 years as a golf beat writer for the Chicago Sun-Times, but I did make it one of my first stops after that. The World Golf Hall of Fame, located in the World Golf Village resort on the outskirts of Jacksonville, Fla., is a must for the avid golfer and it'll have some appeal for non-golfers as well.
The Hall opened in 1998, and top stars in the game have been inducted into the Hall since then. Unlike Halls of Fame in other sports, though, this is not simply a shrine honoring the careers of playing greats like Gene Sarazen, Bobby Jones, Byron Nelson, Ben Hogan, Arnold Palmer, Jack Nicklaus and Tiger Woods. This one goes much deeper than that. No one star player, in fact, dominates the presentation.
If there was one individual that could be a focal point during my visit it was the legendary comedian Bob Hope. He was just a duffer — like most of us — but no one loved the game more than Hope did. His name has been on a PGA Tour tournament staged annually in California. That's his official connection to golf, but he used the sport in various ways as an entertainer and that brought world-wide attention to the game.
Because of that, the Hall established a special exhibit, "Bob Hope: Shanks for the Memories,'' in 2008. It amounted to a tribute to Hope's life, not just his affection for golf. The exhibit consisted of more than 400 items, 300 vintage photographs and two hours of videos that stir fond memories of Hope's career far beyond his forays into golf. The Hope exhibit wasn't designed to be at the Hall permanently, but it provides an insight into what you'll see if you go there — in addition to the golf basics. The Hall functions as a museum that tells the rich history of a sport enjoyed around the world.
The clubs and balls used the in the 1800's start the evolution in equipment that has gotten quite high tech in recent years. Unlike baseball, football, basketball and hockey, golf has roots far beyond North America and the Hall suggests similar games were played around the world as early as the 1500's.
The sport, as we know it today, dates to Scotland of the mid-1800's and the exhibits from that era include a life-size picture of Young Tom Morris — generally acknowledged as golf's first superstar who won all the big tournaments before dying at the extraordinary young age of 24.
No era is short-changed in your walk through the history of golf, but your tour isn't all about the old days. The participatory offerings are outstanding.
You can putt on an artificial green designed to copy the shaggy surfaces of the 1880's with wooden clubs and the balls used in that era. You can also putt on a replica of the slick, fast greens used in pro golf today. It's on one of those that the Hall has — through use of video and special effects — created a fun competition for visitors that simulates the atmosphere on the last hole of big tournaments.
Golf simulators are also available, allowing visitors to experience some of the world's most famous courses, and everything isn't just indoors. Move outside and there's a replica of the most popular hole in American golf — the par-3 17th at TPC Sawgrass with its island green. For $5 you can take a swing on that 132-yard hole and win a prize if you can keep your ball on the green. (I almost did).
If you want to stay outdoors there's an 18-hole putting course that'll hold your attention throughout and can be enjoyed by those who have never played on a regular course.
You'll need at least three hours to walk through the Hall and will probably want to allow more time than that. For my group of golf aficionados it was almost a full day's project.
Other options around the Hall are the diverse restaurants and other attractions of St. Augustine, America's oldest city, and the more modern day amenities in fast-growing Jacksonville.
If you want to play, World Golf Village has two 18-hole courses — The King and the Bear (designed by Palmer and Nicklaus) and the Slammer and Squire (designed by Sam Snead and Sarazen). It you want the ultimate test, TPC Sawgrass with fees in the $300 range depending on the time of your visit, isn't far away.