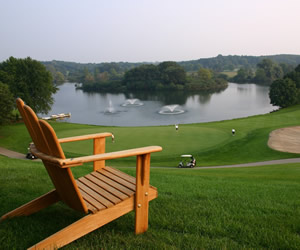 Not that there's anything wrong with golf courses in the Chicago area, but golf getaways can be fun, too. And, you don't have to go very far to find great getaway destinations. Our neighboring states of Wisconsin and Indiana have plenty of possibilities.
In my book no state in the country has come as far golf-wise as Wisconsin in the last few years. The Badger state has been an increasingly frequent stop for me. I've made three visits already this season, and one long-time favorite resort should be brought to your attention.
As for Indiana, I haven't found as many golf possibilities as I did in Wisconsin but the inspirational resurgence of French Lick is a tale well worth telling.
Wisconsin first.
Kohler is certainly the best-known destination for a golf getaway. The Andersen Consulting World Match Play Championship was held there three times (1995-97) at Blackwolf Run as was the 1998 U.S. Women's Open. Two PGA Championships have been staged at nearby Whistling Straits. in recent years. Those big tournaments brought a bright spotlight on The American Club and other lodging options in the Kohler area.
By no means is Kohler the only area to go for great golf in Wisconsin, however.
This year I enjoyed a delightful stay at Grand Geneva Resort & Spa in Lake Geneva. You might remember it as the old Playboy Club, a thriving spot beginning in the 1960s. Things have changed a lot since then, and especially since a multi-million dollar property-wide renovation was made last year.
One thing remains the same, though. The Brute, one of the resort's two 18-holers, is still one of my favorites anywhere. It can be too challenging if you use the wrong set of tees, but The Brute's expansive rolling greens can set the tone for a fun round for players of all levels.
Grand Geneva's other course was once called the Briarpatch. Originally designed jointly by Pete Dye and Jack Nicklaus (it's hard for me to imagine them working together) it was transformed in 1996 by Bob Cupp and has been called The Highlands since then. While The Brute remains my favorite, The Highlands is a good option with its scenic hills and lush foliage.
Not to be lost at Grand Geneva is its other entertainment options. This place has undergone considerable updating in recent years, but especially since the recent makeover. On a national level I can compare it to another of my recent ventures, to Innisbrook in Tampa, Fla. — the home of the PGA Tour's Transitions Championship on its Copperhead course.
But I digress. Grand Geneva's dining options at Ristorante Brissago, Cafe Grande and the Geneva ChopHouse and the more relaxed atmosphere of The Lobby Lounge provide good diversions after a round at one or both of the courses. There's also the spa (Carlos relieved my sciatica, for which I will be forever grateful), salon, fitness center and swimming pool opportunities after golf is done. Grand Geneva is, without question, a premier year-around resort. It offers skiing in the winter.
In recent year's I've also spent time at Geneva National and Northern Bay, which offer a different lodging-golf opportunities, and — whether you want to make a long-term stay or not — some courses that merit your attention based on my visits are The Bear at Pinehurst Farms in Sheboygan Falls, The Bog in Saukville, and Trappers Turn and Wild Rock in the Wisconsin Dells area. Peninsula, in Door County, and Brighton Dale LInks in Kenosha are good, more economical options. On the more upscale side, there's Erin Hills. It hosted last month's U.S. Amateur en route to landing the U.S. Open in 2017.
You might also want to be aware of what's coming at Blackwolf Run. Next year it'll host the U.S. Women's Open again, and that means special activity around this early Pete Dye design. As it stands now, part of the 1998 U.S. Women's Open layout was on the River 18-holer and the other on the Valley 18-holer.
Over the last two years portions of the two courses have been closed for a renovation that's now complete. David Albrecht, Blackwolf Run's head pro, and I played some of these great holes together, but the original 18-holer used 13 years ago will be put back in play for the biggest tournament in women's golf. There'll be plenty of excitement at Blackwolf leading up to this event and advance planning — perhaps for next spring — is advised.
Now for Indiana.
Two resorts that I've visited offer multiple courses — French Lick in the southern part of the state near Louisville and Swan Lake, in Plymouth. Swan Lake is much closer to Chicago and is the home of the U.S. Golf Academy as well as two 18-hole courses. A 2009 re-routing led to the creation of the Black course, which is more challenging, and the Silver, which encourages lower scoring.
French Lick, though, is something else. Combined with the neighboring town of West Baden, this is a resort community that has literally been reborn. The West Baden Springs Hotel is a charming throwback to another era, when the community provided a great escape for the well-to-do from all corners of the country.
Then came a long, economic decline and the area was known mainly as the home town of basketball legend Larry Bird. That sad period is long gone now, though. A casino is thriving in French Lick and golf has had a major revival with a renovation of the Donald Ross Course and the creation of the spectacular Pete Dye Course, which opened in June, 2009 and has hosted the 2010 PGA Professionals National Championship. It's the first course I've played that can be stretched past 8,000 yards — though I'm quick to add that I would never venture back to those tees that produce an 8,102-yard layout.
While the Dye course draws all the accolades, the Ross course is rich in history. In its heyday it was the site of the 1924 PGA Championship and both the LPGA and Senior PGA tours held events there before the layout was closed for a major renovation that was completed in 2008.
Starting next year both courses will be used when French Lick becomes the home of the Big Ten championships for both men and women — a major step forward for both the conference and the community.