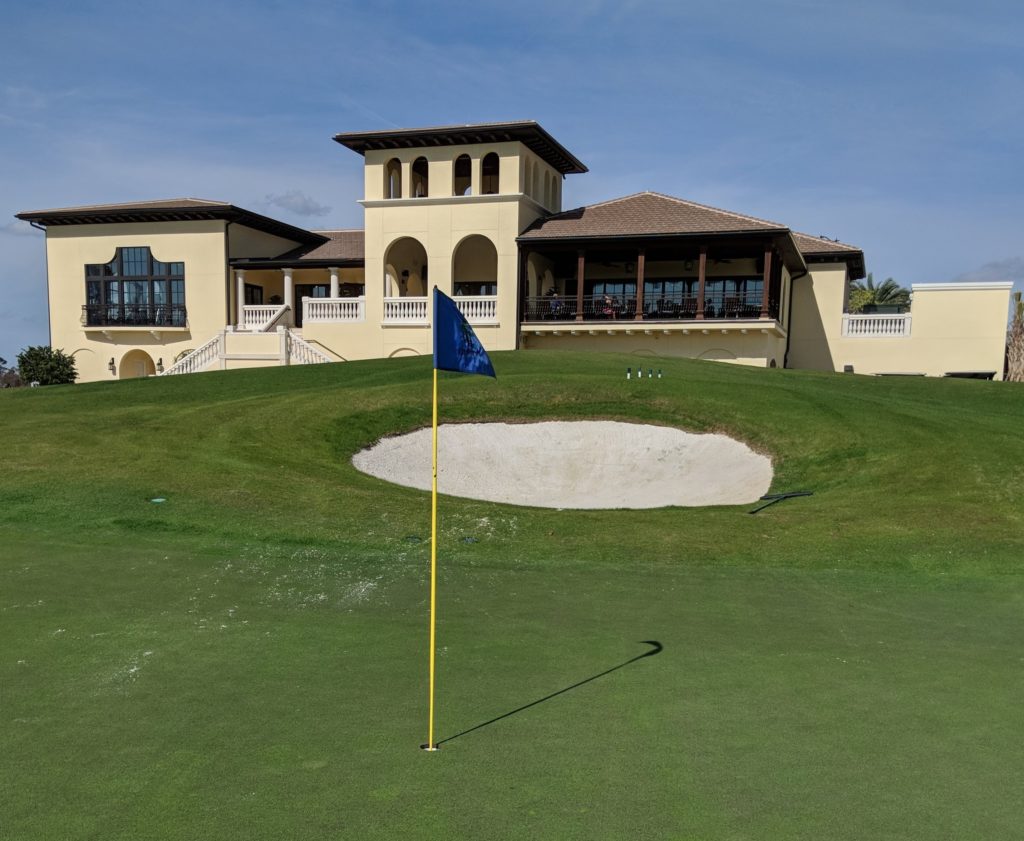 ORLANDO, FL. – Jack Nicklaus-designed golf courses are generally show pieces – the focal points for golf communities world-wide. That wasn't the case at one of Florida's biggest resorts, however.
Reunion Resort started with an 18-holer designed by Tom Watson, then added one designed by Arnold Palmer. The Nicklaus Course there opened eight years ago as the hardest of the trio of courses but – until last November – it didn't even have a clubhouse. The staff and visitors operated out of either a trailer or a tent.
That's all changed now. A most pleasant 8,500 square foot clubhouse opened in November. Other places have bigger clubhouses, but this one has a very nice outdoor events area that includes a practice facility, a more-than-adequate fitness center and a restaurant that opened to rave reviews. The views from the place are spectacular. It just took an extraordinarily long time for the facility to materialize.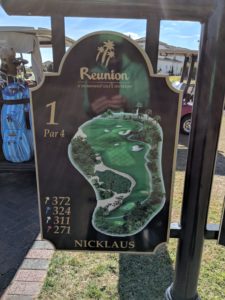 In fact, some Reunion regulars wondered if there ever would be a clubhouse to complement the high-profile golf course.
"There was a waiting period,'' admitted Craig Williamson, who is now playing a prominent role in what's going on there. "It wasn't the time to do it back then, when you think about it. This is the right time for this to happen.''
The opening of the clubhouse has triggered a big project within the Reunion community. Williamson was brought in manage sales of The Bear's Den – a very upscale community that is being developed around the Nicklaus Course.
"At Reunion we look on this as the template for what we'll do in more locations,'' said Williamson, who has been on the job for 14 months.
"I had worked with Jack Nicklaus and Arnold Palmer communities all over Central America, South America and the Caribbean,'' said Williamson. "This is typical of what I've been doing for 15 years.''
But, The Bear's Den at Reunion isn't quite like the others. It's the only gated community within the gates of Reunion.
"That's the formula we'll be using at other locations,'' he said. "We're looking at places like Telluride in Utah, Pinehurst (in North Carolina) and other sites in the Florida.''
What they've done at Reunion is take a Jack Nicklaus golf course and a Jack Nicklaus clubhouse to create a community licensed by Jack Nicklaus. It has 52 lots. They're all elevated about 15 feet above the course, creating more of a stadium look so that golfers won't be looking into the homes.
Home sizes will range from 7,000 to 12,000 square feet, and they'll be built basically around the Nos. 17 and 18 fairways. The choice homes will be along No. 18 and will start at $1.5 million. One has been priced at $4.5 million.
Home across the street from those will cost from $1 million to $1.5 million. They'll be constructed along Golden Bear Park, a landscaped area that will be connected to the course practice area and include a big children's play area, a dog park (with two areas, one for dogs over 30 pounds and one for dogs under 30 pounds), a sand volleyball court and a walking trail.
A third price point, in the $800,000 range, will also be available as a residential option. All are freestanding homes now, but Williamson said townhomes and condos are under consideration at other locations.
Initial reaction to The Bear's Den project was enthusiastic. Two months after the clubhouse opened there were 17 homes under contract. Williamson expects more in the very near future.
"It was tough to sell $2 million when you're sitting in trailers,'' he said. "Some (prospective buyers) couldn't see what's going to happen. Now they can. The Bear's Den was planned for thee-four years, but this started at about the time they opened the clubhouse. In the last three months there's been a lot of activity.''
Over 3,000 prospective homebuyers visited in the first three months, about half of them from the U.S. and the other half international. They included celebrity types who were attracted by the privacy that The Bear's Den offers.
Despite the quality of the course, this Nicklaus layout hasn't hosted a significant tournament. A big event – the 54-hole Kissimmee Family Golf Classic – will be coming from June 20-23. The team scramble event also will be played on Reunion's Watson Course and the nearby Celebration Golf Club.
Reunion is a 2,300-acre resort that also features a hotel, seven restaurants and bars, a golf academy, tennis and fitness centers, meeting space, full-service boutique spa, 10 community swimming pools and a water playground.