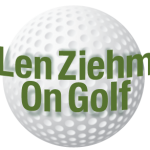 Golf travel writing is a lot of fun, but it isn't easy.  I guess you could say "It's a tough job but someone has to do it.'' At least that's how we felt after the first month of our later-than-usual start for our spring trip.
From May 26 to June 24 we played 342 holes spread over 18 courses in three states. During one stretch we played 13 days in a row. Our long-range planning didn't call for this, but that's how it turned out.
Bad weather never stopped play, but it did reduce one round from 18 to nine holes. We've done more extensive travel on our golf/writing journeys over the last 13 years but never anything as concentrated as this.
The goal was to ascertain how golf travel has changed with a little more time separating us from the heart of that horrible pandemic. Looking back now, the start – three rounds each in golf hotbeds Pinehurst and Myrtle Beach – seem like a warmup for what was to come.
Sixteen rounds, spanning 234 holes, were played in Michigan. We played rounds that started in 40-degree temperatures there, and also had some that were played in 90-degree heat. With both Joy and I in our seventies, this golfing odyssey took a physical toll.  We were dead (well not quite) tired when we finally drove past the Michigan border into Indiana – but no regrets!
It was clear that golf has benefitted from the pandemic.  That's what all the course operators told us, corroborating media reports of the last 18 months. We saw more golfers on courses in June than we used to see in that month. Still, it wasn't like any of those courses were turning away players because they had run out of tee times.
It was much more obvious that staffing issues were a problem in all phases of our golf travel.  Hotels and restaurants were negatively impacted more than the golf facilities themselves. But, it's important to note that our stops were at places that'd be considered golfing hotspots any time of the near, and not just in June.
The trip climaxed at two of our old favorites, places where we had especially fond memories from past trips.
First of those was Grand Traverse Resort in Traverse City, Mich.  It's the home of The Bear, a Jack Nicklaus design that is arguably the toughest course in Michigan. It wasn't as tough as it had been in June of 1985, when I played it for the first time. That was a breakthrough event in the golf travel industry.
Grand Traverse Resort & Spa took the then unheard of step in staging an elaborate media day to get its newest course up and running.  The U.S. Open was held that year at Oakland Hills at a time when media turnout for tournaments was much higher than it is now.
The upscale resort, which has three courses, invited the media horde from Oakland Hills to come to Grand Traverse the day after the Open, won by Andy North but also notable for T.C. Chen's "double chip'' that severely hurt his improbable run at the title.  (He later was dubbed "Two-Chip Chen).
Members of the Golf Writers Association of America were invited to hold a meeting at the resort, spend a night to recuperate from the tournament work week and then play The Bear – a rare, at that time, opportunity that drew a big turnout.
With its elaborate mounding covered in deep fescue, The Bear was brutal at that time. Tom McGee, now the director of golf operations, said the cutting back of the fescue slowly started in the 1990s because players rightly complained that it was too tough.  It wasn't as tough this time – but it was tough enough and those deep bunkers were still a constant challenge.  The Bear, while never used for a PGA Tour stop, is the annual site of the men's Michigan Open. In short, all is still well at The Bear.
The final stop came at Crystal Mountain, a popular golf/ski resort that opened in 1956.  It  was to host the Michigan Women's Open the week after our visit on its Mountain Ridge course. Michigan's version, which has been held for 29 years, is considered the best of the women's state opens with its $40,000 prize fund.  This year's tournament had 74 players for the 54-hole competition.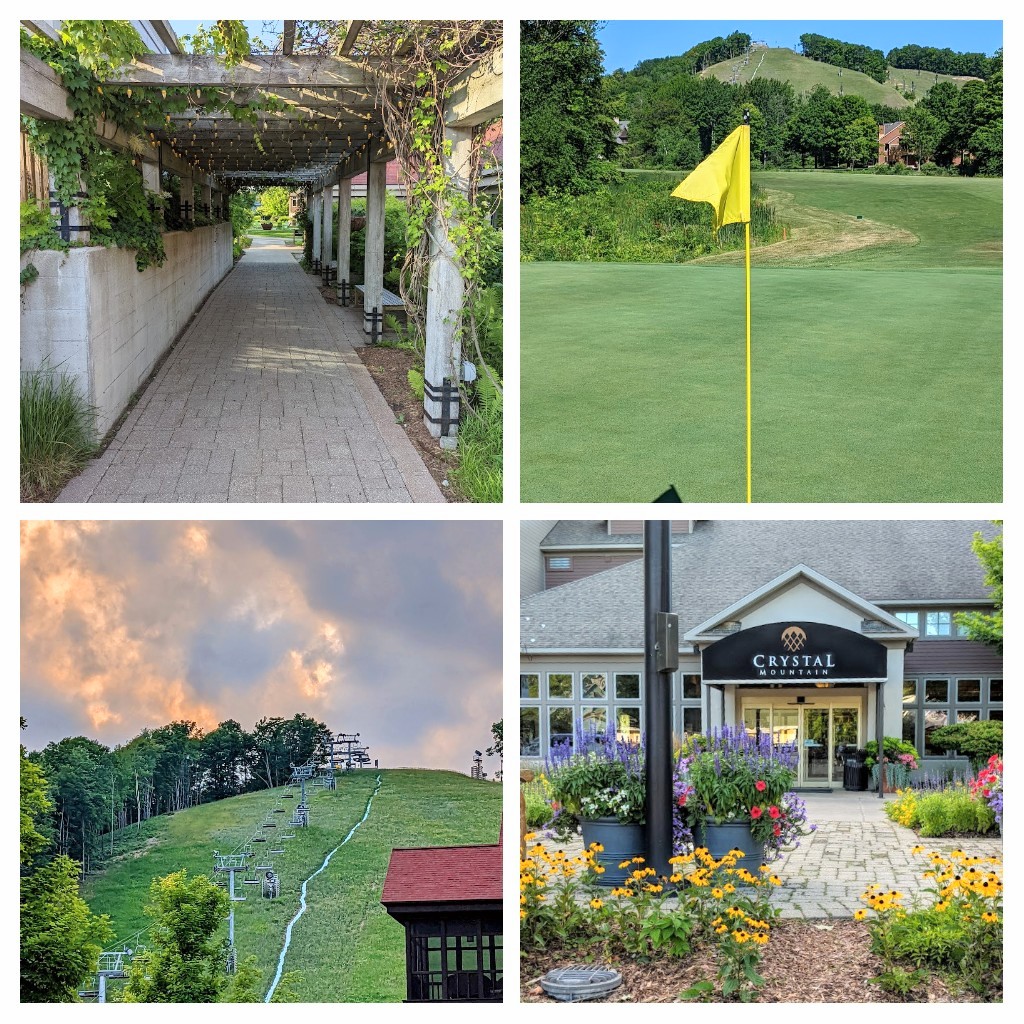 We made our first of several arrivals at Crystal in 2015, at a time when Joy was playing with clubs that badly needed replacing. An assistant pro, Greg Babinec, played with us and he urged Joy to try a set of upscale rental clubs.  On the second hole of the Mountain Ridge layout , a par-3, she put her tee shot within inches of the cup.  I knew after the excitement of that near hole-in-one that a purchase of that set of irons was inevitable.
Babinec is now the head professional at Crystal Mountain, and we also remember that day because he shot a 64 — a score he said was his best at the time.  Babinec wasn't on site when we were there this time. Too bad, but – though the clubs we purchased then are no longer in use – that was one of the many fun memories we've had in our golf travels.
This time we played Crystal's other course, Betsie Valley. It underwent a four-hole renovation (holes 4, 5, 8 and 9) last year under the direction of architect A. John Harvey. Betsie Valley is 400 yards shorter than Mountain Ridge but still a worthy challenge and offers great views.
The resort also has a 10-acre practice and learning center for golfers as well as archery, tennis, pickleball courts, disc golf, 25 kilometers of mountain biking and hiking trails and a water playground for those looking for more than just good golf.