GULF SHORES, AL. — There is, I believe, a misconception about golf in Alabama.
Sure, the creation of the Robert Trent Jones Golf Trail 20 years ago was a big boost for golf in the state. In fact, it was a marketing breakthrough for the entire golf industry. The Trail has 11 courses covering 468 holes, with most in the Birmingham area. Newcomers to Alabama may well gravitate to those layouts.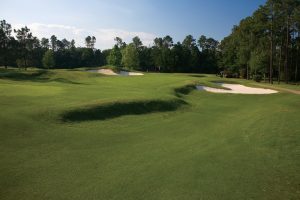 There's a lot more to golf in Alabama than the Jones Trail, however. I witnessed that up-close-and-personal on the way home from a winter spent in Florida. Alabama golf is much different than its neighboring state to the south. Gulf Shores is less than an hour's drive from Pensacola., FL., near Mobile.
The courses I played in Gulf Shores were much more like the ones in the Midwest in terms of the grass, then bunkers and the designs. And all of them were good.
Tourism in Alabama has had it tough recently, due to the bad publicity produced by an oil spill that affected its coast-line in June, 2010. There were no signs of lingering problems in Gulf Shores, however. In fact the 32 miles of white sand of neighboring Orange Beach produced a waterfront that rivaled (maybe even surpassed) Florida's Siesta Key, which happily points out a recent survey that proclaimed it the No. 1 beach in the United States.
Orange Beach has a lot more golf to go with it than Siesta Key does. Golf GulfShores boasts nine signature courses covering 189 holes, all within easy driving range of each other. Probably the best is Kiva Dunes, designed by former U.S. Open champion Jerry Pate in 1995. It's Alabama's only beachfront golf resort.
That wasn't on my itinerary, though. My first tee time was at Craft Farms, which boasts the only Arnold Palmer-designed courses in Alabama — Cotton Creek and Cypress Bend. Cypress Bend, the newer of the two, reminded me of another Palmer design in Illinois — Hawthorn Woods Country Club, site of the Illinois Open from 2008 to 2011. Wide fairways make it user friendly, but undulating putting surfaces and big bunkers make it challenging enough, as well. Palmer's design company also handled the updating of Lost Key, another Gulf Shores course, in 2006.
Second stop was at GlenLakes, which has 27 holes and claims to be "the best golf value on the coast.'' Visitors play for $65 before noon, $45 from noon-2 p.m. and only $30 after 2 p.m. during the busy winter season. By comparison, the Palmer layouts at Craft Farms charged $89 before 1 p.m. and $69 afterwards.
GlenLakes' 18-hole links-style Vista Dunes course was a design combination of Bruce Devlin and Robert von Hagge. The nine-hole Lakes is more resort style but has water on six holes. I played the Vista and Lakes nines, which were fine, but Duncan Millar, the Golf GulfShores executive director, told me I missed something special by not taking on the well-mounded Dunes nine.
Two other 27-hole facilities — Peninsula and TimberCreek — were designed by Earl Stone, and he also was the architect for 18-hole Rock Creek. The father-son team of Jay and Carter Morrish did the design work on Gulf Shores Golf Club. Built in the 1960s as the first course in Gulf Shores, the Morrishes did a complete makeover in 2005.
Four of the Golf GulfShores courses — the two at Craft Farms as well as Rock Creek and Peninsula — are well-managed by Honours Golf, which oversees 13 courses in Alabama, Florida and Mississippi and is somewhat of a rival to the Jones Trail. Honours also includes Alabama layouts Limestone Springs (Oneonta), Highland Park (Birmingham), Cider Ridge (Oxford) and Gateway and Lagoon Park (Montgomery) in its portfolio but will lose one of its best clubs, FarmLinks in Sylacauga, this spring.
FarmLinks, a very special location that's a 200-mile drive from Gulf Shores, is moving in a new direction after a management change. Developments there will be detailed in a future Len Ziehm on Golf report.
Gulf Shores, though, stands on its own as a golf destination. In addition to the courses and spectacular beaches, the area also offers such entertainment options as deep sea fishing, kayaking, surfboarding, cycling, water sports, hot-air balloon rides, horseback riding, family fun parks and cruises.
It also has a surprisingly wide range of restaurants. One that we can heartily recommend is Tin Top, a fish and oyster bar with an out-of-the-way location that fits the stereotype of rural Alabama down to the hot rod enthusiasts who revved up their engines on the country roads. That added spice to an already spicy lunch.
Of a more genteel nature, there's Nolan's Restaurant and Lounge — one of the many appealing places right off the main drag of Gulf Shores Parkway. There are plenty of other good, non-chain restaurants to visit, and the lodging options are almost as varied. In addition to the beach resorts and condo rentals available you might want to check out the Courtyard Marriott GulfShores at Craft Farms. It just underwent a $2.2 million renovation, the completion of which was celebrated during our visit.