Officials for the Encompass Championship, which brings golf's Champions Tour back to Chicago for the first time in 12 years next month, held their kickoff event on Monday at North Shore Country Club in Glenview.
They announced the latest player commitments for the June 17-23 event included 16 major championships winners – Mark Calcavecchia, Ben Crenshaw, Steve Elkington, Hale Irwin, Tom Kite, Bernhard Langer, Sandy Lyle, Mark O'Meara, Larry Mize, Corey Pavin, Nick Price, Jeff Sluman, Craig Stadler, Hal Sutton, Bob Tway and Fuzzy Zoeller.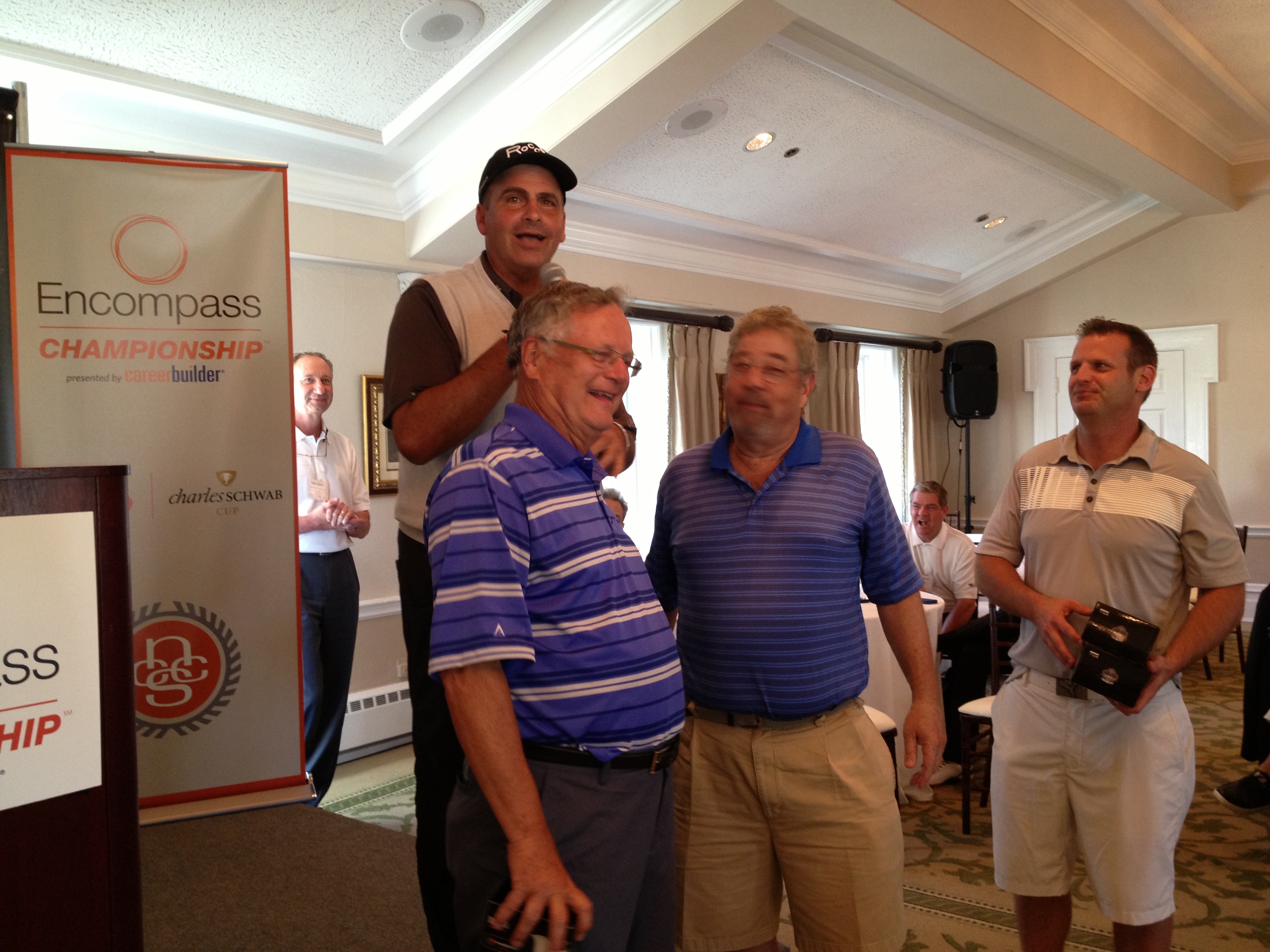 Also included was the announcement of two more celebrity pro-am participants – ex-Bear Brian Urlacher and Chad Watson, a wounded warrior serviceman who will participate in the Friday and Saturday portions of the event.
Of more immediate interest was today's announcement by the U.S. Golf Assn. of its decision on the use of long putters. Rocco Mediate, the first player to win with the controversial club on the PGA Tour — at Doral in 1991, thought the proposed ban of the club should be dropped.
"They should have made it illegal in 1991 if they were going to do it,'' said Mediate, whose team won the day's pro-am competition (see accompanying photo. Our team included former Sun-Times teammate Herb Gould and Bears' kicker Robbie Gould was our partner on the front nine).
"Obviously the (long putter) isn't traditional, but what is now? ,'' said Mediate. " I don't really care what they do. I went to it because of my (sore) back, and it definitely helped me.''
Another tour veteran, Jeff Sluman. also went to the long putter and expects it will be banned today.
"And that's unfortunate,'' said Sluman. "I tried every way (to putt) because I had the yips, but some guys have putted that way their entire lives. Statistics say (use of the long putter) isn't an advantage, and everybody can use it.''
Chip Beck, another veteran tour player, just hopes golf's ruling bodies agree on the ruling. The PGA Tour has already voiced reservations on proposals made by the U.S. Golf Assn. and Europe's Royal & Ancient Golf Club.
"If they split up, that won't be good for the game,'' said Beck, who thinks it's "a little too late'' to ban the long putters.
"Long putters aren't as good as they're going to be,'' said Beck. "They're too heavy. As they get lighter kids will start using them, and better equipment will bring lower scores. That will be good for golf.''