ERIN, Wis. – The hoopla was extraordinary when Erin Hills first welcomed golfers in 2006. The very upscale public course on the outskirts of Milwaukee was even awarded a U.S. Golf Assn. national championship (the 2008 U.S.Women's Amateur Public Links) before its land was even seeded.
By 2009 – following an ownership change from creator Bob Lang to Milwaukee businessman Andy Ziegler, co-founder of the investment firm Artisan Partners — Erin Hills was named a site for both the 2011 U.S. Amateur and the 2017 U.S. Open. Frankly, I couldn't understand why.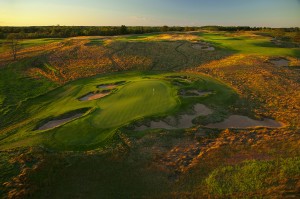 The main reason, it seemed, was that Mike Davis – then the USGA director of competitions and now its executive director – saw great promise for the place. But, in my first three visits to the course, spread over several years, the layout seemed to be in flux. In fact, it was. Architects Michael Hurdzan, Dana Fry and Ron Whitten made renovations to the layout in 2008 and again in 2009.
"Blind shots were eliminated and a lot of changes were made to accommodate championship golf,'' said John Morrissett, Erin Hills' competitions director. A less significant tweak, the moving on the No. 3 green to the right, is coming next. Balls can roll on to the new green; they can't now.
Even without seeing this next update, it's clear to me what all the earlier fuss was all about. After playing the course the day after this year's U.S. Open at Merion near Philadelphia, I can safety predict that Erin Hills will be a fantastic U.S. Open site in four years. You have my word on that, and I've covered 27 U.S. Opens live since my first one in 1973.
Merion, an old-style course with loads of history, turned out a better Open site than expected. Despite extraordinarily limited length by U.S. Open standards, it gave pro golf's best players all the challenge they wanted. None broke par.
Erin Hills will, in many ways, be different than Merion. That layout in Ardmore, Pa., couldn't even be stretched to 7,000 yards. Erin Hills was set at 7,760 for the U.S. Amateur and measures 7,823 from the current tips. That's a staggering 800-yard difference or – to put it another way – two golf holes longer. And, I'm told there's a set of tees – hardly ever used – that could provide a course measuring 8,300 yards.
The overall setting at Merion was cozy or cramped, depending on your point of view. That course was built on 110 acres. Erin Hills' 18 holes are spread over 652.
The extra space can be put to good use, both historically and financially, if the USGA chooses to do that. Erin Hills' 18th hole can play at 660 yards. If it's set up at that length it'd be the longest hole in Open history.
More importantly, Erin's acreage allows for many, many more spectators. Galleries had to be limited to 25,000 at Merion, unusually small for an Open venue, and more spectators means more revenue.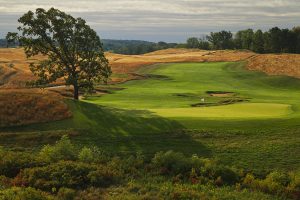 "Merion is certainly a gem,'' said Jim Reinhart, general chairman of the 2017 Open, "but with its size there were certain restrictions. Our preliminary discussions with the USGA call for 45,000 per day and I know – with the enthusiasm of golfers in the Midwest – there'll be a sellout.''
My advice to the USGA and Reinhart on this issue is to openly go after a tournament attendance record. Shoot for 300,000 for the week. If ever there was a venue to do that, it's Erin Hills. And, such a turnout would make a strong statement for golf in Wisconsin as well as the entire Midwest. The Open doesn't come to the Midwest enough.
Erin Hills has room for much more than 45,000 each day. Medinah's galleries for last September's Ryder Cup matches were reported between 40,00 and 45,000 daily, and there was never play on every hole at any one time. That's the nature of match play competition. During the U.S. Open all 18 holes will have golfers, as there'll be 156 players on the course the first two competitive rounds. Erin Hills could accommodate well over 50,000 each day.
Reinhart is aware of the impact the 2017 Open will have on his state.
"The last 15 years a number of national and international events have come to Wisconsin, but we've never hosted our nation's national championship,'' he said. "We're humbled to be given that honor. Some think we're in the middle of nowhere, but we're only 35 miles from downtown Milwaukee and two hours from Chicago.''
One problem looms: the roads leading to Erin are mainly country roads. Shuttle buses will be an even bigger priority at the Open in '17.
As for the course, the biggest change in Erin's brief history comes at No. 7. It originally was a par-3 with a blind tee shot. Players were asked to ring a bell behind the green after completing the hole to signal the next group that it was safe to tee off. The bell is still there, but the par-3 is gone. It was combined with a par-4 to make for an excellent par-5 that plays at 605 from the tips. In fact, all four par-5s measure over 600 and the par-72 course carries a hefty rating of 77.9 and slope of 145.
With the historic Open closing in more and more players will come from farther and farther away to test Erin Hills. It was a busy place most of this spring, with greens fees of $200 (if you carry your own bag). Caddies – about 65 are available — are a must at this tricky walking-only course, however, so getting in a round is basically a $300 proposition.
While lodging looms a concern for the thousands of visitors for the '17 Open, the club has developed some on-site options for this year's visitors. There are three four-bedroom cottages with individual rooms and suites. There's also fine dining in the clubhouse, which has been recently expanded, and post-round drinks can be enjoyed in the Irish Pub or on the Terrace Sports Lounge.
The U.S. Open goes to Pinehurst, in North Carolina, next year. Then it ventures to Chambers Bay, a newer facility in Washington, in 2015 and to long-time host club Oakmont, in Pennsylvania, in 2016.
After Erin Hills gets its turn the Open goes to three frequent Open venues – Shinnecock Hills in New York in 2018, California's Pebble Beach in 2019 and New York's Winged Foot in 2020.
"With all those names, it's nice to have Erin Hills in the middle of that list,'' said Reinhart. "The USGA chose Erin Hills because Wisconsin has been so supportive of major sporting events, both at the state and local levels. Plus, it's been a long time since this part of the country had a U.S. Open.''
The last one in the Midwest was in 2003, when Jim Furyk emerged the champion at Olympia Fields.
This latest revision of Erin Hills has not gone unnoticed. In August of 2013 Golf Magazine added the layout to its Top 100 Courses in the U.S. Erin Hills entered the prestigious ranking at No. 96.