The top high school golfers from across the country made their college commitments this week in the NCAA's early signing period. One of them earned his scholarship the hard way.
Doug Ghim, an Arlington Heights resident and senior at Buffalo Grove, landed a scholarship to traditional collegiate powerhouse Texas even though he didn't play a round of high school golf the last three years.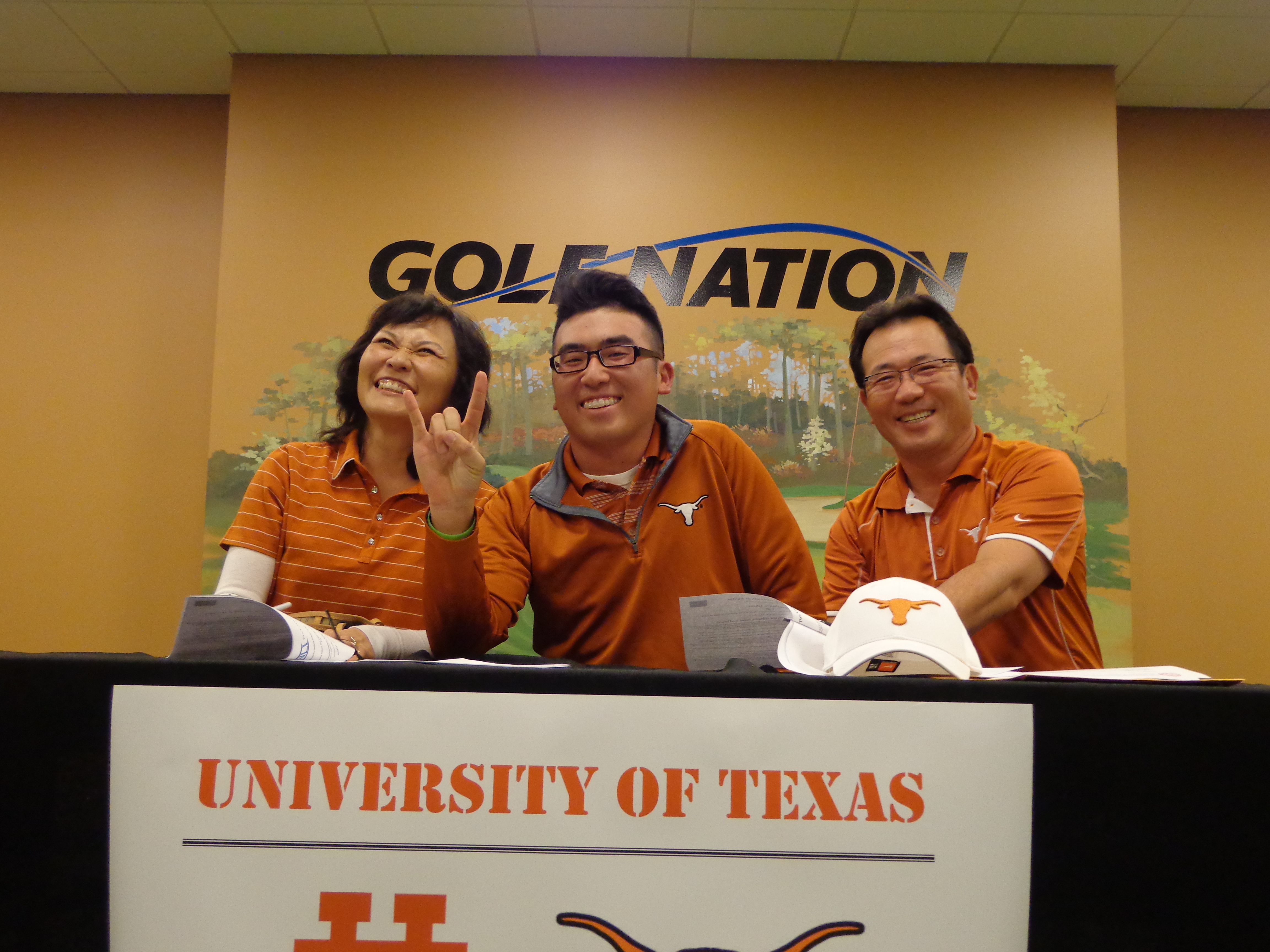 "I don't know if it's unprecedented or not,'' said Ghim moments before a ceremonial signing ceremony with his mother Susan and father Jeff (pictured above) at the Golf Nation indoor facility in Palatine. "I came out of nowhere. I had one great season and showed up at this level.''
Ghim's success came through American Junior Golf Assn. events rather than playing for Buffalo Grove. He played one season for the Bison, finishing third in the state meet as a freshman, then decided to go in a different direction.
As a sophomore he received a coveted invitation to one of the AJGA's premier events – the Ping Invitational on Oklahoma State's course in Stillwater.
"It was a difficult decision,'' said Ghim. "In my freshman year I got invited to another invitational in Florida and gave it up. The Ping is one of the hardest to get in to. Everyone raves about it, but it overlapped with sectional qualifying for state.''
Ghim thought it would be "insulting'' to his high school teammates to leave the team at such a critical point in the season, so he spent the last three years competing solely in the big junior events across the country. It paid off when Texas, a school that produced such stars over the years as Ben Crenshaw, Tom Kite, Justin Leonard and – most recently – Jordan Spieth, noticed him.
So did other strong golf schools, and Ghim visited Northwestern, Illinois and Duke before choosing the Longhorns.
"The big reason was the weather,'' said Ghim, coached only by his father since he was 5 years old. "I wanted to go somewhere where I could work on my game year-around.''
Ghim's Korean-born father Jeff teaches mainly junior players at Golf Nation and a variety of other Chicago area locations. Taking the national, rather than local, route in his son's development wasn't easy.
"We're not very rich,'' admitted Doug. "I'm very proud of our story. I never had the nicest golf clubs or best outfits. The only golf balls I had were the ones my dad and I fished out of the water. It was intimidating going into tournaments. I had to work twice as hard as the other kids.''
The Ghims don't have a home course. They looked for the best deals and played lots of twilight golf at the area's public courses. Sometimes they'd get invitations to play at private clubs, but most of Doug's development came via travel that included frequent trips during the school year.
"I hope my story will show to other kids that aren't as fortunate that – as long as you have the will – you can make it to one of these big universities,'' said Ghim. "They'll call you, and you won't have to call them all the time.''
While Ghim opted to leave the state, both Illinois and Northwestern went largely outside Illinois with their early recruits. The Illini signed Glenbrook North's Nick Hardy along with two Indiana players – Dylan Meyer of Evansville and Colin Proctor of Anderson. NU landed Charles Wang, of Sarasota, FL., and Dylan Wu, of Medford, Ore.