PORT ST. LUCIE, FL. – Florida's Treasure Coast embraces three counties – Martin, Palm Beach and St. Lucie. Add the surrounding areas and the golf options in this east coast area are numerous, diverse and competitively priced.
That's why so many tour players make this their offseason home. Tiger Woods, Dustin Johnson, Ricky Fowler and Nick Price are among 16 present or past tour players who are members at Medalist in Hobe Sound. Luke Donald, Rory McIlroy, Keegan Bradley, Ernie Els and Camilo Villegas play at The Bears Club in Jupiter and Greg Norman, Russ Cochran and Scott Langley are at The Dye Preserve – another Jupiter club. Old Palm, in Palm Beach Gardens, includes Lee Westwood, Louis Oosthuizen, Charl Schwartzel, Darren Clarke and Raymond Floyd. Even President Barack Obama has visited the area's links; he made a weekend vacation trip to The Floridian in Palm City.
The tour players go to private clubs, but the public course options in this area are also quite good. And, you don't have to go to resorts like PGA National in Palm Beach Gardens or PGA Village in Port St. Lucie to find good golf on the Treasure Coast. In fact, you can find courses that are arguably as good as those for half the price at a number of public courses.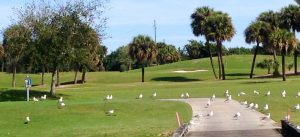 During a 10-week stay we played 18 courses, almost all located between Vero Beach on the north to Jupiter on the south. Fourteen in the general Treasure Coast area were public, the lone exception being the Santa Lucia River Club – a Jack Nicklaus Signature Design in Port St. Lucie where pro Doug Main (below) could enjoy a view of the St. Lucie River from the club's 18th green.
Lost Lake, in Hobe Sound; Hammock Creek, in Palm City, and two Stuart layouts — Champions Club at Summerfield and The Florida Club – all measured up well with the layouts at the two PGA facilities, most of which we had visited a year ago. Hammock Creek had the highest greens fee – an in-season rate of $69, which was still far below and tab at either of the PGA resorts.
Most of the other Treasure Coast publics were priced in the $40-50 range. In short, mixing course quality with cost, this area was far superior to Sarasota-Bradenton, our winter destination in 2012, and Naples, the base for 2013.
This stay was topped off by the round at upscale Santa Lucia River Club, designed by Nicklaus in 1982 and redone in 2007. It wasn't the only Nicklaus course in the area. Hammock Creek is also a Nicklaus project, the co-designers being Jack and Jack II back in 1993.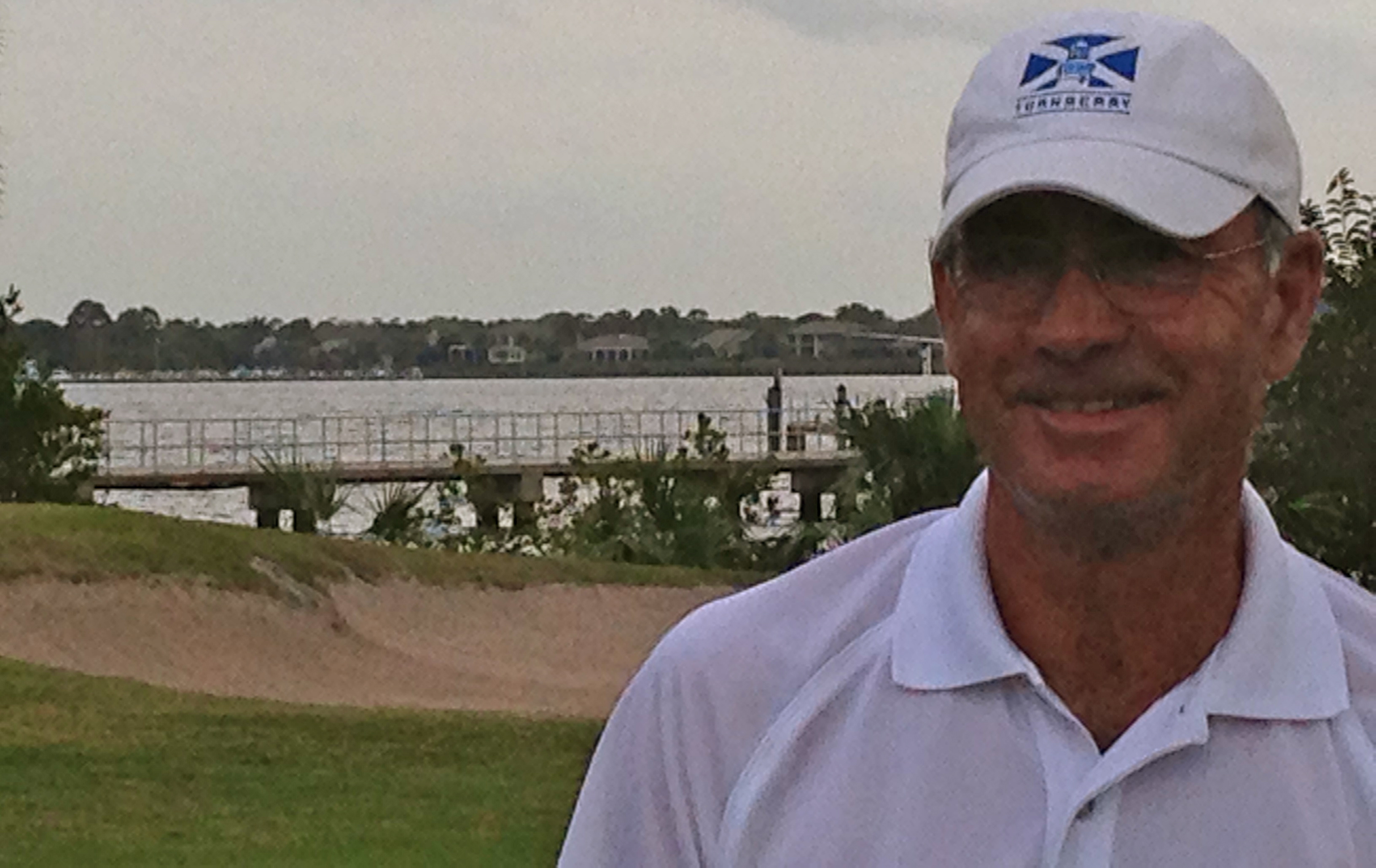 Many Nicklaus courses have been criticized for being too penal. These weren't. The Golden Bear has lived in Lost Tree Village in nearby North Palm Beach since 1965. The River Club and Hammock both had generous fairways and were highly playable. The Nicklaus influence was most evident on the greens. Their surfaces were huge with plenty of undulations, providing challenges we didn't find anywhere else.
Hammock's greens were new – just seven months old – and needed more time to blossom. But, course operators were quick to point that out and the Hammock experience also included use of an excellent practice facility and free range balls.
Lost Lake and Champions Club at Summerfield are Tom Fazio designs. His courses are always good, with Stonebridge, Conway Farms and The Glen Club providing ample evidence for players coming south from the Chicago area. Lost Lake had a practice facility option similar to Lost Lake.
Champions Club has been honored by Golf Digest and Golf Magazine in their various rankings. The only problem we had with Champions – one of only four courses we played twice – came in our second visit. There weren't enough carts available, resulting in our tee time being pushed back enough to make finishing the round difficult.
Finding a Fazio course here was easy. Jim Fazio and Tom Fazio II did the design work on Lost Lake and Fairwinds, in Ft. Pierce. Tommy Fazio was the designer of Eagle Marsh in Jensen Beach and Dom Fazio was the architect of record for Heritage Ridge of Hobe Sound. A big believer in checking the architect before playing a course, I'll always look forward to visiting a Fazio layout.
In general, Treasure Coast golf offers a greater array of bird life than we experienced anywhere else in the U.S. and there were other welcome distractions. We've shared courses with deer lots of times and seen sheep, horses and cows either on courses or adjoining property. Here there was more than that.
At Pine Lakes, a Stuart course, there was a big family of unusual ducks in charge of the No. 8 tee. A bobcat crossed the 18th fairway at Lost Lake as we finished a round in the dusk. A diamondback snake, said to be at least six feet long, has been spotted around the courses in Port St. Lucie. We saw a picture but, fortunately, didn't see that on-course visitor and we also missed alligators. They were regular features at courses on Florida's west coast in previous years.
On Treasure Coast area courses the non-human companions were on the more memorable side.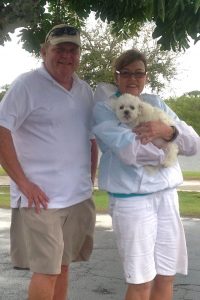 At Fairwinds, we were paired with a couple from Ohio. Brooks and Patty were nice people, but they came as a threesome. Indy, a Maltese puppy, came with Patty. We had doubts at first, but Indy was extremely well-behaved and created no problems. In fact, that little dog respected course etiquette more than some playing partners we've had over the years.
Indy wasn't the only extra attraction at Fairwinds. Driving my cart beside the No. 4 green, I was greeted by four wild hogs.
"They've been an issue since the course opened,'' said head professional Matt Baum. "Nobody's been physically injured, but they destroyed parts of three-four fairways one winter.''
Removing the hogs has been difficult. The St. Lucie International Airport adjoins the course, and the use of firearms nearby that facility is prohibited. Instead hunting dogs have occasionally been used to trap the hogs so that they can be tied up and hauled away. Still, they're part of the golfing experience.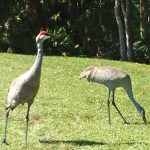 Just as memorable as our hog-sighting was our encounter with red-headed sand cranes at Lost Lake. Two big ones settled near the 14th green and my approach landed in their midst. So did that of Jim, one of my playing partners from Pennsylvania. The cranes didn't like that one bit but wouldn't leave when we arrived to hit our chip shots. Those birds could have done us some damage, and we were reluctant to approach them. We eventually did, though, and that sent the birds into a series of belligerent dance moves that I'll never forget. We were happy to get out of there.
Two of our rounds didn't go the full 18 holes. Rain stopped us after eight holes at Fairwinds and after 13 holes at Pine Lakes. It was great being detached from the extraordinarily brutal winter that hampered the rest of the U.S., but we did find that when it rains in Florida it really rains. In just a matter of minutes both courses had much too much water on the greens to anticipate an imminent resumption of play. We gave up and splashed our way in.
As always, variety and economics were the cornerstones in determining our golf destinations. On the economy side, the lowest-priced course was Pine Lakes — at $28. We felt lucky to find it on a day in early February. We had called 10 other courses before finding one that could provide a tee time early enough to allow for the completion of 18 holes.
We didn't expect a whole lot when we checked the scorecard. The course played just 4,766 yards from the tips with no par-5s and six par-3s. Still, it was golf on a day we were particularly anxious to play. We even considered walking – something rarely available at Florida courses in the heart of their season. Pull carts were provided free of charge, but we discarded the idea when we found only one of about 10 had two wheels that would turn. It may sound crazy, but golf needs more places like Pine Lakes – no frills, low rates, friendly atmosphere and a walking option. Not surprisingly, it was packed when we were there.
It was interesting to check out the golf promotional publications available for the area. They – as is usually the case – gave the best reviews to the courses that were the best advertisers. Understandable, I guess, but not in the best interests of the snowbird golfers.
So, here's a more objective rating of the Treasure Coast public courses played in the winter of 2014:
1, Lost Lake, Hobe Sound — Excellent course and practice facility. Nice clubhouse. Friendly people. One of the very best places we've played over the last five years coming to Florida.
2, Hammock Creek, Palm City – Course and practice facilities were comparable, but Lost Lake was about $15 cheaper and Hammock's new greens didn't measure up to Lost Lake's.
3, Champions Club at Summerfield, Stuart – Like Lost Lake, we played this one twice. A good course, and a good golfing buy.
4, Florida Club, Stuart – A fun layout marked by lots of waste bunkers, but conditioning didn't match the top two.
5, Indian Hills, Ft. Pierce – A similarly fun layout, but a step below in conditioning and clubhouse options. (This one may admittedly be getting a higher ranking because our best scores were shot there).
6, Heritage Ridge, Hobe Sound – This one got the best reviews in the local publications, and its putting surfaces were among the best. It was also among the best for post-round relaxation but there was one big negative: the practice range was unusually far from the course.
7, Eagle Marsh, Jensen Beach – This Tommy Fazio design billed itself as "The Most Challenging Course on the Treasure Coast.'' That's debatable, but hot dogs came with your greens fees.
8, Fairwinds, Ft. Pierce – Wish we could have gotten in all 18 holes here. This one had the most interesting history of the ones we visited. In addition to the wild hogs and the nearby airport, Fairwinds had the distinction of being perhaps the first course in Florida built on a landfill. Baum also points out that back in the early 2000s Fairwinds ranked second to Pebble Beach in a readership survey that involved a variety of ranking categories. "We all scratched our heads over that,'' said Baum (so did I) "but the course has experienced a lot of success. People seem to like it.''
9, The Saints, Port St. Lucie – This one was once part of St. Lucie Country Club (its partner course in those days was called The Sinners). The Saints is now city-owned and a hub for social activity. The Sinners was taken over by Club Med and is now called Sandpiper Bay.
10, St. James, Port St. Lucie – Located very close to PGA Village, this was a decent course at a very good price. Built in 2000, it was probably the newest of the courses we visited.
11, Pine Lakes, Stuart – You can't beat the price. If only the pull carts were working. Hardly any courses in this area offered the option of walking. This one did.
12, Sandpiper Bay – User friendly and decently priced, but the conditioning was lacking. Club Med's other offerings (tennis academy, in particularly) relegated golf to being just another option rather than the focal point.
13, Sandridge, Vero Beach – We played the Lakes layout at the 36-hole facility owned and operated by Indian River County. Fairly priced, it was one busy place throughout Florida's tourist season.
14, Palm Cove, Palm City – You either love or hate this one. It's billed as a Chi Chi Rodriguez course, and the super popular golfing legend is a part-time resident of the area. The conditioning is better than many of the higher-ranked courses but the holes were squeezed in between homes, making the course extremely tight. That put it in sharp contrast with every other course we played, and lost balls were inevitable.