Only seven players have won titles in both the Illinois State Amateur, which has been played for 84 years, and the Illinois Open, which just completed its 65th staging.
Brad Hopfinger, a Lake Forest resident who attended the University of Iowa before turning pro, was the latest and he joined a selected group – David Ogrin, Gary Hallberg, Bill Hoffer, Gary Pinns, Mark Hensby and Roy Biancalana.
Of those only Hoffer played at least briefly on the PGA Tour, and Ogrin, Hallberg and Hensby were champions on golf's premier circuit.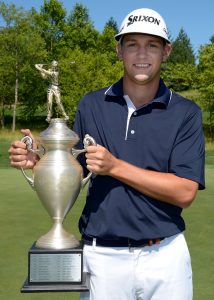 Hopfinger, 25, hopes to get there eventually, but for now he's just happy to be carrying on the extraordinary success by players from his school in Illinois' biggest tournaments. The 2011 Illinois State Amateur winner at Glen Oak in Glen Ellyn, Hopfinger entered the final round of the Illinois Open as only an after-thought among the Hawkeyes.
Brian Bullington, an Iowa senior from Frankfort, was the 36-hole leader in the 54-hole competition and Iowa freshman-to-be Ray Knoll, from Naperville, was coming off a rousing two weeks in which he qualified for the PGA Tour's John Deere Classic and won the Illinois State Amateur at Cantigny in Wheaton.
Hopfinger held off Medinah teaching pro Travis Johns to win the biggest tournament of the year for Illinois residents. Finishing the 54-hole competition with a 71 in winds that gusted up to 28 miles per hour, Hopfinger posted a 6-under-par 210 to claim a $13,500 first prize. He's competed primarily on the new PGA Latinoamerica Tour this year but took a break to play in his state Open after tying for fourth in the tournament in 2013.
Iowa teammate Vince India preceded Hopfinger as champion of the 2010 Illinois State Amateur and is now on the Web.com Tour. Knoll and Bullington were both finalists in the latest Illinois Open but wilted in the final 18.
Hopfinger, who graduated from Lake Forest High School, started his collegiate career at Kansas before heading to Iowa. Now 25, he had only one serious challenger after a fast start in which he made three birdies in the first five holes.
Johns, who began the day one stroke behind Bullington, was in the last threesome and Hopfinger was in one group in front.
They were tied through 16 holes and Hopfinger had a 5-footer for birdie at the par-3 17th to take the lead. He missed, but Johns made bogey playing in the group behind him. Then Johns' errant drive on the par-5 18th turned into a lost ball.
Hopfinger caught a plugged lie in a green-side bunker at No. 18 and didn't know about Johns' dilemma until after he two-putted from 35 feet for bogey. Johns wound up making bogey, too, so Hopfinger still came out on top.
"I knew I was in a tough spot,'' said Hopfinger, "but those last two holes were into the wind and they were just hard holes.''
Johns, who finished one stroke back, lost his hat on his wild drive at the 18th and almost holed his chip shot for the par that would have forced a playoff.
"I was hitting it everywhere on the back nine, and it was entertaining – just like Phil Mickelson,'' said Johns. "I went down in style, though.''
Roselle's Dan Stringfellow shared low amateur honors with Flossmoor's Brian Payne. Payne, a former Illinois Open winner, is a reinstated amateur. He had turned pro after completing his collegiate career at Northwestern.