The first International Crown concludes Sunday at Caves Valley, in Owings Mills, Md., but a Saturday gathering that wasn't held anywhere near the course will have a more direct bearing on how the event plays out at Rich Harvest Farms in 2016.
Jerry Rich, in the forefront during the Crown's creation, hosted a Watch Party for nearly 200 members of Chicago's Asian community at The Stonegate in Hoffman Estates. Big-screen televisions flanked both sides of the speakers' podium, ethnic food and beverages were offered and Crown memorabilia was available.
Rich and his staff hosted smaller gatherings for other ethnic groups in the days leading up to the inaugural staging of the global team competition, but Saturday's was the big event that Rich most wanted.
Among those attending were Chunho Park, senior reporter for The Korea Daily of Chicago, and Kay Kihwa Rho, president of IOTRIO, an Asian education group. Chunho Park and I found out that we live just a few blocks from each other. What a small world we live in, and just one aspect of the International Crown is that it will bring people from different parts of the world together for a positive experience.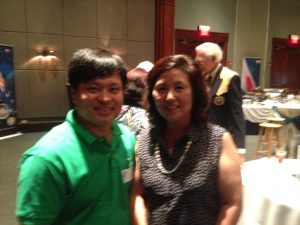 Another factor is the economic impact it is certain to have in Chicago. Mayor Rahm Emanuel has told Rich that the International Crown "is the Olympics we didn't get.''
The International Crown at Rich Harvest will be played a month before golf is restored to the Olympic Games in Brazil. It will be a big deal, especially if Rich's efforts to stir interest in Chicago's various ethnic communities is successful.
"The people we have here at this Watch Party will really make that event successful,'' Rich predicted. "We need the various (ethnicities) on the golf course cheering for their countries. That'll create excitement and let this tournament grow for the next 50 or 60 years.''
Rich has no doubt that'll happen (neither do I, for that matter). He has called the Crown "my legacy'' and likens it to Bobby Jones' creation of the men's Masters tournament 50 years ago.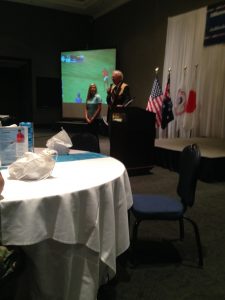 "We look at the International Crown as being as successful for women as the Masters was for the men,'' said Rich.
The very successful Solheim Cup, staged at Rich Harvest in 2009, was barely over when Rich welcomed LPGA commissioner Mike Whan to his Sugar Grove headquarters. Rich told Whan: "You have the greatest product in the world, and you're not marketing it properly.'' (No argument from me on that one, either).
Women's golf is more global than the men's game, and the best women players aren't Americans or Europeans. They needed a unique event like the International Crown.
"Of the top 100 players 60 percent are from Asia,'' said Rich. "The best players in women's golf are from Asia. We've found, in working with these ethnic groups, that they love golf but don't know who the best players are. The Japan people, for instance, didn't know the best players from Taiwan or Korea. This will really be something different for them.''


Rich left Caves Valley at the midway point of the first International Crown because of the importance he felt Saturday's Watch Party merited. He described what he saw at Caves Valley as "absolutely terrific,'' though there were some understandable snags in a first-time event. Attendance – he estimated it at about 15,000 per day – didn't approach the 120,000 who showed up for Rich Harvest's Solheim Cup.
While Caves Valley looked great on television, it wasn't as fan-friendly as Rich Harvest will be. The steep hills at Caves Valley made spectator traffic difficult but, again, the first staging of the Crown was deemed an overall success.
"If I was disappointed about anything, it was that they didn't energize the youth at all,'' said Rich. "We are really going to do that (at Rich Harvest). High school girls will bring energy to the tournament.''