KIAWAH ISLAND, S.C. – With so many golf facilities struggling these days, Roger Warren's report on the popular Kiawah Resort is eye-catching to say the least.
"We had the best year in the history of the resort last year,'' said Warren who left the Chicago area for Kiawah in 2003 and has been the resort's president since 2005. "There was a halo effect from (hosting the 2012) PGA Championship, but we experienced four years of double digit growth from 2009 on.''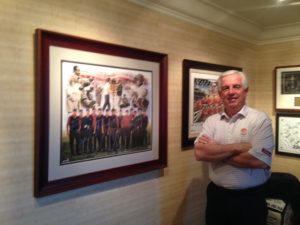 Why is that?
"I know it flies in the face of what's happening in the rest of the game, but there's a segment in this country that's doing just fine – and that's my customer,'' said Warren. "They continue to come here. This is a beautiful island, and there's a lot to do here.''
This five-course facility near Charleston, S.C., doesn't need a commercial after already hosting an historic Ryder Cup (in 1991) and a major – the PGA, won by Rory McIlroy. Its Pete Dye-designed Ocean Course has witnessed it all, and it's due to witness another big one. The PGA of America has announced that the PGA Championship will return to Kiawah for its 103rd playing in 2021.
"From a golf perspective, at the Ocean Course there's not much higher you can go,'' said Warren. "Now there's a need to repeat. We're looking at another opportunity for a PGA Championship. The Ryder Cup has never gone back to the same location in the U.S., so – while we'd love to have it back – I don't think that will happen.''
The return of the PGA seems reasonable but it'll be awhile.
"We think we'll get another PGA, but it's booked through 2019,'' said Warren, "and we'd prefer not to do it in 2020. In 2012 (Kiawah's last PGA) we were in competition with a domestic Ryder Cup at Medinah and the Summer Olympics. When you do a major sports event in that climate it's difficult to get major corporate support. We'd prefer not to do it in 2020 because there's a domestic Ryder Cup at Hazeltine (in Minnesota) and the Olympics again.''
A year later, though, things would be much more enticing.
"In 2021 that'd be the 30th anniversary of our Ryder Cup, and it'd be nice to play on that history, what those '91 matches meant to it,'' said Warren.
If not a PGA, then what?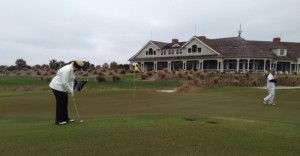 "At the Ocean Course you almost don't do anything else,'' said Warren, "but we'd do a Presidents Cup. That's a team event that would be fun.''
Kiawah's bottom line, though, isn't getting another big event on its most prestigious course.
"It's a major championship golf course, but anybody can play it,'' said Warren. "It's hard, but still so much fun from the right set of tees. We'll continue to make it a great experience for the people who play it.''
Kiawah is much more than the Ocean Course. The other layouts will get special attention over the next few years. Osprey Point will get a makeover this year, Cougar Point in 2015 and Oak Point the year after that.
"We'll probably build another hotel in West Beach, too,'' said Warren. "Our challenge is to keep going, but it's fun.''
Things were much different when Warren arrived in 2003. A Western Illinois University graduate who grew up in the downstate Illinois community of Galesburg, Warren started in golf working three summers at Village Links, Glen Ellyn's 27-hole facility. His main job was as a high school teacher and basketball and golf coach, first at Dundee Crown and then at Illinois Math and Science Academy.
He didn't enter golf full-time until he was 38, when he took the head professional's job at Village Links in 1986. He moved on to Seven Bridges in Woodridge , IL., when that facility opened in 1991 and remained there until going to Kiawah.
"I came here because I wanted the opportunity to do five courses, rather than one,'' he said. "It was a career growth thing for me. You're in a new region of the country, with new grasses. Then I was here about 18 months and the guy in (the president's job) left and they asked me do it as an interim.''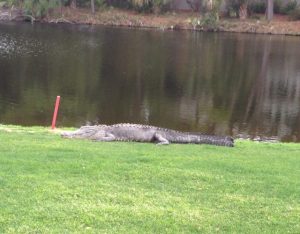 Not long after that the interim tag was lifted and Warren was promoted to president of the resort. He presided over the opening of its Sanctuary Hotel in August of 2004. At the same time he was climbing the ranks of the PGA of America hierarchy. He served as that organization's president in 2005-06.
"I had to learn the hotel and villa business and 12-13 restaurants also became my responsibility,'' he said. "It all came together at the same time. I was one busy person, but it's all been great.''
The PGA duties were all voluntary, but they kept him away from Kiawah for 132 nights. That's not unusual for the men who have held that job since then.
"Some have been out 170-180 days. I couldn't do that,'' said Warren. "If I had to do that job now I couldn't do it. I couldn't give up the time.''
But he did then, and Kiawah has thrived.
"When I first got here people didn't know much about Kiawah,'' said Warren. "I came here in 1992 for a PGA meeting in Charleston, then I came again for another meeting. I never thought about traveling this way (from Chicago). We'd go to Florida or Arizona, not here. But it's amazing that we've gotten a lot of people from Ohio and Illinois who are here now as guests or (home) owners.''
Warren arrived at Kiawah after the Ryder Cup effort in 1991, but he has great memories of the event in his capacities with the PGA. He was captain of the U.S. team in the Junior Ryder Cup competition during the last staging at Medinah.
"Of all thing things I was blessed to do with the PGA, the Junior Ryder Cup was one of the finest,'' he said. "We had a great group of kids, and they're all playing at major colleges now.''
Medinah's Ryder Cup, though, got Warren thinking about changes to improve the epic competition.
"As a past president we're almost over the line on what the Ryder Cup is now,'' he said. "They had 50,000 people there, and it was the first time I went to a Ryder Cup and felt I just couldn't see anything. For that kind of event people would pay more to see more and you wouldn't have to have 50,000 there, I'm hoping as we move forward we can make an adjustment. It's the greatest golf event in the world. We ought to make sure people who go there have a great experience.''