Jerry Rich's dream took its first big step towards reality immediately after the 2013 LPGA season concluded Sunday with Shanshan Feng's victory in the CME Group Titleholders tourney at Tiburon in Naples, FL.
That was the last event in which countries could earn points for participation in next year's inaugural International Crown event. Rich (pictured below) was a primary force behind the International Crown's creation, and his Rich Harvest Farms facility in Sugar Grove, IL., will host the second staging of the innovative biannual team competition in 2016.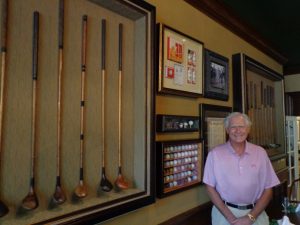 Rich hopes the International Crown will be played at Rich Harvest many times after that, but first things first.
The first International Crown will be at Caves Valley near Baltimore next July 24-27, and the eight countries that have earned berths there are South Korea, the U.S., Japan, Spain, Sweden, Thailand, Chinese Taipei and Australia. That news shared the spotlight with Shanshan Feng's winning of the $700,000 first prize at Tiburon – a prize twice that given the champion of the U.S. Women's Open.
Rich was there to both see the Titleholders drama unfold and participate in the International Crown press conference with LPGA commissioner Mike Whan and top players from five of the countries who earned berths at Caves Valley. He described the announcement staged there as "magnificent.''
"All the girls were so excited, but especially the Korean and Asian girls,'' he said. "When you look at the top players in the world, 60 percent of them are from Asia. They're so excited because they couldn't get into the Solheim Cup.''
The Solheim, staged successfully at Rich Harvest in 2009, matches players from only the U.S. and Europe. The International Crown will have eight four-player teams. The players will be decided on point standings after the Kraft Nabisco Championship ends on March 31.
Rich's work on the International Crown started long before Whan announced its creation at the PGA Merchandise Show in Orlando, FL., last January. Even before the event was made official Rich paid a visit to Chicago mayor Rahm Emanuel, a non-golfer who had been on the job only eight months, to alert him about what was coming.
"It was important that I met with him then because he hadn't made a decision on the Sport Festival that had been held at McCormick Place for 10 years under Mayor (Richard) Daley,'' said Rich. "When Mayor Daley retired the event wasn't done for a couple years, and we tried to bring it back for our kids.''
Emanuel was all for that, Rich said, but he told Rich "it was all about money….He said `You raise half, and I'll raise the other half.''
Then the conversation quickly shifted to the International Crown. Rich gave Emmanuel a sneak preview well ahead of the formal announcement.
"He was excited, because Chicago has one of the largest ethnic populations in the world.'' said Rich. "He said `This is the Olympics we never got.' I hadn't thought of it like that. We talked about how we could work with the city to energize its ethnic base, and we've done that.''
Rich has done much more on the International Crown since then, breaking mainly for trips to watch his alma mater – Northern Illinois – battle for more football glory. He wants the International Crown to be a fixture at Rich Harvest, and doesn't think that's out of the question.
"The last four-five months that's really all I've been involved in,'' he said. "We've had countless meetings with various corporations. Three or four have expressed major interest, and I'd like to have one title sponsor for the whole thing. I can't say too much right now but there's a Chicago company that really wants to hit the Asian market. We'll have more meetings the second week of December.''
Whan knows of Rich's plans and has been non-committal. And Rich, while sticking to his desire for a long run at Rich Harvest, could see a departure at some point as well.
"If we keep it in Chicago we might run four tournaments there, then bring it to Asia for one year and then bring it back here (to Chicago),'' said Rich. "We need this in Chicago, because Chicago doesn't have anything right now. The people there stood behind us for our Solheim Cup and, if we play our cards right in 2016, we'll knock everybody's socks off.''