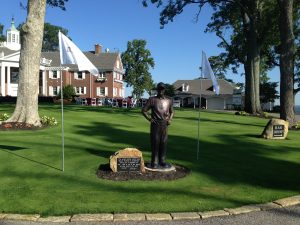 FRENCH LICK, Ind. – The Legends Championship, which made its debut on the Pete Dye Course here last year, is bigger and better for its second staging. It begins on Friday as the climax to a week of festivities designed to celebrate women's golf.
The two-day Alice Dye Invitational drew 112 amateur players from throughout the Midwest on Monday and Tuesday, with competition on both the Pete Dye and Donald Ross courses. The Legends day-long clinic on Wednesday drew 58 amateur participants and Thursday's pro-am will be packed with 195 players.
Sponsorship has also increased significantly.
"This is one of many big events we've hosted at French Lick,'' said director of golf Dave Harner. "We're rapidly becoming known as a destination for championship golf.''
Prior to the start of the competition on Friday there'll be an induction ceremony for the Legends Hall of Fame, which was created for the inaugural event last year. Jan Stephenson and Kathy Whitworth were the first inductees and Mickey Wright, Betsy Rawls, Louise Suggs and Alice Dye were also honored with membership. Wright, Rawls and Suggs won previous LPGA tournaments played at French Lick in the 1950s.
This time, following the induction of Nancy Lopez and Legends co-founder Jane Blalock, there'll be a ribbon-cutting to open the Legends Hall of Fame at the West Baden Springs Hotel.
The Legends Championship is the only 54-hole event on the 14-year old circuit, but the last three events have all gone beyond regulation.
In May Liselotte Neumann won the Walgreen's Charity Classic in Arizona in a playoff with Danielle Ammaccapane. In June Barb Moxness won the Judson College & Legends Pro-Am Challenge in Georgia in a playoff with Alicia Dibos.
The Legends Championship was immediately preceded by the Wendy's Championship Challenge in Michigan, and Rosie Jones defeated Nancy Scranton in a playoff there. It was Jones' seven win on the Legends circuit and she's also in the field here.
Canadian Lorie Kane was the first winner of the Legends Championship, and she'll defend her title. The inaugural Legends Championship was held in late September and finished in cold, rainy weather. Kane posted a 3-under-par 213 total to win by two strokes over Laurie Rinker and Val Skinner on the rugged but spectacular Dye layout.
"Being the inaugural winner was a thrill, but I'm looking forward to playing the course earlier in the summer, compared to last year,'' said Kane, who earned $60,000 for her victory. This year she'll be part of a 60-player field that will battle for the biggest purse on the Legends Tour — $500,000.
The tourney also includes a 36-hole Super Seniors Division on Saturday and Sunday. Blalock won that category, for players 63 and over, last year with a 5-over-par 149 total. The tourney will benefit the Riley Hospital for Children at IU Health Foundation.