GAYLORD, MI. – It has never ceased to amaze me how much better golf is in Michigan than it is in any other state. The season isn't very long there, but the number of quality public courses is extraordinary. I should know.
For over 25 years – starting about the time of the 1985 U.S. Open at Oakland Hills – I've been a regular Michigan visitor just because of the golf offered. Most of the trips were between two and five days (a couple might have lasted a week), and usually there were two or three per year. And rarely have I played a course more than once. There are so many good courses in Michigan you don't want to miss one.
This isn't to spotlight specific courses, though. This is to put the state's golf success story in perspective, and no one place could do it better than the Gaylord Golf Mecca, a marketing affiliation that celebrated its 25th anniversary in August with an outing and dinner at the Masterpiece — a Robert Trent Jones Sr. design at Treetops Resort.
Keith Gornick, owner of the Hidden Valley Resort, is credited with starting the Mecca. Tired of the area's golf facilities fighting each other for business, he invited the owners of several of them to a winter lunch in 1987. The result was the formation of the Gaylord Golf Council.
To say that was a wise move is putting it mildly. Instead of battling each other the owners mounted a cooperative effort that has resulted in more than 3.6 million golfers playing on Mecca courses over the last 25 years.
The Mecca started with six courses – Wilderness Valley, Garland, Gaylord Country Club, Michaywe Pines, the then-new Masterpiece course at Sylvan Resort (now named Treetops) and the Classic – oldest of the lot (it opened in 1955) on the grounds of ski hotbed Otsego Club.
Now the Mecca encompasses 17 courses, 306 holes, four resorts and 21 hotel properties to accommodate stay-and-play properties. Course architects represented in the Mecca include, in addition to Jones Sr., include the likes of Tom Fazio, Tom Doak, Rees Jones, Rick Smith, Jerry Matthews and Gary Koch.
The courses include Threetops, which bills itself with justification as "the No. 1 Par 3 Course in America.'' Lots of pro stars have played it, and Lee Trevino earned $1,090,000 with one swing when he made a hole-in-one on the No. 7 hole – a feat that is now described as "the shot heard round the world.''
Elevation changes make the biggest impact on me when I play in Michigan, and none is more pronounced than the 219-yard straight downhill third hole at Threetops. The signature sixth hole at Jones' Masterpiece (shown below) has a breathtaking vertical drop (120 feet) as well.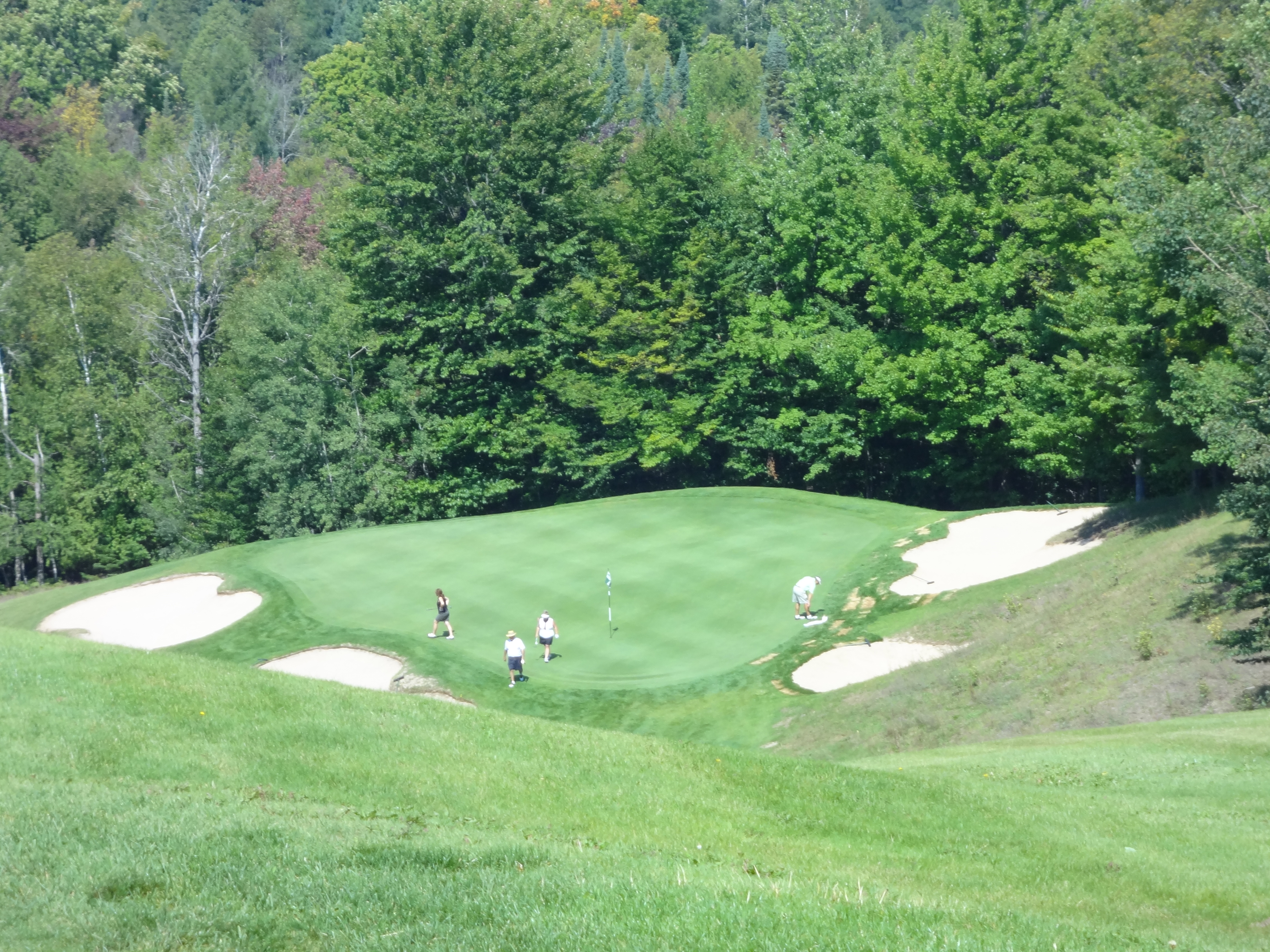 Everybody has their favorites at the Mecca. I'm a big fan of Otsego's Tribute – a fun layout designed by Rick Robbins and Koch, the PGA Tour veteran and NBC golf analyst. This last trip involved playing three of the Mecca courses, but Gaylord is a full day's drive from Chicago so catching other courses on the way is a must if time permits. For us it did.
Shanty Creek Resorts, in Bellaire, has been a frequent stop over the years starting when the resort opened The Legend, an Arnold Palmer design that celebrated its own 25th anniversary in 2011. Shanty's a top-quality resort (it just completed a $10 million renovation) with three other courses, our favorite being the Tom Weiskopf-designed Cedar River. Most fun layout, though, is Schuss Mountain, which has long been popular with locals. For non-golf activity the view of Lake Bellaire is spectacular from the dining area of the Lakeview Restaurant and Lounge.
Michigan golf leaders have always been ahead of ahead of the national curve, and a good example of that came at Schuss Mountain. In an effort to make golf more enjoyable for beginners the layout has two cup placements on each hole. One has the traditional 4 ¼-inch cup and the other – usually in the back of the green – is eight inches wide. You can play to either or – as we did – try out them both. Head professional Brian Kautz said that two-cup plan may be extended to Shanty's fourth course, Summit, next year. Though a full-length 18-holer, the Summit also features par-3 tee boxes on every hole.
Another stop on the way to Gaylord this year was Forest Dunes, in Roscommon. People who should know tell me Forest Dunes has the best greens in Michigan. The raters from both Golf Magazine and Golf Digest apparently agree. Golf Digest rated Forest Dunes No. 20 in its list of the top 100 U.S. public courses and Golf Magazine elevated it from 45th last year to 33rd on its Best Public Courses in the U.S. list.
Forest Dunes' location is on the remote side, but you couldn't tell that on the weekday that we visited. A youth tournament, combined with public play, made it a most busy place.
The Mecca anniversary outing, which included an inspiring speech from Michigan lieutenant governor Brian Calley at the post-golf dinner, climaxed our second golf journey into the state in 2012. Our next such adventure on the Michigan's links can't come soon enough.