PETOSKEY, MI. – Boyne Resorts may be best known for skiing nationwide, but golf has never been just an afterthought. That was clearly evident this season when Boyne undertook two major projects simultaneously on its Michigan courses.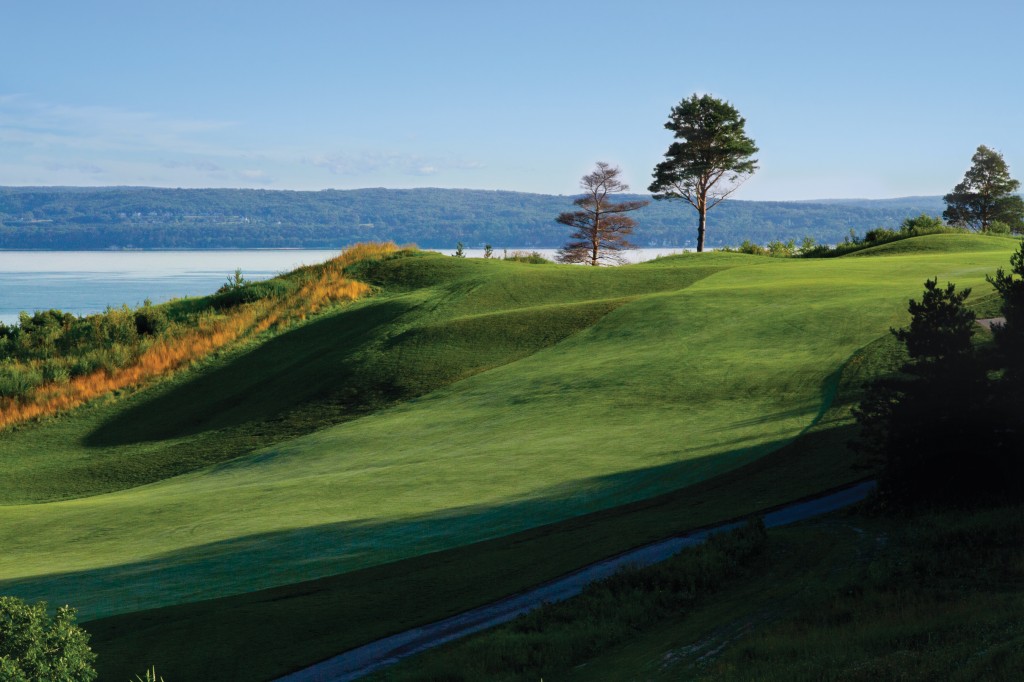 The bunkers on The Moor layout at Boyne Highlands Resort underwent an extensive renovation while nearby Crooked Tree Golf Club was given an even more noteworthy updating. The Crooked Tree project represents, arguably, the most significant work done in this golf –rich state in 2014. That's saying something, since Michigan has over 800 public courses.
Crooked Tree's original designer was Harry Bowers, his creation opening in 1991. Bowers has worked with Robert Trent Jones Sr., Raymond Floyd and Curtis Strange on various projects in addition to his own designs, which include Odyssey in Tinley Park, IL (done with Strange). It opened a year after Crooked Tree.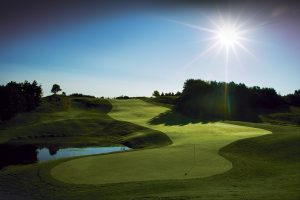 Plenty of players liked the challenges Crooked Tree presented, to say nothing of the scenic views it offered of Lake Michigan's Little Traverse Bay, but Bernie Friedrich, Boyne senior vice president of golf and retail operations, is quick to admit that all was not ideal with the original design.
There were issues with the three finishing holes. The well-respected architect Arthur Hills, who has another course named in his honor at Boyne Highlands, was brought in to correct the problems.
"We had three finishing holes that, frankly, weren't very pleasing,'' said Friedrich, in his 38th season with Boyne. "People would leave with a bad taste in their mouths.''
For many players, those holes were too tough but Friedrich insists that Hills' re-design effort wasn't about making the holes easier.
"Easier? No,'' he said. "It made them more playable. There's a difference.''
No. 16 is a par-4 that measures 389 yards from the back tees and 310 from the front. Hills' version has some enthusiastic supporters, one telling me "We now have one of the best holes in North America.''
It is indeed memorable. Little Traverse Bay doesn't come into play, but it's highly visible from the elevated tee. A good drive can leave you with another nice look, a downhill shot to a green blocked in part by a pond front right. The fairway was extended and the green moved behind the pond. That represented a big change for the hole.
Much more work was needed at No. 17, a par-5 that now plays 510 yards from the tips and 379 from the front markers.
"It was a really bad golf hole,'' said Friedrich. An assessment can't get any more blunt than that.
"A 10-handicapper would hit a driver, then lay up with a 9-iron and then hit a 150-shot over a ravine to the green,'' said Friedrich, describing the old No. 17. "Women's couldn't play it. They'd skip it.''
So, Hills backed up the tees, moved 165 yards of dirt, lowered the green and flattened it out. Friedrich now calls it "a very pleasant par-5.''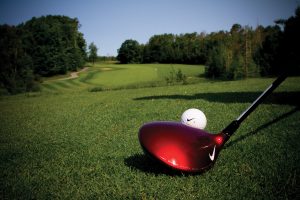 The finishing hole is now a 431-yard par-4 and can be played as short as 272 yards. The green's the thing here. No. 18 shares the same green with No. 9. Previously it lacked a variety of pin positions for a finishing hole. Now it has three tiers, so there's plenty of them. The fairway was also moved and some bunkers narrowed, the end result being a more playable hole before you head to the clubhouse.
Friedrich reports the new holes have been "extremely well received,'' but it wasn't a quick fix and it didn't come cheap. Hills began his work last fall and the course re-opened on June 11 after an array of challenges.
The new holes were seeded twice because "horrible'' spring weather resulted in 11 inches of rain falling in a three-week span. That led to the decision to lay sod instead.
"Otherwise we would have ended up trying to grow grass all years,'' said Friedrich. "It turned out very expensive – in excess of $600,000 for just those three holes.''
The project, though, produced the desired result. "The course is fun to play, and you leave the golf course with a much better feeling now,'' said Friedrich.
His job, of course, encompasses much more than Crooked Tree. Within Michigan he's also responsible for the Arthur Hills, Donald Ross Memorial, The Heather, Hidden River and The Moor at Boyne Highlands as well as The Alpine and The Monument at Boyne Mountain Resort and The Links, The Quarry and The Preserve at Bay Harbor.
He also oversees Boyne courses in Montana and Maine, and most are also impacted by busy ski seasons. Sometimes those seasons overlap. Two years ago, for instance, northern Michigan had 80-degree temperatures in March.
"We were trying to stretch out the ski season, and we were making snow on one side of a hill and on the other side (where golf holes were in place) we were watering,'' said Friedrich. But that is highly unusual.
"If golf and skiing are going on in this climate at the same time it's probably not very good for either one of them,'' said Friedrich. "Having them together depends on the year, but it's not a goal. We start golf in May (in Michigan) when a lot of holes still have snow on them and we'll see snow until June.''