GAYLORD, MI. — Treetops has grown into – arguably at least – Michigan's most spectacular golf resort and one of its main features is its teaching program.
Started in 1990 by Rick Smith and Henry Young, the school thrived as the Rick Smith Golf Academy and Smith became prominent far beyond his home state as both a teacher and course designer. His success as an instructor at Treetops led to him eventually becoming a swing guru for Phil Mickelson and he now also works with PGA Tour players Rory Sabbatini, Jerry Kelly and Sang-Moon Bae – winner of this year's Byron Nelson Classic.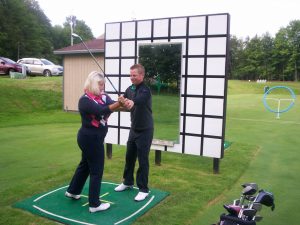 Smith remains the owner and architect for three courses – Tradition, Signature and Threetops – at Treetops North. Threetops is widely regarded as America's best par-3 course.
Inevitably, Smith's success in teaching and course architecture led to his spending more time away from Michigan – he's even designing a course in China now — and that led to a revamping and renaming on the teaching side. It's now the Rick Smith and Jason Guss Golf Academy.
The name change isn't something superficial within Michigan golf circles. Guss' return to Treetops – he was one of Smith's teaching assistants for 13 years – was made to expand the Academy and he's done that significantly. Not only does it remain as the oldest continuously-operated golf school in Michigan, it's also the state's only three-time honoree of America's Top-25 Golf Schools, as determined by Golf Magazine.
As for Guss, in 2013 he was named the Michigan PGA's Teacher of the Year. We could see why on a visit to Couples Golf School, one of his expansion projects for the Academy. It consisted of an informative, fast-moving six hours of instruction conducted in two three-hour morning sessions. Guss did the bulk of the instructing with Gary Bissell backing him up.
The first three hours were spent hitting lots of balls on the range with the focus on swing technique supplemented by video analysis. The second three hours were devoted to short game skills – half on putting and half on chipping and pitching.
Guss left Treetops to start his own Academy at the nearly Otsego Club in 2011. That was an understandable move given that he had been recognized by Golf Digest as among the nation's Best Young Teachers in 2010 and was selected to that publication's advisory committee on equipment analysis for its popular Hot List issue. On that project Guss has spent three-day sessions working with scientists, retailers, teachers and amateur players to determine the best products coming into the marketplace.
Under the new setup Guss leads the Academy effort as director of golf performance with Smith there strictly part-time. Young and Bissell round out the instruction staff along with Judy Mason, long-time staffer for the Treetops' Ladies Golf School.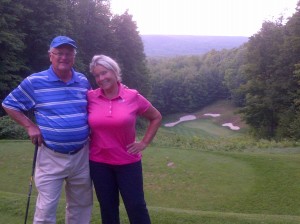 Though offering a wide variety of teaching options, Guss is heavily involved in junior programs and one of his youngest pupils won an American Junior Golf Assn. 54-hole tournament.
The Academy, located at Treetops North, — on Wilkinson Road three miles north of Treetops proper, has indoor facilities and computer swing analysis equipment – Trackman and Tomi Putting System. We made use of it in our two-day program, but benefitted more from the unlimited golf offered as part of the package. In addition to the six hours of instruction, we had 18-hole afternoon rounds at the Tradition and Fazio Premier layouts topped off by a spin around Threetops.
Treetops North is one of the few facilities where you can play 63 holes without changing golf carts. We played 63 holes during our latest Michigan visit, but not all at Treetops. Our first round was at nearby Boyne Highlands the day before the Couples School started, and we didn't get to play the third 18 at Treetops North. That's the Signature course, and we expect to play it on our next visit.