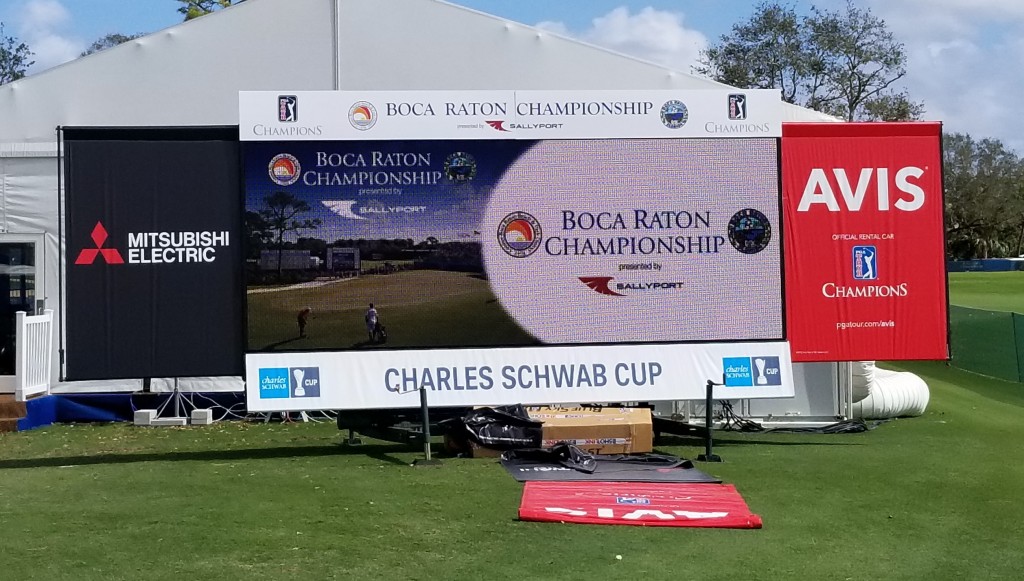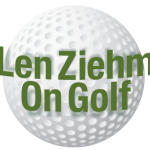 Jeff Sluman has been Chicago's lone representative on PGA Tour Champions for the last 10 years but things are different going into the circuit's first full-field event this week.
"I'm a resident of Florida now,'' said Sluman. "We live eight months here and summer up in Chicago. We love that city but I got tired of being cold and my golf game suffered tremendously.''
The New York-born Sluman and wife Linda set up a base in Hinsdale in the early 1990s, when Jeff was a regular on the PGA Tour. They sold their place in the suburbs two years ago, moved to Chicago's River North area and will still be there in the summer months. Home, however is now officially in Delray Beach, Fla., which is just a few miles from the Boca Raton Championship. That 54-hole event tees off on Friday at Broken Sound Golf Club.
While Sluman has long been a Chicago guy, he has ties to Delray Beach, too. Four years ago he supervised the renovation of Seagate Country Club there and represents that facility on the 50-and-over circuit.
"It's got a beautiful golf course, a hotel, a beach club, a yacht club,'' said Sluman. "Some friends from Rochester, N.Y., own it. It's nice here. I like putting on shorts and walking on the beach. I worked 40 years so I could do that.''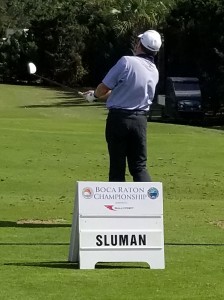 Sluman has enjoyed a solid career on both the PGA and Champions circuits. At 30 he won the PGA Championship at Oklahoma's Oak Tree Course and just before his 40th birthday he won at Tucson, which triggered victories in seven more events world wide including four on the PGA Tour.
At 50 he became eligible for the Champions Tour and won the first of his six titles there a year later. Had he performed better in playoffs — he lost six PGA titles in extra holes and is 0-3 in Champions playoffs – his record would be even more impressive.
Now 60, Sluman believes he's still got some good years left and this year's schedule includes the first PGA Champions' major event in the Chicago area in 21 years. The Senior Players Championship will be played at Exmoor, in Highland Park, in July and Sluman would love to be a factor there.
"There's a big difference between being 50 and 60 on this tour. It's like the difference from being 25 to 35 on the PGA Tour,'' he said. "You've just got to be fortunate and not get any major, major injuries. That's another reason I wanted to get out of that cold weather and be warm all the time. I'm taking it a year at a time, but I'd say I've got two-three real good years left in me.''
TEN BROECK ADVANCES: The 78-man starting field in the first full field event on PGA Tour Champions will have a familiar name for Chicago golfers. Lance Ten Broeck was low man in Monday's qualifying round for the Boca Raton Championship, shooting a 3-under-par 69 at the nearby Prreserve at Ironhorse course.
Ten Broeck, who grew up in Chicago, was the caddie for PGA Champions veteran Jesper Parnevik in recent years but competed when possible. Now 61, Ten Broeck played in 355 PGA Tour events and 61 tournaments on the Champions' circuit. He tied for ninth at the 2012 U.S. Senior Open.
Earlier in his playing career Ten Broeck won the 1984 Illinois Open and became the second family member to do it. Brother Rick won in 1973 and 1981. A third Ten Broeck brother, Jim, was the Illinois State Amateur winner in 1968.
IT'S SHOWTIME: Friday marks more than just the start of the first full field event for the PGA Champions circuit. It's also the kickoff to three straight weeks of golf shows in the Chicago area.
First is the Tinley Park Golf Expo, which runs through Sunday at the Tinley Park Convention Center. Show hours are noon-6 p.m. on Friday, 9 a.m.-7 p.m. on Saturday and 9 a.m.-4 p.m. on Sunday. Admission is $5 on Friday and $10 on the weekend days.
Tenco Events, owner and operator of the Tinley Park show, will also present the Northern Illinois Golf Expo at the Lake County Fairgrounds and Event Center in Grayslake from Feb. 16-18.
Biggest and oldest of the winter attractions is the Chicago Golf Show, which runs Feb. 23-25 at the Stephens Convention Center in Rosemont. The Chicago Show was first held in 1962 and has been based in Rosemont since 1990.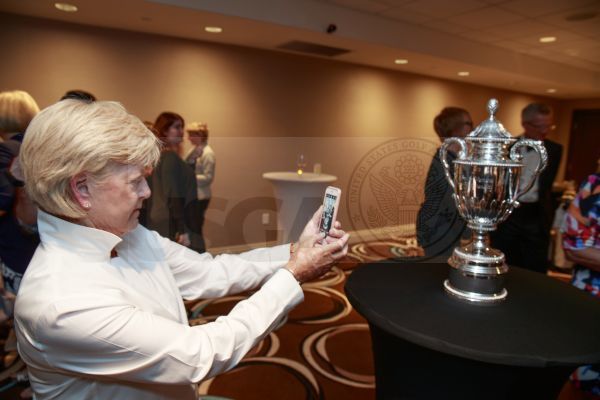 SENIOR WOMEN'S COUNTDOWN: Chicago Golf Club, in Wheaton, will host the first-ever U.S. Senior Women's Open in July and the excitement started to build when the U.S. Golf Association unveiled the championship trophy last week in Miami. At 13 pounds it'll be the heaviest of the four U.S. Open trophies to be presented by the USGA.
The USGA also announced that the trophy is 22 inches high. Entries will open on March 5 for women 50 and over with handicap indexes not to exceed 7.4. The USGA also announced the that there will be 120 players competing for a $1 million purse at Chicago Golf Club.
"It was a magical moment to see that beautiful trophy. I'm thrilled to have the opportunity to compete for it'' said Hall of Famer Pat Bradley, who won the U.S. Women's Open at LaGrange Country Club in 1981. "I've been waiting 17 years to have this championship on our schedule.''
Bradley is a regular competitor on the LPGA's Legends Tour. Amy Alcott, another Hall of Famer, doesn't compete much any more but that may change. Calling the new trophy "stunning'' and "very classy,'' Alcott said "I'm working on my game with Chicago in mind.''