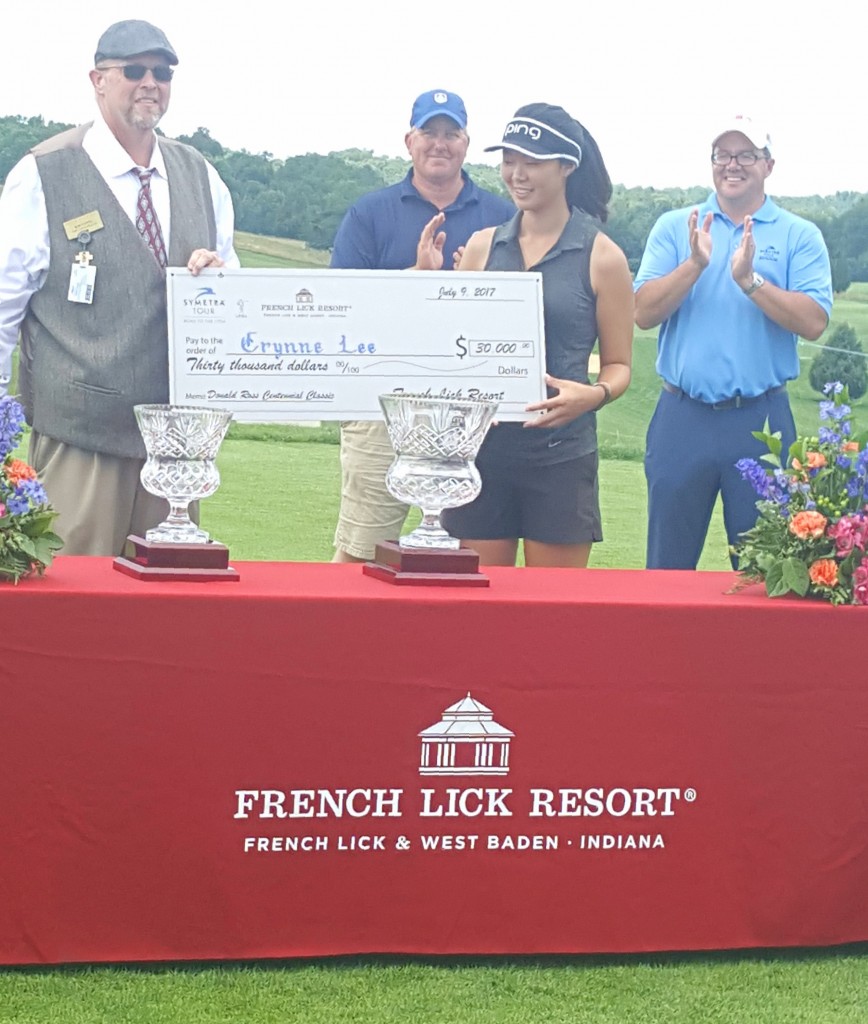 FRENCH LICK, Ind. – How significant is the first Senior LPGA Championship that tees off today on the Pete Dye Course here?
Well, it's so important that Murle Breer was willing to come out of a long hibernation from tournaments to be involved in big-time golf just one more time. Breer is 78 years old and hasn't even been playing on the LPGA Legends Tour, the senior circuit that has been the only avenue for competition for the players that got women's professional golf on the sports map.
Breer, as the U.S. Women's Open champion in 1962, was a welcome addition to the Honors Championship — a nine-player one-day event that was weaved into the Symetra Tour's Donald Ross Centennial Classic that concluded on Sunday on the Donald Ross Course at French Lick Resort.
"My daughter wanted me to sign up for this,'' said Breer. "Her husband came and my grandson was my caddie. We had a good time.''
Using a mixed bag of clubs garnered from her daughter and French Lick director of golf Dave Harner, Breer shot 86 and tied for sixth in the Honors event, which was won – as usual – by Jan Stephenson with a 3-over-par 74. She has dominated that category during the last four years that the Legends Tour has visited French Lick.
"I never got a chance to play 18 holes before today,'' said Breer, who plays most of her golf at Wilmington Island Golf Club in Savannah, Ga.. "I have no excuses, but my score was horrendous. I was embarrassed.''
There was no need to be, as Breer's connection to this historic event was special.
In 1960 the Ross course was called the Sheraton Hotel Country Club and it was in the last of a three-year run as an LPGA Tour site. Breer was in the field for the LPGA Championship, a major event then and now, on that layout.
"I was a youngster. I can't remember how I finished,'' said Breer, who was single and played as Murle MacKenzie then. "What I do remember was that they'd had a lot of rain and all the cornfields were dried because the sun came out and baked them. The sun also baked the greens and they were slick. Trying to putt on them, that's what I remember about French Lick. It was a different sport then, but the people were great to us.''
Breer's caddie in 1960 was Bill Kendall, who emerged as a long-time club professional in the area. Now retired, he works part-time at French Lick and was on gate duty during Sunday's competition.
The legendary Mickey Wright won the LPGA Championship at French Lick 57 years ago, beating Louise Suggs by three strokes. The LPGA didn't return until the Legends – a circuit of former LPGA players who had reached their 45th birthday – landed an annual tournament on the Pete Dye Course in 2013.
Jane Blalock, a former LPGA star, organized The Legends Tour and was second to Stephenson – four strokes back – in the 18-hole Honors competition on Sunday. Both Stephenson and Blalock will be back today to play 54 more holes on the Pete Dye Course in the main event. At 71 Blalock will be the oldest player of the 81 competing over the next three days in the first nationally-television (Golf Channel) senior women's tournament.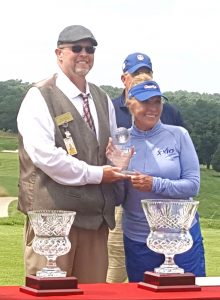 The best golf played Sunday, understandably, was by the much younger Symetra Tour players. Their 54-hole Donald Ross Centennial Classic focused on the final threesome. Erynne Lee, of Silverdale, Wash., defeated August Kim, of St. Augustine, Fla., on the third hole of a sudden death playoff when Kim hit her second shot over the green and took a bogey.
Kim shot a 7-under-par 64 in Sunday's final round to earn a shot at Lee, who posted a second straight 66, in extra holes. Lee, though, took home the $30,000 first prize and with it a likely place on the LPGA Tour in 2018. Interestingly, Lee and Kim were 12-under-par over their regulation 54 holes. Wright was just 4-under-par for 72 holes and Suggs, at 1-under, was the only other player to beat par during the LPGA Championship back in 1960.
"This is an amazing place,'' said Lee, who used her father as her caddie. "The golf course was in great condition and it felt like a U.S. Women's Open golf course. I'm just glad the greens weren't any faster.''
Thailand's Benyapa Niphatsophon, who played with Lee and Kim, finished solo third – three strokes ahead of everyone else. Winnetka's Elizabeth Szokol, who was tied for the lead midway through Saturday's second round, struggled in with a 75 and finished in a tie for 34th.