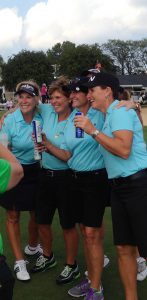 The LPGA Legends Tour announced its schedule for 2014 last week, and it's good one. This circuit for players 45 and over continued its slow but steady growth and created more attractive dates for its biggest championship.
Still, the circuit has a glaring absence on the slate for its 14th season. The Legends – with players like Nancy Lopez, Joanne Carner, Jan Stephenson, Rosie Jones, Pat Bradley and Beth Daniel who have done so much for the growth of women's golf throughout their careers — still don't have a U.S. Open.
The U.S. Golf Assn. has a women's equivalent for all its other individual national championships – Open, Amateur, Junior, Mid-Amateur, Senior Amateur – but there's no U.S. Senior Women's Open. The men's U.S. Senior Open made its debut in 1980.
Hopefully the women's version is just a year away, because the USGA has the money now, thanks to a new 12-year TV contract that will increase annual revenues from $37 million to $93 million. Money may have been a problem in the past, and so may have been a shortage of qualified women players in the 45-plus age group.
That's no longer the case, and among the early proponents for U.S. Senior Women's Open is David Fay, the for USGA executive director. He suggested a 2015 U.S. Senior Women's Open to debut in May, 2015. It'd have the best of the Legends Tour competing against the best amateurs.
As for the Legends of 2014, their tournament schedule calls for a return to six venues from 2013 and visits to two new ones. Plus, the biggest event, the Legends Championship presented by Humana, is moving into prime August dates after making its debut in late September last year.
The Legends Championship, again the only 54-hole stop on the schedule, got off to a rousing start at French Lick in Indiana, with the Alice Dye Invitational for amateur starting off a big week to celebrate women's golf. Last year a Legends Hall of Fame was created at French Lick, and it'll be formally unveiled during this year's Aug. 13-17 event. The Legends Championship will again have the biggest purse ($500,000) and most players (60), with Canadian Lorie Kane going in as the defending champion.
The return of the Legends comes after a monumental 2013 season for French Lick. U.S. News and World Report ranked its West Baden Springs Hotel as the best hotel in Indiana, among the top 10 in the Midwest and in the Top 50 Hotel Spas in the U.S. Conde Nast Travelers tabbed West Baden No. 31 among its Top 50 Hotel Spas and GolfWeek ranked French Lick's Pete Dye Course No. 27 and its Donald Ross layout No. 48 among its Top 100 Best Resort Courses.
French Lick's second Legends Championship competition will conclude a two-week stay for the circuit in the Midwest. The Wendy's Charity Challenge will be played at Michigan's Country Club of Jackson the previous week.
The season, which begins with the May 1-4 Walgreen's Charity Classic in Arizona, will include two major site changes. The Handa Cup team event will move from Hermitage, in Nashville, Tenn., to Old Waverly, in Mississippi. Old Waverly was the site of the 1999 U.S. Women's Open, won by Juli Inkster.
In another site change, the Walgreen's Charity Championship will switch Florida venues on Nov. 6-9, being played this time at Seagate at The Hamlet in Delray Beach. It was held WHERE in 2013.
The Legends Tour played for over $11 million in prize money in its first 13 seasons and raised over $14 million for charity.