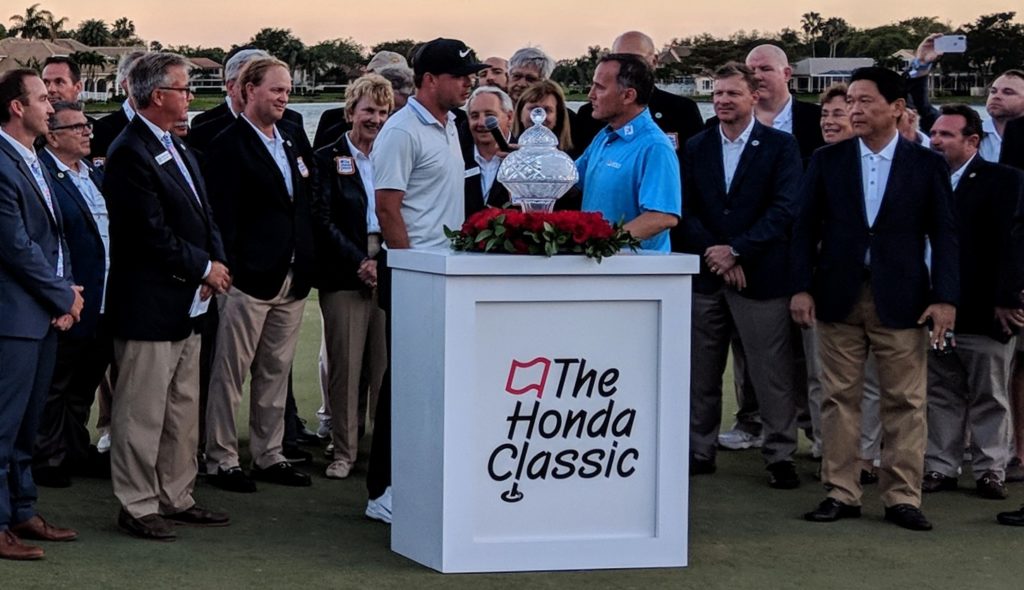 PALM BEACH GARDENS, Florida – The stage was set for the biggest historically significant accomplishment of the 2019 PGA Tour season on Sunday. Vijay Singh, in the final pairing of the Honda Classic, was ideally positioned to become the oldest winner of a PGA Tour event and erase one of the longest-standing records in golf.
Coming off a third-round 65 on the Champions Course at PGA National Resort on Saturday, the 56-year old Singh started the final round of the $6.8 million championship just one stroke behind leader and playing partner Wyndham Clark. Clark, 32 years younger than Singh, was (and still is) winless on the PGA Tour.
There were other challengers, though, and a most unlikely one got the win. Keith Mitchell, despite opening the final round with two bogeys, nabbed his first on golf's premier circuit thanks to a 15-foot left-to- right birdie putt on the final green.
That killed off the hopes of local stars Rickie Fowler and Brooks Koepka, who had finished at 8-under-par 272. Mitchell, posted a final round 67, finished at 9-under 271, earned $1,224,000 and claimed spots in seven of golf's biggest events including the upcoming Players Championship and Masters.
"My mind started wandering a bit at the end,'' said Mitchell, "and then I hit a great putt.'' That said it all for this staging of the first event on the PGA Tour's Florida Swing.
As for Singh, he was in a tie for the lead twice on the back nine and was in contention until his tee shot at No. 17 – a par-3 that concludes the fearsome stretch of holes known as the Bear Trap – came up short, with the ball partly submerged in a water hazard. That led to a bogey, and Singh finished sixth after his final round 70.
"It was awesome to see Vijay play well this week and get himself in contention,'' said Fowler. "I'd love to be healthy and swinging and being able to compete with guys that are half my age at that point. It's impressive stuff.''
Mitchell was impressed, too.
"It's so amazing what he has done at that age,'' said Mitchell. "He's 30 years older than me and he's hitting more balls on the range than I am. That guy is a true testament to fitness, to health. If I'm anywhere near a golf course when I'm 56 I'm going to be excited.''
The last of Singh's 34 PGA Tour wins was 11 years ago but he won his first major title on PGA Tour Champions last year at the Constellation Senior Players Championship at Exmoor Country Club in suburban Chicago.
The strong showing against the young stars also came after Singh and the PGA Tour recently reached a settlement on a lawsuit that had been a distraction for both since 2013. It had started with the PGA Tour suspending Singh for use of deer antler spray, a banned substance. But the settlement means that neither side will talk about it any more – and that's a good thing.
Mitchell's clutch putt on the last green wasn't such a good thing for two hometown heroes. Fowler lives in nearby Jupiter and Koepka, the reigning two-time U.S. Open champion and defending PGA champion, grew up in West Palm Beach. They were waiting for a playoff with Mitchell – a player neither knew very well. Still, both were there to congratulate Mitchell before he reached the scorer's table.
"I know he went to Georgia,'' said Koepka. "He was there when I was at Florida State so I knew him a little bit in amateur and junior golf. He's a good player, strikes it really well, a powerful golf swing. Good to see him win.''
"I've always heard a lot of good things about him,'' said Fowler. "I haven't played with him or seen him play much but you can't fake it around this golf course. You have to go out there and earn it.''
Mitchell did.
"It was awesome, just to have a chance coming down the stretch against Rickie and Brooks,'' said Mitchell. "I'm just glad I could prove myself against guys like that.''