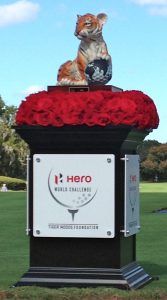 WINDERMERE, FL. – Tiger Woods' return to competitive golf figured to be the most noteworthy event in the sport last week. Now, maybe it wasn't.
Woods played hurt, and tied for last in his Hero World Challenge at Isleworth. Just an hour away his niece, Cheyenne Woods, earned her playing privileges on the LPGA Tour in the Qualifying School's 90-hole elimination in Daytona Beach. She'll be a focal point on the women's circuit at times next season.
And that's not all that may have overshadowed the Tiger return. Jordan Spieth's victory at Isleworth was astounding — a 10-shot win on the heels of his six-shot victory in last week's Australian Open.
And that still wasn't all. John Daly announced his engagement, then won his first tournament in 10 years at the Beko Classic in Turkey. Padraig Harrington, whose world ranking had dropped to No. 385, won his first tournament since the 2008 PGA Championship by taking the Bank BRI Indonesia Open and English golfer Danny Willett overtook Luke Donald in the Nedbank Challenge in South Africa.
Still, that was a great showing by Donald — on his 37th birthday after his world ranking had dropped to No. 37. Donald shot 63 in the third round and was the 54-hole leader before struggling to a 73 in the final round. His strong showing came shortly after he announced he's working again with Pat Goss, his college coach at Northwestern.
As for Woods, at least he's playing again — and healthy. That suggests he'll be a factor during the rest of the 2014-15 season.
When Woods hosted his World Challenge in 2013 he was the No. 1-ranked golfer in the world. A lot has changed since then for the player whose success, many claim, is critical to the growth of the game.
Woods lost the title of his own charity tournament in a playoff with Zach Johnson a year ago, when the event was played in California, and his year went downhill from there. This year the main storyline of the World Challenge figured to be Woods more than the competition. Could he come back again after all that happened?
Unfortunately, no definitive answer came from the Hero World Challenge. He was understandably rusty (as underscored by nine chunked chip shots during the course of the 72 holes), but Wood was also sick during most of the tournament — so sick, in fact, that he experienced vomiting and nausea on the course.
Still, he finished at even par and in a tie with Hunter Mahan for 17th in the star-studded 18-player field. If a sick Tiger can do that, what can a healthy one do down the road? Time will tell.
At least Woods wasn't deflated by the slow start in his first tournament back.
"I made some progress. I hadn't played in four months, and I'm in absolutely no pain," said Woods. "That's nice."
What was even nicer Spieth's record 26-under-par 262 performance. The score was a tournament record, and Spieth became the first wire-to-wire winner of Woods' charity event.
"The best I've ever played, which is what I said in the Media Center in Sydney (after his win in the Australian Open)," said Spieth. "I played better this week."
The flu-like symptoms that Woods experienced at Isleworth didn't compare to what he went through since the World Challenge of 2013. He had back surgery on March 31 and tried to salvage the 2013-14 PGA Tour season but his attempt was futile. He was in too much pain.
During the season he played in only eight tournaments world-wide, and his best finish was a tie for 25th place. That's why he entered this week's newly-named Hero World Challenge with just a No. 24 world ranking.



Still, hopes were high for the game's long-time No. 1 player who turns 39 on Dec. 30. The Challenge was his first competitive event since he limped off the Valhalla course in Louisville after missing the cut in the PGA Championship in August.
Since then Woods underwent extensive rehab on his back, rarely touching a golf club until the last few weeks. He dropped swing coach Sean Foley and named Chris Como his"swing consultant.'' Together they've begun work on a swing change to accommodate his potentially vulnerable back.
There's been one big positive for Woods recently, too. He landed his biggest endorsement contract since his fall from grace in the aftermath of the car crash in the Isleworth community here five years ago. Hero Moto Corp, a motorcycle manufacturer based in India, will pay Woods upwards of $6 million per year for the next four years as part of his latest endorsement deal.
Woods has never ridden a motorcycle, and said he doesn't intend to, but he was photographed sitting on his new sponsor's products this week. Hero will continue sponsorship of Woods' World Challenge, which will be played in the Bahamas the next three years. Next year's Challenge will be played at the luxury resort Albany, which is jointly owned by Woods, Ernie Els and the Tavistock Group — the developer of Isleworth. Els designed the course at Albany.
All looked good in the world of Tiger before the first ball was struck on the long, challenging Isleworth layout on Thursday. Woods looked lean and strong, suggesting he had lost weight during the rehab. He was in good spirits. The back, he said, felt fine. He said he had regained his explosiveness and just needed to hit more balls.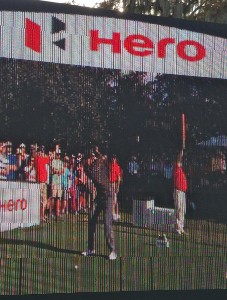 That became obvious as soon as it was time to compete. His first tee shot on Thursday went out of bounds. He made bogeys on his first two holes and added another on a par-5. That put him in a hole early and he never got out of it, shooting 77 in his first round back.
Patrick Reed and Woods were the first twosome off the tee in Round 2 and their games couldn't have been much different. Reed was 8-under-par after 10 holes and envisioned shooting in the 50s. He settled for a course-record 63 and didn't considered the disparity in scores — Woods improved to a 70 — as a cause for concern for his playing partner.
"His game seemed fine," said Reed. "Of course he didn't like the score he had. He had a couple loose shots out there, but he knows what he's doing."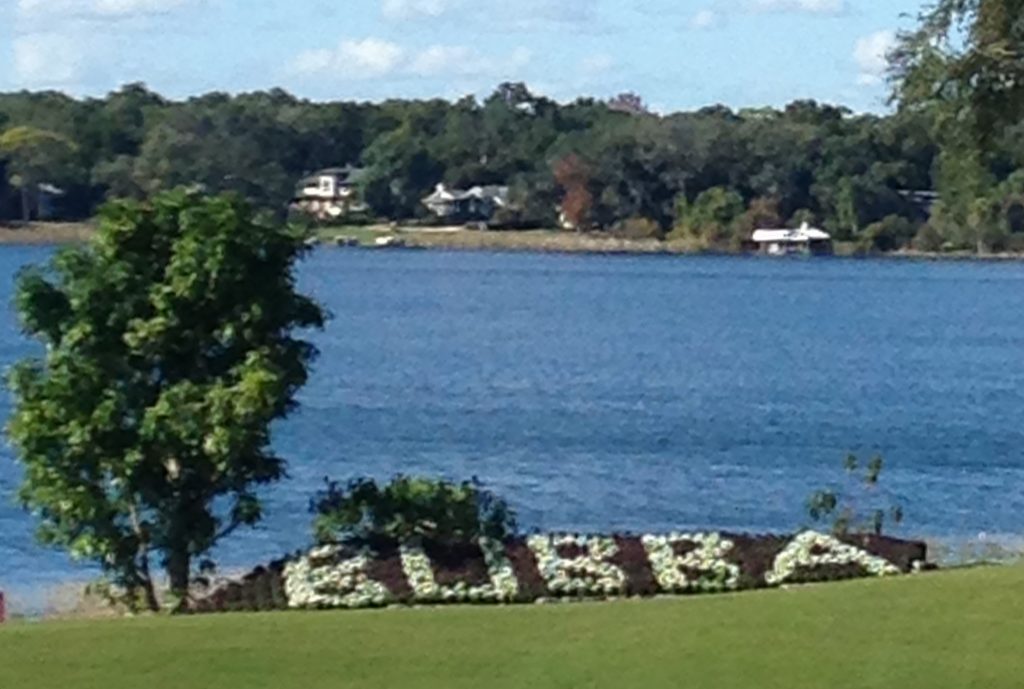 Woods did admit that his latest swing change hasn't fully kicked in yet.
"The good news is, I know the process,'' said Woods. "I've
made changes before in my game, and it takes time.''
Steve Stricker, like Woods, had been on rehab duty and was in his first competition in three months. He had 67 in the first round but struggled after that and was paired with Woods in the third round.
The hip that had troubled Stricker most of the 2013-14 season turned out to be a herniated disc in his back. He could sympathize with Woods' plight.
"There's a comfort level with this game, and if you don't have that comfort it's difficult to play,'' said Stricker. "So, it'll take some time, I'm sure…It'll be a challenge for Tiger, but he'll be fine.''
Woods finished the third round with three straight birdies while posting a 69 — his best round of the week. On Sunday he avoided solo ownership of last place by shooting a 72 that pulled him into a tie with Mahan.
So, while there were some positives, Woods may not be seen in competition for awhile now. Without giving specifics he said his schedule for 2015 will be a bit different than in previous years and that he expected to be very busy beginning in the middle of the year.