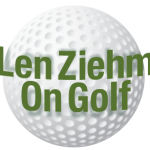 NEKOOSA, Wisconsin – Mike Keiser's Sand Valley Resort has already brought a new look for golfers looking to travel.
Its two 18-holers, Sand Valley and Mammoth Dunes, are walking courses with lots of sand – of course – and lots of great views.  On our recent visit we asked some of the veteran staffers to pick their favorite course and some didn't hesitate to go in another direction.
Rather than choose between the 18-holers they went with Sandbox, a series of 17 par-3 holes that really makes a player think and have fun at the same time.  We had played the two 18-holers on previous visits, but didn't get to the Sandbox until this summer. I can see why that course was so positively received.
The holes roughly measure between 50 and 150 yards.  The yardages change with the daily adjustment of tee markers.  And, there's an extra shovel-designed tee marker on each hole for those wishing to have an extra challenge.  It's much closer to the putting surface, designed for putting only and ideal for match play competitions.
The greens have all kinds of elevation changes and the many bunkers are deep and difficult to escape. All of this was the creation of architects Bill Coore and Ben Crenshaw, who also designed the Sand Valley 18-holer. Short courses are the in vogue thing now, and the Sandbox is like no other that we have seen – and we've played lots of them.
Choosing a favorite in the short course world isn't easy, but it comes down to the Sandbox or the Cradle at North Carolina's Pinehurst Resort.  They're different, but both designed purely for fun. I found that playing the Cradle was addictive, but now the Sandbox gets my nod as the more fun of the two.
That review completes our current appraisal of the Keiser's Wisconsin resort that opened in 2017. It was a big hit from the outset, and now things are changing.
Keiser, a Chicago resident who had a successful career in the greeting card business,  became enthralled with the links courses of Scotland and Ireland.  Taking that passion back to the United States, he built Bandon Dunes — a true links course in Oregon.
He's also built award-winning resorts from Tasmania to Nova Scotia. We haven't visited any of those, but we've encountered a wide variety of golf destinations in our travels and Bandon stands by itself.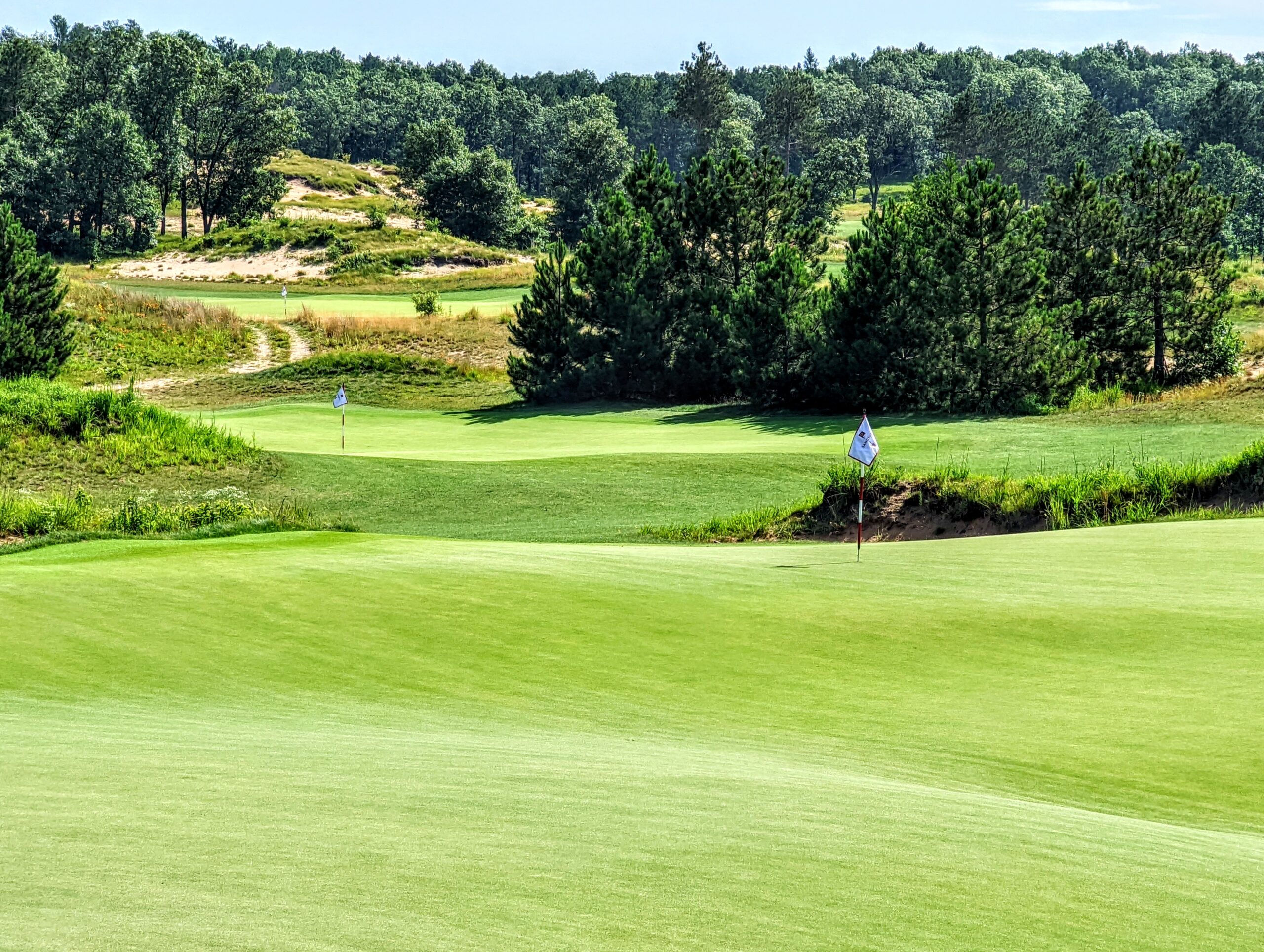 Sand Valley, though, is closer to our Midwest roots. We visited there before the place was open and got a walking tour from Keiser's son Michael Jr. Our first rounds there several years later didn't disappoint and we left for the drive back to Chicago this year with the same very positive vibes, but we also had to wonder if Sand Valley isn't headed in a new direction.
For one thing, the Wisconsin State Amateur took over the two 18-holers the day after our departure. That's the most significant competition held at Sand Valley since the resort opened.  Could more be coming?
The obvious construction work beside and across the street from the entrance to Sand Valley indicates more projects are in the works, and plans for them indicate it won't be more of the same golf-wise. This is what I've learned:
Next course to open there, in 2023, is The Lido. This intrigues lovers of golf history, and I'm certainly one of those.
Lido Golf Club was a private facility built in 1917 on Long Island. Charles Blair Macdonald, designer of America's first 18-hole course at the Chicago Golf Club, was the main designer of this one and it was called "the most demanding course ever built'' in its day. It measured only 6,693 yards from the back tees, but that was considered very long a century ago when hickory-shafted clubs were the best equipment option.
During World War II The Lido became "lost.'' It was demolished by the U.S. Navy, which declared it a strategic defensive site. Some courses after that were "inspired'' by The Lido, but the Sand Valley version is being touted as the real thing.
Architect Tom Doak, who is overseeing the project, has the advantage of working with an unparalleled collection of photos which are said to replicate the original Lido to the linear square foot.
Sledge Village is also bringing something new and different to Sand Valley. Scheduled to open in 2024, it'll bring residential golf into the picture with the building of 36 homes. The residents will have a course to play, called Sedge Valley.  Also included in the project is a six-acre putting course, a tennis center, a bistro restaurant, a pool house and an arcade with golf simulators.
Along with the work being done at Sand Valley Keiser has just come out with a new book, "The Nature of the Game – Links Golf at Bandon Dunes and Far Beyond,''  written with Stephen Goodwin (Alfred A. Knopf, Publisher, New York).
While copies weren't available at the Sand Valley pro shop or several PGA Superstore locations at the time of our visit, I did find one at a Barnes and Noble location. The book provides insight into all of Keiser's resort creations, including what's in the works at Sand Valley.  His final sentence of the book, though, may be the most revealing:
"The most interesting chapter is always the next one.''