Sooner rather than later one of Tiger Woods' longest-standing course records will be broken. I suspect it won't take long. Curtis Malm just needs to find someone willing to play the championship tees with him at White Eagle Golf Club.
No one plays back there these days on White Eagle's Red-White rotation of nines that comprise its championship course. (Another course record of 64 was set by member Ron Potter in 1998 using the regular tees).
Woods was still an amateur in the mid-1990s when he shot 4-under-par 68 while in town to play in the Western Open. Malm, the Illinois PGA Player-of-the-Year the last two seasons, became White Eagle's head professional last winter and certainly has the game to take Woods' name off the record books – and you can be sure he'll be trying to do just that.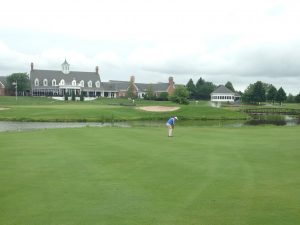 In the meantime, White Eagle is celebrating its 25th anniversary this year. It's a vibrant private club located in Naperville on the Aurora border that has a tournament history that shouldn't be forgotten.
The club was created amidst cornfields for its opening in 1989. Just three years later its Red-White nines were used for the LPGA Chicago Sun-Times Shootout. The tourney was first held the year before at Oak Brook Golf Club, when Martha Nause produced one of the greatest finishes in LPGA history to win the title.
Nause finished birdie-birdie-birdie-eagle, holing out from the fairway on the last hole to beat Kris Monaghan by one stroke in the LPGA's first return to Chicago in 18 years. The LPGA had a Chicago stop in its first season of 1950, but was a very sporadic visitor after that. Though the U.S. Women's Open was played at LaGrange Country Club in 1974 and 1981, the last LPGA Tour stop before the Sun-Times Shootout was in 1973 – the Child & Family Service Open at Midlane, in Wadsworth.
As exciting as Nause's win at Oak Brook was, the tourney profile was definitely elevated by the move to White Eagle – the first Arnold Palmer-designed course in Illinois.
White Eagle hosted in 1992, when Dottie Mochrie won the title. (She was married then, but later assumed her maiden name of Pepper and went on to a career as a top TV golf analyst).
The Sun-Times' role as title sponsor ended after the 1993 tourney, won by a relative unknown in Cindy Schreyer, and Peter Fleming – best known as John McEnroe's doubles partner on the tennis circuit – was the leader in keeping the event alive in 1994. The tourney was renamed the Chicago Challenge, and Jane Geddes was the champion.
Sponsorship was hard to come by after that, but the successful three-year run at White Eagle led to Chicago getting the U.S. Women's Open again in 2000 (Karrie Wood winning at the Merit Club in Libertyville) and another LPGA Tour stop. The Kellogg-Keebler Classic was played at Stonebridge, in Aurora, from 2002-04 and it had high-profile champions in Annika Sorenstam (2002, 2003) and Webb (2004).
White Eagle hasn't needed big tournaments to thrive since then. It added its Blue nine in 1996, making it one of the few private facilities in Chicago with more than 18 holes. A few years ago a golf simulator was added for use in the winter. The club has 75 players in its busy junior program, a caddie program that employs 40-45 youngsters, clay courts for tennis buffs and a swimming program that has participants from beyond the club membership.
The Chicago District Golf Association's Sunshine Through Golf program also is a six-week visitor during the summer and the club hosts about 80 weddings and 20 corporate outings each year.
Malm's arrival suggests a significant competitive event might be in the club's future again, but only time will tell. For now club leadership is planning a renovation process that will strictly focus on enhancing the golf experiences for its members and guests. Part of the 25th anniversary celebration included an outing that featured Greg Huigens (photo below at right), who was both the men's champion and men's senior champion at White Eagle in 2013. Joining us the the celebration outing are Chicagoland Golf publisher Val Russell (left) and club historian Chip Wagner (second from left).