FRENCH LICK, Ind. — Braden Tamosaitis got to roll some putts on the Pete Dye Course on Saturday and also meet many of the players competing in the second round of the LPGA Legends Championship.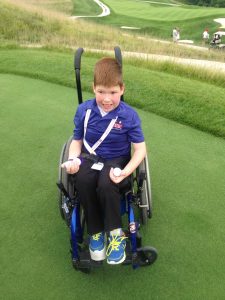 Braden, age 9, enjoyed the experience thoroughly and the players he touched most certainly did, as well.
"He's a special little kid,'' summed up Dave Harner, director of golf at French Lick.
Braden was born with spina bifida, hydrocephalus and Arnold Chiari II malformation. He underwent surgery the day after he was born and again on the second day of his life. Altogether he's had 17 surgeries, but they haven't dimmed his spirit for life. He was delighted to report that a couple of putts on the practice green even found the hole.
"He's a very happy kid, and a better interview than I am,'' said his father, Kevin, who drove his family over two hours (from Camby, Ind., near Indianapolis) on Friday night so that they could participate in Saturday's Walk for Riley while the Legends tournament was in progress.
Riley Children's Hospital at IU Health is the new charity partner with the Legends Championship. The hospital will received a check for $100,000 following Sunday's final round to continue its work with families dealing with severe health problems.
"French Lick really stepped up,'' said Kevin Tamosaitis. "We've been welcomed with open arms and treated like VIPs.''
Harner said Riley Children's Hospital's involvement developed because `we wanted something everyone in Indiana could identify with and be a part of.'' Harner knew of Braden and the Riley programs because his own son was involved in the Riley Dance Marathon at Indiana University.
"Riley affects all 92 counties in the state of Indiana plus Kentucky, Illinois and Ohio,'' said Joe Vezzoso, vice president of hotel operations for French Lick Resort. "This is a win-win for everyone.''
The Tamosaitis family isn't new to the special events tied into Riley Hospital. Braden was named Indiana's 2013 Children's Miracle Network Champion, and that enabled him to represent the state in a celebratory event in Orlando, Fla., and then take a flight to Washington D.C. where – among other things — he met with President Obama.
Braden's battle with spina bifida, though, continues. He watched Saturday's event from a wheelchair near the No. 8 tee and more surgeries at Riley wouldn't be unexpected.
"He looks forward to them,'' said his father, "because he gets room service and his friends are there, both patients and doctors. He's very comfortable there. It's not like a home-away-from-home; it's like our other home.''
Five families from Riley participated in Saturday's Walk. They were scattered around the course, and those participating in the Walk got to interact the Riley families. That made the Walk all the more special for over 75 youngsters who came from all parts of the area.
"The First Tee of Louisville brought 35 kids,'' said Harner. "We had them from three years old through high school.''
Walk participants and the Riley families participated together in an introductory event on the Dye Course putting green, with two of the LPGA competitors – Lorie Kane and Ann-Marie Palli – offered instruction. Then the families went to checkpoints along the course and the Walk for Riley participants took off on a tour of the spectacular, hilly course. They received stickers at each checkpoint and those who covered the full 18 holes received a small gift upon completion of the hike.