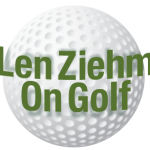 Last year Highwood's Patrick Flavin tried to make it to the PGA Tour the hard way – through the Monday qualifiers.  He wasn't successful, but he came close.
Flavin finished No. 153 on the FedEx Cup standings.  The top 125 earned full PGA Tour membership in the current 2022-23 season and the top 150 got conditional status. Flavin had a consolation prize.  By finishing in the top 200 he earned a place in the Korn Ferry Tour Finals, and that assured him full status on the PGA's alternate tour for this season.
So, this week Flavin is playing in LeCom Suncoast Classic — the FedEx stop in Lakewood Ranch, FL. — instead of the PGA Tour's Zurich Classic of New Orleans.  He has no complaints, though.
"I took a chance last year, and it paid off,''  said Flavin. "I've seen a ton of improvement in my game.  I very much appreciate playing on the Korn Ferry, but I'd like to get back to having my practice rounds with Nick Hardy (PGA Tour regular from Northbrook) again.''
Flavin, 27, has played in seven Korn Ferry events this season and made the cut in four, his best finishes being a tie for 14th in Panama in February and a tie for 21st last week at the Veritex Championship in Texas.
"Relative to last year, it was more stressful playing in all those Monday qualifiers,'' he said.  "This year I plan to play the whole Korn Ferry season.''
His role on that circuit isn't just as a player, either.  Flavin was voted onto the 12-member Korn Ferry Player Advisory Committee and is getting an up close look at the complicated inner workings of both his and the PGA Tour, which is now getting competition from the Saudi-backed LIV Tour.
"It's a crazy time in golf, and the PGA is a massive entity,'' said Flavin,  "but golf has never been in a better place. We've had purse increases that have trickled down to the Korn Ferry Tour.''
He's hoping to steer those purse increases down to two circuits he played on previously – the Canadian and Latinoamerica tours.
For now, though, his primary focus is getting to the PGA Tour full-time.  The opportunities he had last year aren't available now, thanks to a series of changes made by the PGA Tour to combat the LIV Tour arrival.
"Now the only way (to get to the PGA Tour) is through the Korn Ferry Tour,'' said Flavin. While the Chicago area had several members of that circuit in recent years, only Flavin and Deerfield's Vince India have full-time membership now.
NO. 3 ILLINI HOST TOURNEY: The University of Illinois men's team, now up to No. 3 in the national collegiate rankings, hosts its first tournament in the Champaign-Urbana area since the 2010 season beginning on Saturday.
A field of nine teams will battle over 36 holes starting a 7:30 a.m. on Saturday with the final 18 teeing off at 8 a.m. on Sunday at the 7,538-yard par-71 Atkins Golf Club. In addition to the host Illini the field includes Ball State, Eastern Michigan, Indiana, Loyola Marymount, Michigan, Michigan State, Nebraska and Northwestern.
PGA TEAMWORK: No PGA Tour event is like this week's Zurich Classic of New Orleans.  It's a two-man team event and most Illinois-connected players will compete.  Here are those in the 80-team field:
Hardy will play with Davis Riley, D.A. Points with Jimmy Walker, Luke Donald with Eduoardo Molinari and Doug Ghim with Kramer Hickok.
HERE AND THERE: The first competitions on the Chicago District Golf Association calendar are next Monday (APRIL 24) –a U.S. Open local qualifier at Cantigny in Wheaton and a CDGA Mid-Amateur qualifier at Maple Meadows in Wood Dale. There's another Mid-Am qualifier the next day at Sunset Valley in Highland Park….The first Illinois PGA event of the season – last week's Pro-Pro-Pro at Mistwood — was postponed because of bad weather. It was rescheduled for May 1.