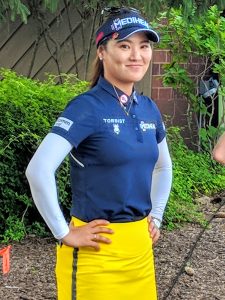 An imposing weather forecast for Sunday will create a viewers' headache for the climax to the 64th KPMG Women's PGA Championship, and that's a shame. The expected duel for the title between Korean So Yeon Ryu and Canadian Brooke Henderson should be a dandy, based on how both performed in Saturday's third round.
Normally players are sent off in twosomes off the No. 1 hole in major tournaments, but that won't be the case Sunday. With heavy afternoon rain expected tournament officials opted to get both players and spectators off the Kemper Lakes course as early as possible.
So, players will be sent off in threesome off both the Nos. 1 and 10 tees. Starting times will run from 7:19 to 9:31 a.m. and both NBC Sports and Golf Channel apps and digital platforms will stream the action live from 11:45 a.m. to 2:45 p.m. NBC will provide taped coverage, as originally planned, at 2 p.m.
There's always the possibility of a player charging into contention after starting the round well before the leaders, but there was no indication that would happen on Saturday. The same three players that shared the 36-hole lead still hold the top three positions on the leaderboard. There's just no longer a tie at the top.
Ryu, who shot the best score in Round 3 – a 5-under-par 67 – owns a three-stroke lead on Henderson, who posted a 70 after fading in the late stages of the back nine on Saturday. Ryu stands at 11-under 205 for the 54 holes.
Henderson led for most of the day, and the only other player to get to the top of the leaderboard was Sun Hyun Park, another Korean who started the day tied with Ryu and Henderson for the top spot. Park claimed it for herself after making a 12-foot birdie putt at No. 1. That triggered a day of momentum shifts, and Park – one stroke behind Henderson – could also be a factor on Sunday.
Henderson pulled even with Park with an eight-foot birdie putt at No. 2 and took solo possession of the lead with two more birds at Nos. 6 and 7. At the turn she owned a two-stroke lead on Ryu and kept it for four more holes.
Though Henderson stayed in front, a key moment came at the par-5 11th. Ryu got up-and-down for birdie from a green-side bunker, sinking a 15-foot putt.
"That was really, really important momentum for me,'' " said Ryu. "After that I felt more comfortable on the putting greens, and I was able to make some birdies.''
Once Ryu's putter started working Henderson's didn't. She had an eight-footer for eagle on No. 11 but missed so her lead remained at two, and it stayed there when Henderson missed a five-birdie try at No. 12.
With those opportunities to pad her lead gone, Henderson struggled. A birdie by Ryu and a bogey by Henderson at the short par-4 14th created a two-shot swing that created a tie at the top of the leaderboard and Ryu took sole possession of the lead when her 20-foot putt dropped for birdie on its last revolution at No. 15. Henderson couldn't answer, missing her 15-footer for bird.
Ryu added two strokes to her advantage on the three holes of The Gauntlet – the toughest finishing stretch in Chicago golf. A par was good enough to add a stroke to her lead at No. 16 because Henderson missed her par putt from five feet. Then Ryu made a spectacular birdie at the finishing hole, smacking a perfect drive around the dogleg left before putting her approach to five feet.
Henderson, playing with a new putter this week, missed from 10 feet before Ryu finished off her birdie. She needed only 12 putts on the back nine.
"I struggled with my putter, which is disappointing, but hopefully I can just get better in my mind and go out tomorrow and make some birdies. Hopefully I can get the speed of the greens down in the morning and get confident with my putting again.''
Henderson has the better record in the KPMG Women's PGA Championship. She tied for fifth as a sponsor's exemption in 2015, won it in 2016 and was runner-up last year at Olympia Fields.
Ryu, seven years older after celebrating her 28th birthday on Friday, has the better overall record. She has won two of the women's majors – the 2011 U.S. Women's Open and 2017 ANA Inspiration. She's also been second in the Evian Championship, third in the British Open and fourth in the KPMG Women's PGA Championship. That was in 2016.
With those near-misses, Ryu is starting to think about winning the women's Grand Slam.
"Winning this tournament would be huge,'' she said. "I've started to dream about becoming a Grand Slammer and right now I'm in a good position to achieve another dream (winning the second-oldest tournament in women's golf). I definitely want to be part of the history.''