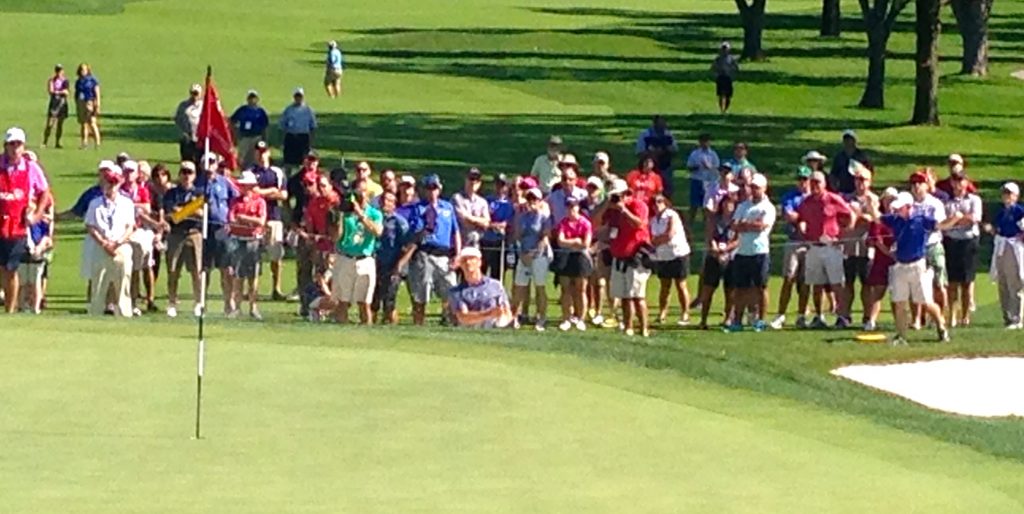 Only four golfers have won the NCAA individual title and the U.S. Amateur in the same year, and three of those are household names.
Bryson DeChambeau can join the select group – one that includes Jack Nicklaus, Phil Mickelson, Tiger Woods and Ryan Moore — with a victory on Sunday at Olympia Fields Country Club. Moore was the last to pull off the NCAA-U.S. Am sweep in 2004.
DeChambeau, 21, won the NCAA title in April while playing for Southern Methodist. He'll need to beat Derek Bard, a University of Virginia junior, to complete his sweep of the two big amateur titles.
"I'm the underdog,'' declared Bard. "Bryson's had an incredible career and he's very smart – physics is his major. It's going to be tough, and I'll have to play my best to have a chance.''
Bard might be selling himself short or exercising some gamesmanship. He knocked off Spain's Jon Rahm, the No. 1-ranked played in the World Amateur Golf Ranking, in Friday's quarterfinals and has two big wins earlier in the last calendar year – the U.S. Collegiate during the school year and the Sunnehanna Amateur this summer.
Like DeChambeau, Bard had no trouble surviving his semifinal match on Saturday. Japan's Kenta Konishi went down 3 and 2 against Bard while Sean Crocker, a University of Southern California golfer, was a 4 and 3 loser to fellow California native DeChambeau. DeChambeau is No. 7 in the World Amateur Golf Ranking and Bard No. 51.
DeChambeau, who didn't play beyond the 16th hole in his five matches this week, isn't thinking about joining the ranks of Nicklaus, Woods and Mickelson just yet.
"That'd be incredible, I'd be so honored, but I haven't thought about it yet,'' he said. "I'm just looking forward to the challenge. In a 36-hole match anything can happen. I will do my best, and I think my best will be good enough.''
DeChambeau, from Clovis, Calif., is – by his own admission — "unique.'' All his irons are the length of a standard 6-iron.
"It's an odd-ball way of playing golf, but it works for me and I think that down the road that could be very beneficial for people starting out.''
DeChambeau, a right-handed golfer, also trains by writing cursive backwards and left-handed because "it creates more sensitivity with my hands.''
Both finalists receive exemptions into next year's U.S. and British Opens and are likely to also be invited to next spring's Masters tournament.
This 115th U.S. Amateur started with over 7,000 entrants, and 312 survived the nation-wide qualifying rounds to make it to Olympia Fields. The field was reduced to 64 after 36 holes of stroke play competition at Olympia, and all of the matches so far have been over 18 holes. The final calls for 18 holes starting at 8:30 a.m. and another 18 starting at 1:30 p.m.
This is the first time the U.S. Amateur has been played in the Chicago area since Cog Hill, in Lemont, hosted in 1997. The U.S. Golf Assn. presently has no other of its 13 annual national championship tournaments scheduled in the Chicago area. Olympia Fields, a private club in the South suburbs, is hosting the tournament as part of its Centennial celebration.