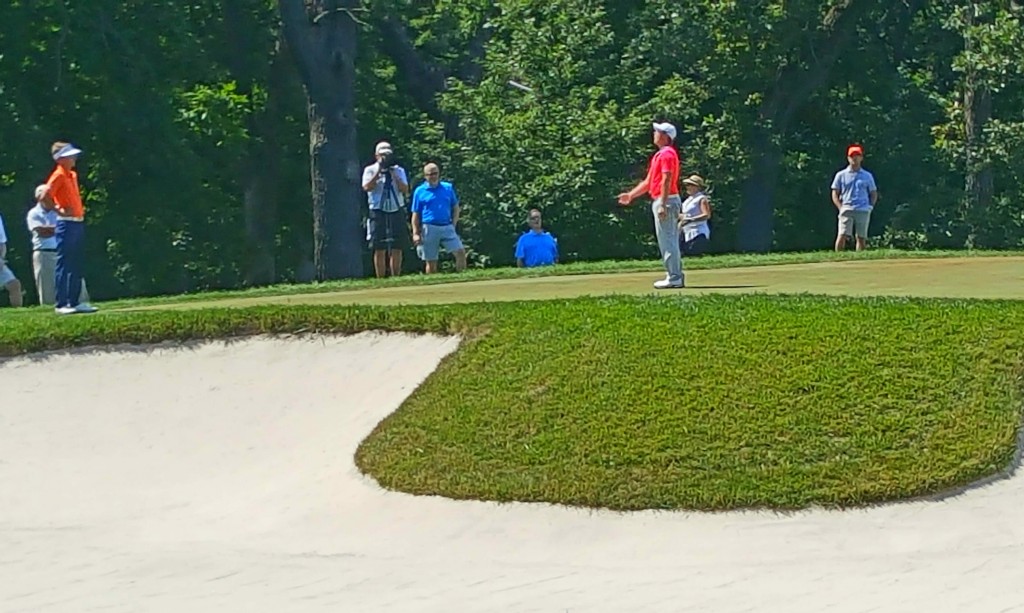 Dylan Meyer wasn't one of the high-profile players on the University of Illinois' powerhouse golf teams the last couple seasons. New pros Charlie Danielson and Thomas Detry filled that role.
When school resumes later this month, though, it figures to be Meyer's turn – and on Saturday he proved ready for the challenge.
About to enter his junior season for the Illini, Meyer captured the 114th Western Amateur title at the Knollwood Club, in Lake Forest, with a 3 and 1 victory over Sam Horsfield, who dominated the tournament until the title match.
Horsfield, a University of Florida sophomore from Manchester, England, was the tourney medalist by nine strokes and survived his first three matches after that. He was even 2-up on Meyer five holes into the title match before the momentum changed.
Meyer won Nos. 6 and 7 to get the match to all square and took the lead for good with his first birdie at the 601-yard par-5 tenth. Horsfield lipped out a putt from 10 feet that would have halved that hole, and he had lipouts three more times before conceding the par-3 17th hole and the match to Meyer.
"There wasn't a point that I had total control. Sam's a great player, and I expected him to do everything,'' said Meyer. "When I was 2-down my mind was re-setting. My caddie and I had a plan – to be relentless.''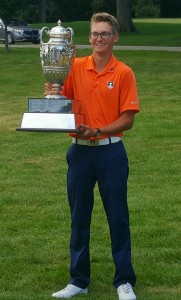 It eventually paid off, as Meyer now joins a select group that includes Jack Nicklaus, Ben Crenshaw, Phil Mickelson and Tiger Woods as Western Amateur champions.
"I didn't play bad at all. Dylan played great,'' said Horsfield, who is No. 1 in the Scratch Players World Amateur Rankings (compared to No. 15 for Meyer). "It's been a great week. I'm proud of how I played and excited where my game's at.''
There's still one big event before school starts – the U.S. Amateur at Michigan's Oakland Hills course. It begins on Aug. 15 and all the Western Amateur stars will be there, including Meyer and Nick Hardy, his Illini teammate from Northbrook who won the Illinois State Amateur by a shocking 10 strokes three weeks ago. Meyer stayed with Hardy's family during the Western Am.
Meyer, from Evansville, Ind., needed to survive a sudden death playoff on Thursday to make the Sweet 16 match play qualifiers. He switched drivers in the middle of the tournament, which improved his game but didn't enabled him to approach Horsfield's prodigious blasts off the tee. Most impressive of those came at the 426-yard fifth hole, where Horsfield's tee shot came up just 50 yards short of the green.
That was the pattern throughout the match, but Meyer – a slender 140 pounds – wasn't distracted.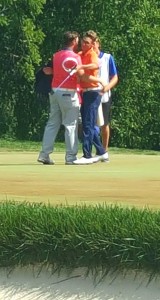 "I know my place. I know my game. I know my stature,'' said Meyer. "I just accept it. I'm not going to be Jason Day or Dustin Johnson. I'd be a Zach Johnson. I'd short-game a golf course to death.''
That's pretty much how he won this tournament. He reached the final four by whipping Doug Ghim, a University of Texas player from Arlington Heights, in Thursday's quarterfinals and then baffled Will Gordon, of Davidson, N.C., in Saturday's semifinals, going 3-up on the front nine before winning 4 and 2.
Horsfield had a more difficult semifinal. His opponent, Davis Riley of Hattiesburg, MS., shot a 6-under-par 30 on the front nine and birdied the 10th to go 4-up. Horsfield then won the next six holes and the match to put himself in position to be the first medalist to win the title since Chris Williams in 2012. Meyer, however, spoiled that dream.