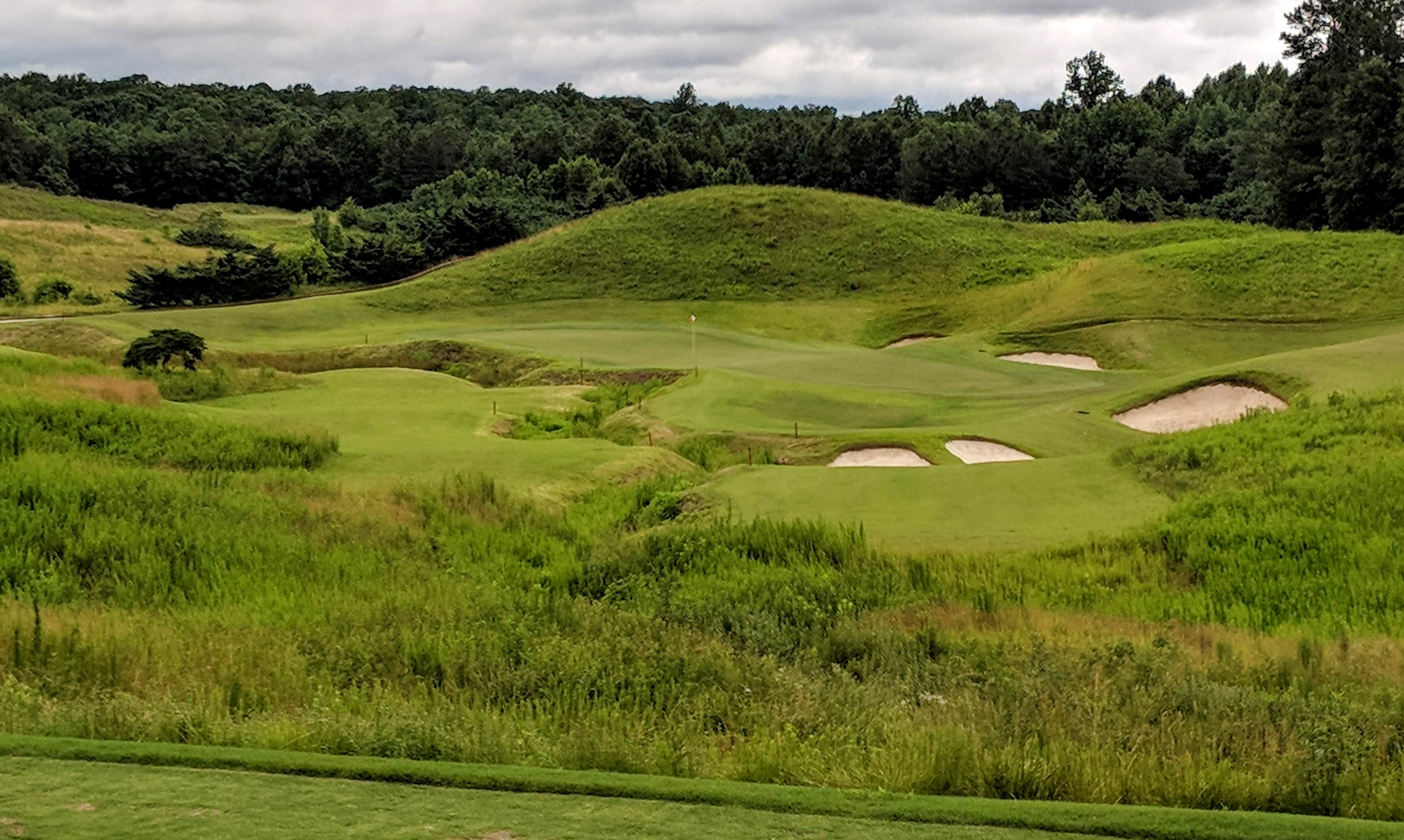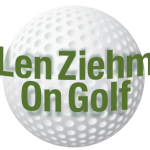 WILLIAMSBURG, Va. – Like so many other communities, Williamsburg was hit hard by the recession a few years back and that negatively impacted its golf business. The difference is, Williamsburg got back in revival mode and is showing off now at several facilities.
For instance, Royal New Kent was a smash hit when it opened. Golf Digest named this Mike Strantz design its Best New Course of 1997 and it was also on the magazine's America's Top 100 list. As prestigious as that is, the course had to be closed for eight months after a series of ownership changes. Its Grand Re-opening was on May 6 after a $2 million rehab.
Then there was The Club at Viniterra, a Rees Jones design with a staggering 9 ½ miles of cart paths. Jones has long been one of the world's most respected course architects, but this creation – built as the centerpiece of a gated community – stayed alive in part by providing more affordable greens fees. That was a necessity because Viniterra had no clubhouse for 11 years. Viniterra opened its new one on June 12 after a two-year construction process.
And then there's Williamsburg National, a 36-hole facility closest to all of the area's colonial attractions. Its Jamestown course, a Jack Nicklaus design, was closed for about 14 months and the companion Yorktown course stayed open but was not in the best condition.
As was the case at Royal New Kent, Williamsburg National underwent some ownership changes during the more difficult times but is back in full operation.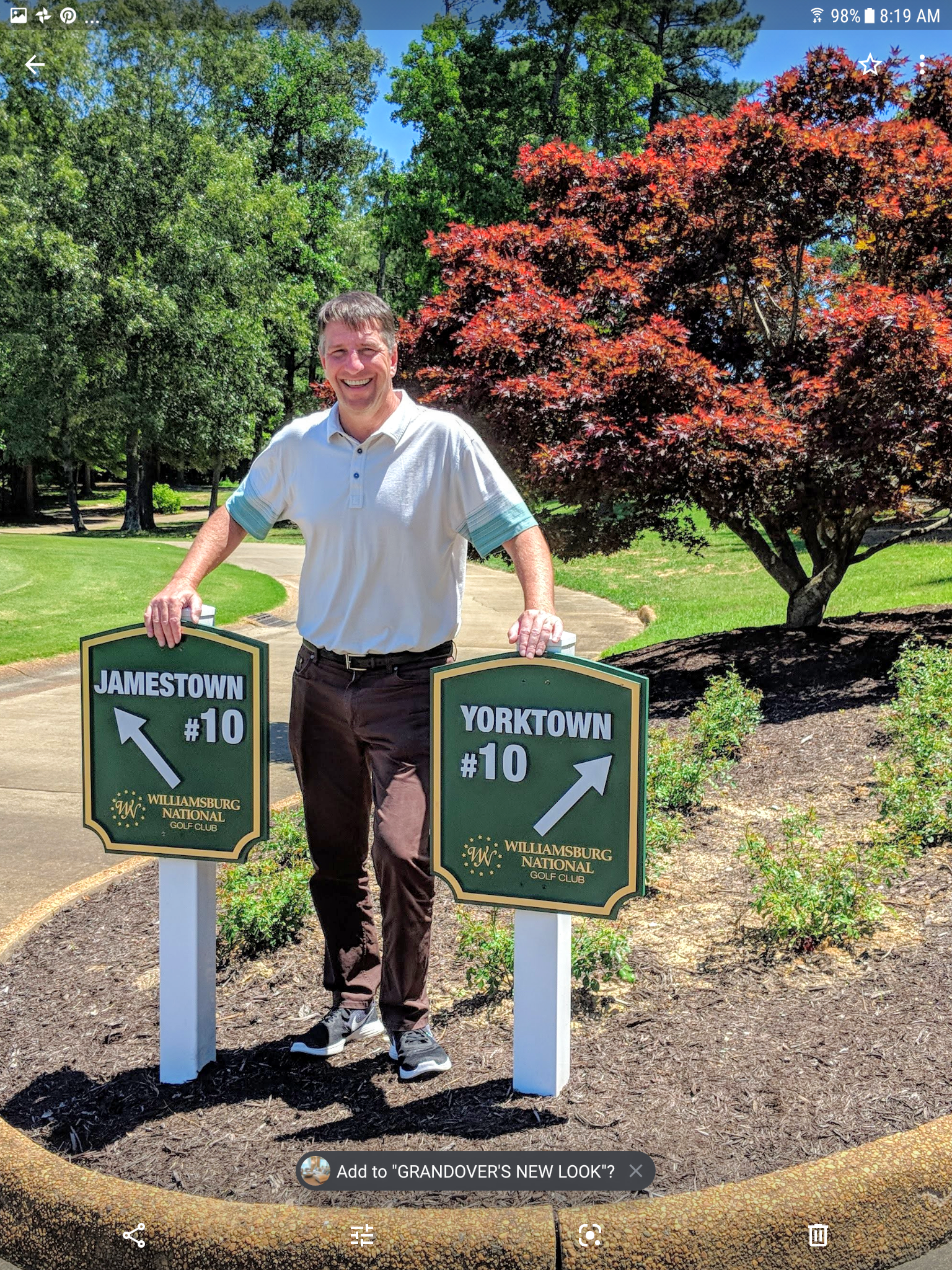 Chris Hartig presents a good perspective on what was going on. A long-time club professional, he was director of golf at Kingsmill – Williamsburg's long-established resort that has hosted 37 pro tour events, the most recent being the LPGA's Pure Silk Championship in May.
Now Hartig's Carlton Hospitality is the management company overseeing the rehab at Williamsburg National, which is near Hartig's home, and his Virginia Golf Vacations, a separate business, organizes golf trips throughout the state.
"In Williamsburg there's been a commitment to golf for a long time,'' said Hartig, citing the success of such multi-course facilities as Kingsmill and Golden Horsehoe. "In the 1990s they started expanding, and that led to an overbuilding situation. Recession got it, and courses started changing hands.''
Royal New Kent and Jamestown weren't the only courses that closed for a brief period. All the courses have different issues but found solutions. The most interesting is at Royal New Kent.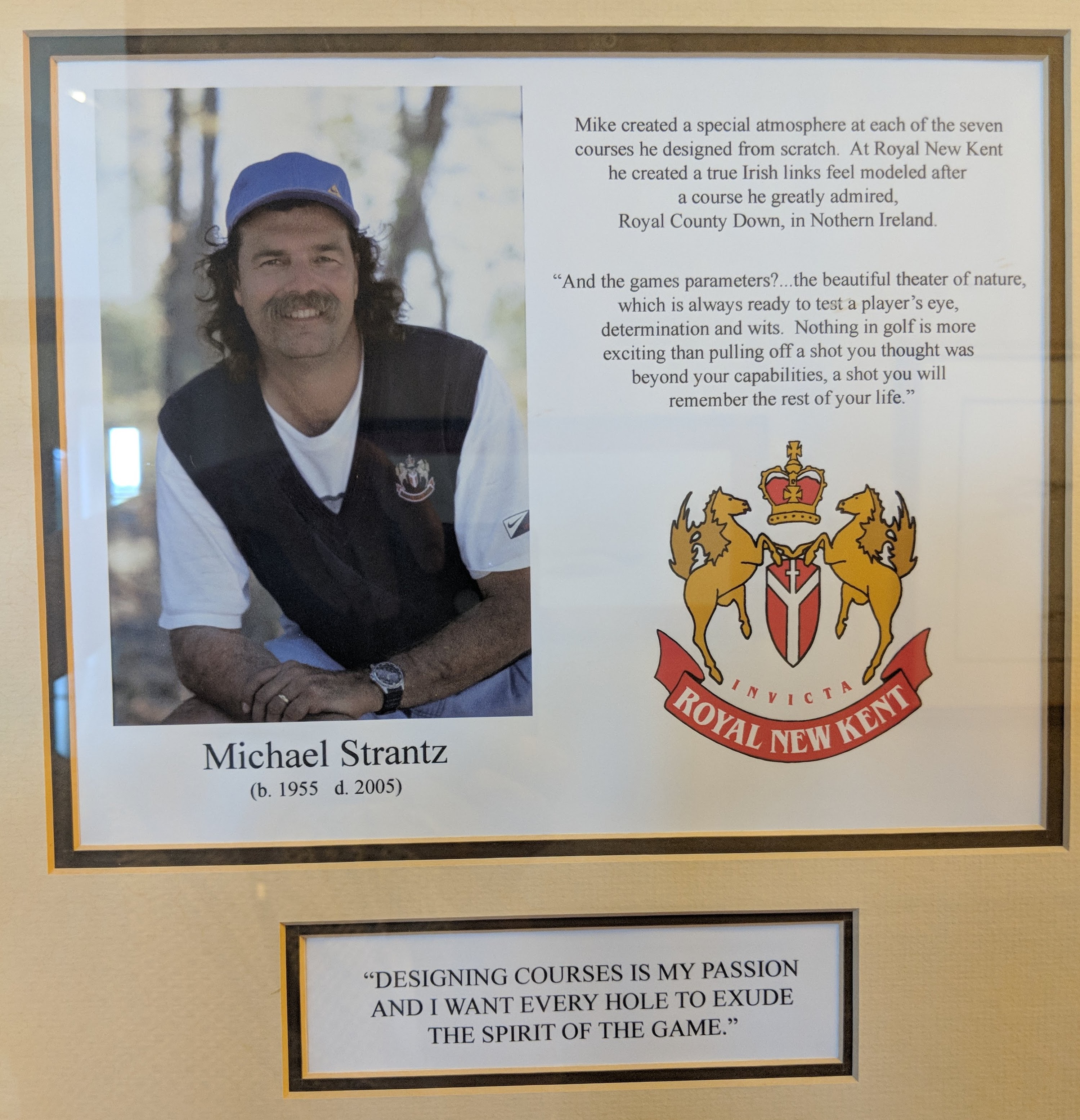 Strantz was one of the world's hottest designers after working for Tom Fazio in the mid-1990s. Not only did Strantz design Royal New Kent, his seven solo creations include Caledonia and True Blue in South Carolina, Tobacco Road in North Carolina, Lake Nona in Florida and Monterey Peninsula's South course in California. The run of great courses stopped when Strantz, only 50 years old, succumbed to cancer in 2005. His works, though, live on.
"He only designed a certain number of golf courses before he passed away but he gained legendary status,'' said Chip Sullivan, the former PGA Tour pro who was recently named general manager and director of golf at Royal New Kent. "He was creative beyond most other designers. He designed courses with a totally different look. He was an artist before he used his artistic values on golf courses.''
That's obvious at Royal New Kent, an Irish style links course patterned after Royal County Down and Ballybunion. It has 105 bunkers, perhaps a few too many blind shots, tons of elevation changes and – overall – a distinctly unique look. Though Strantz had passed away before the course was restored, members of his original crew participated in the year-long revival project. It involved replacing every green and doing extensive work on the bunkers and irrigation system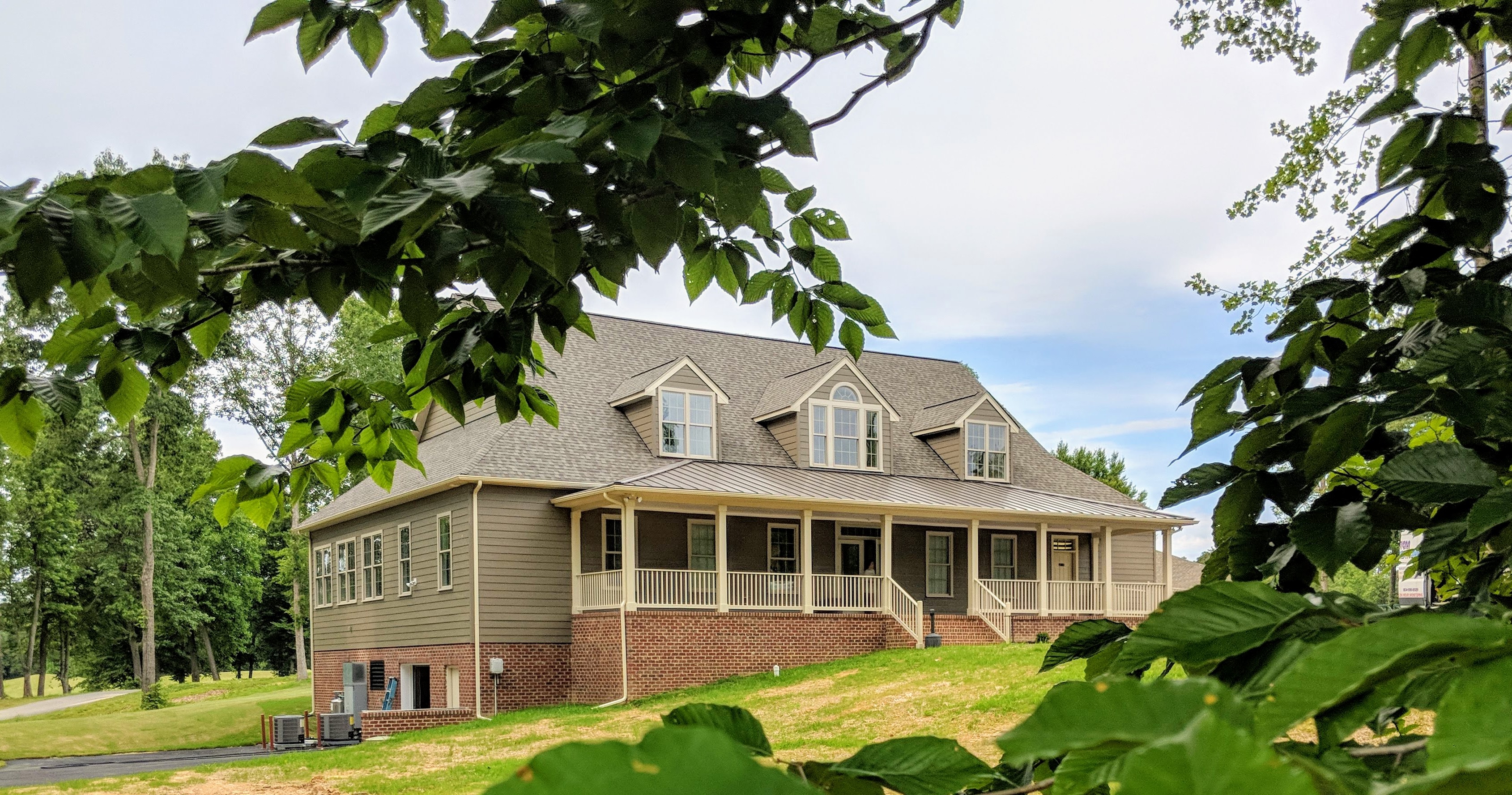 Brandon Tuck, chairman of Wingfield Golf – a part-owner and the managing company of the facility, calls Royal New Kent "one of the most challenging courses in the country.''
No argument there, but the mental challenges it offers are stimulating – if not sometimes frustrating. That makes it a special place to play. The top fee to do that is $95.
Wingfield, based in Greenville, S.C., also owns Viniterra. The new clubhouse will do wonders there. The course has always been popular, its top greens fee of $66 – low for a Rees Jones design – being just one of the reasons. The club had operated out of trailer until the new clubhouse opened.
The greens at all the Williamsburg area courses were outstanding, even though they were new at Royal New Kent and the Williamsburg National courses. The only issue we had at Viniterra was on the par-5 fourth hole, where blind shots made for unnecessary frustration instead of fun. (As most of you know, I've never been a fan of blind shots anywhere).
At Williamsburg National a greens renovation was needed to get the Jamestown course up and running again. The newest ownership group renovated with Champion Bermuda, which ensured top playing conditions on its more difficult course.
Yorktown was designed by Tom Clark, who doesn't have the world-wide reputation of Nicklaus but has long been a popular architect in the Mid-Atlantic region. The new ownership overseeded the fairways on Yorktown, so it offers live green fairways in the winter while the Champion Bermuda surfaces at Jamestown are covered. Top greens fee on those courses is $89.
"`They're two completely different courses,'' said Hartig. "You can play year around, but in January, February and part of March we don't need two courses. Jamestown is a classic course with subtle elevation changes that is probably preferred by our local players. Yorktown is more the choice of the traveling golfer.''
That's because Clark was innovative, putting in more than 80 bunkers, a redan green and laying out a somewhat unusual back nine that has three par-5s, three par-4s and three par-3s.