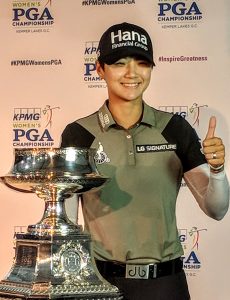 Where do you start to explain this one?
The climax to the KPMG Women's PGA Championship at Kemper Lakes had it all on Sunday – a sparkling 18-hole score, a miracle shot from the edge of a pond, clutch birdie putts at dramatic moments, a lightning delay that interrupted a two-hole playoff. And it ended with a clear indication of the differences between the men's and women's pro tours.
The women's tour is a more global circuit than the men's PGA Tour, and it has more up-and-coming young stars. This tournament was a testament to that. The last two players in contention were Koreans, with 24-year old Sung Hyun Park beating So Yeon Ryu, 28, thanks to birdie putts on both extra holes.
Japan's Nasa Hataoka, 19, also made the playoff after shooting the low score of the tournament, an 8-under-par 64. Two of the three in the playoff needed translators to tell how they got there, but all are willing to let their clubs do their talking.
Despite their youth Park and Ryu have already won two of the women's major titles and Hataoka took her first LPGA tournament with a six-shot victory a week ago. Last year Park and Ryu shared Player-of-the-Year honors. Park, also the U.S. Women's Open champion, became the first player since Nancy Lopez in 1976 to win both Player of the Year and Rookie of the Year in the same season. Obviously they can all really play.
Tying for fourth were two young Americans, Jessica Korda, 25, and Angel Yin, 19. They were three strokes behind the lead trio in the first-ever three-way playoff in the tournament's 64-year history.
All of it provided a great showcase for The Gauntlet, the name the Kildeer club's membership gave to their last three holes last fall without knowing that TPC Sawgrass, the Florida course that hosts one of the biggest tournaments on the PGA Tour, already used the same name for its trio of finishing holes.
Kemper's is the toughest finishing stretch in Chicago golf, and it stands up quite well with Sawgrass on the national level. On Sunday it created loads of drama.
Ryu started the day with a three-stroke lead but took an emotional jolt when her putts for both par and bogey at No. 2 lipped out.
"I had to let it go,'' she said. "If I keep looking back that's really a bad thing to do, especially when you are in contention.''
Park eventually pulled even with birdies at Nos. 3 and 4 but Ryu went back in front by two with birds at Nos. 6 and 7. Hataoka, meanwhile, was tearing up the course playing well in front of the leaders. She had two eagles in her round, and heated up on the back nine by going 5-under in a six-hole stretch. She finished at 10-under-par 278 when Ryu was 12-under after 11.
"When I finished I didn't think I'd be in the playoff, but before the tournament I thought that double digits (under par) was a good score to reach for – so I am pleased about that,'' said Hataoka. "I did feel nerves going into the playoff, but I haven't won a major yet so I felt like I had nothing to lose.''
Park, playing with Ryu, stayed alive with a miracle chip shot from a water hazard fronting the No. 16 green – the start of The Gauntlet – that resulted in her saving par. Ryu answered her chip with a 30-foot downhill birdie putt that gave her a two-stroke lead, but it didn't last long.
One the par-3 seventeenth she pulled her tee shot, missing the green to the left with the ball going into the water. She took a double bogey on the hole, and her lead was gone.
Hataoka watched all that drama from the clubhouse and then headed for the practice range to prepare for a playoff. It was a certainty when Ryu and Park two-putted for pars at No. 18. All three players went back to that tee for the first extra hole, and Ryu made a statement immediately by holing a birdie putt from the fringe of the green.
After Hataoka missed her birdie attempt Park rolled in hers to send the playoff to a second playoff hole, this one at the No. 16 tee. Both Ryu and Park put their approaches on the green of that par-4 when play was suspended because of lightning in the area. The playoff resumed after a 20-minute suspension in play and Park connected from 10 feet after Ryu had missed from 16.
Park, stoic throughout the round, broke down in tears after her putt dropped.
"This has been a tough year for me,'' said Park. "Five times I've missed cuts, but all the work I've done paid off. That 's what really made me cry. It was my first time feeling that kind of emotion. I was really happy. I couldn't help that.''