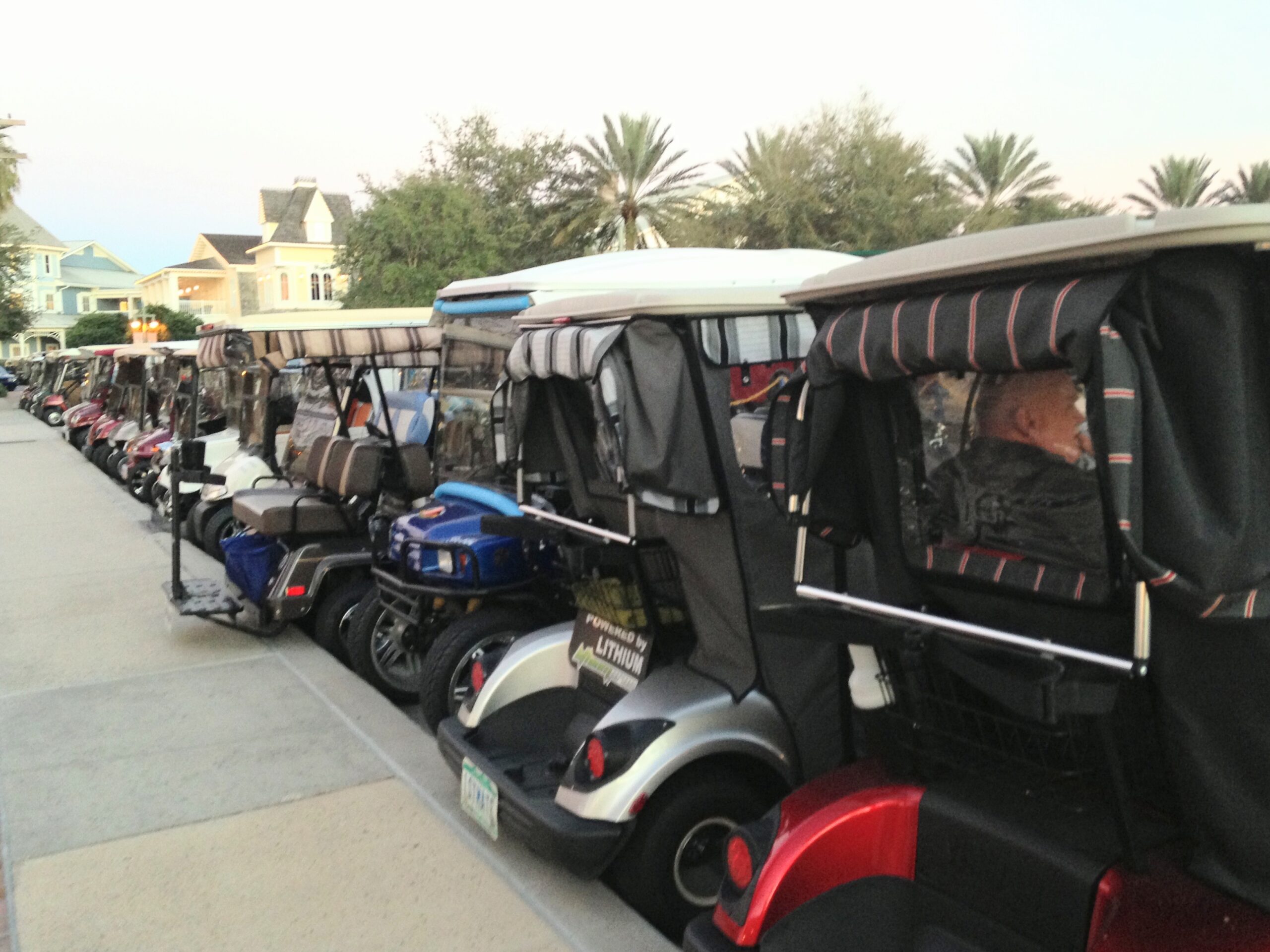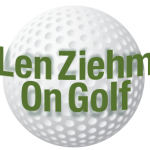 THE VILLAGES, Florida – Golf is huge in The Villages, a fast-growing vibrant over-55 adult community in Central Florida.  That's obvious.  Golf carts are everywhere, and not just at the courses.
Golf carts of all sizes and colors fill the area's parking lots as well as those at the 12 championship and 40 executive courses and the three golf academies. Not all the golf carts are driven by golfers, either, but they are entrenched in The Villages' lifestyle.
This year, though, the most significant offering for golfers might not involve the courses or the golf carts.  The Aviv Golf Performance Program was introduced four months ago, and it involves much more than hitting quality golf shots. It's for people who are very serious about their long-range health as well as their golf improvement.
The program's time requirements are demanding, and its $56,500 price for a 12-week program includes a personalized medical team and sophisticated equipment but doesn't include lodging or meals.  You need to be on site because the program is built around Aviv's proprietary hyperbaric oxygen therapy protocol, and its treatments run two hours a day, five days a week. More than anything the therapy treatments set the Aviv program apart from other golf performance offerings, but there's more to it than that.
Aviv Clinics also include a personal protocol of neuro-cognitive therapy, physiological training and nutritional coaching in addition to golf coaching.  As far as the U.S. goes, the Aviv program is offered only in The Villages. The program, based off 12 years of research done by Dr. Shai Efrati in Israel, was taken to Dubai just after its arrival in Florida. That's where golf specific instruction was incorporated.
More facilities are scheduled to be added in 2023, but the golf component at those has not been determined.
"Our target population is healthy individuals in the 40-45 range who started seeing a slip in their golf games,'' said Aaron Tribby, Aviv's head of physical performance in Florida.  "But we see a lot of other clients who have other problems.  The youngest we've had here is 20, the oldest 95.''
Victims of strokes and brain injuries have benefitted from the hyperbaric oxygen therapy treatments, and they're also designed to reverse biological aging. Dave Globig, the chief executive officer of the Aviv Clinics in The Villages, and physician Mohammed Elamir both thought the program sounded too good to be true when they were invited to see it in operation in Israel but they became believers.
"At first I was very skeptical,'' said Globig, who had worked in the health care industry for 25 years. "But I was intrigued.  Our program is still very cutting edge, and taking it is almost a full-time job. Most of our clients are battling the aging process.  They're afraid of dementia, of losing their physical capacity.  That's why they come to us. For aging people, what's their No. 1 sport? Golf.''
Elamir, the son of a neurologist, was a general practitioner looking for new opportunities.  He found the Aviv program a help in his father's recovery from a small stroke and now oversees the oxygen therapy aspect.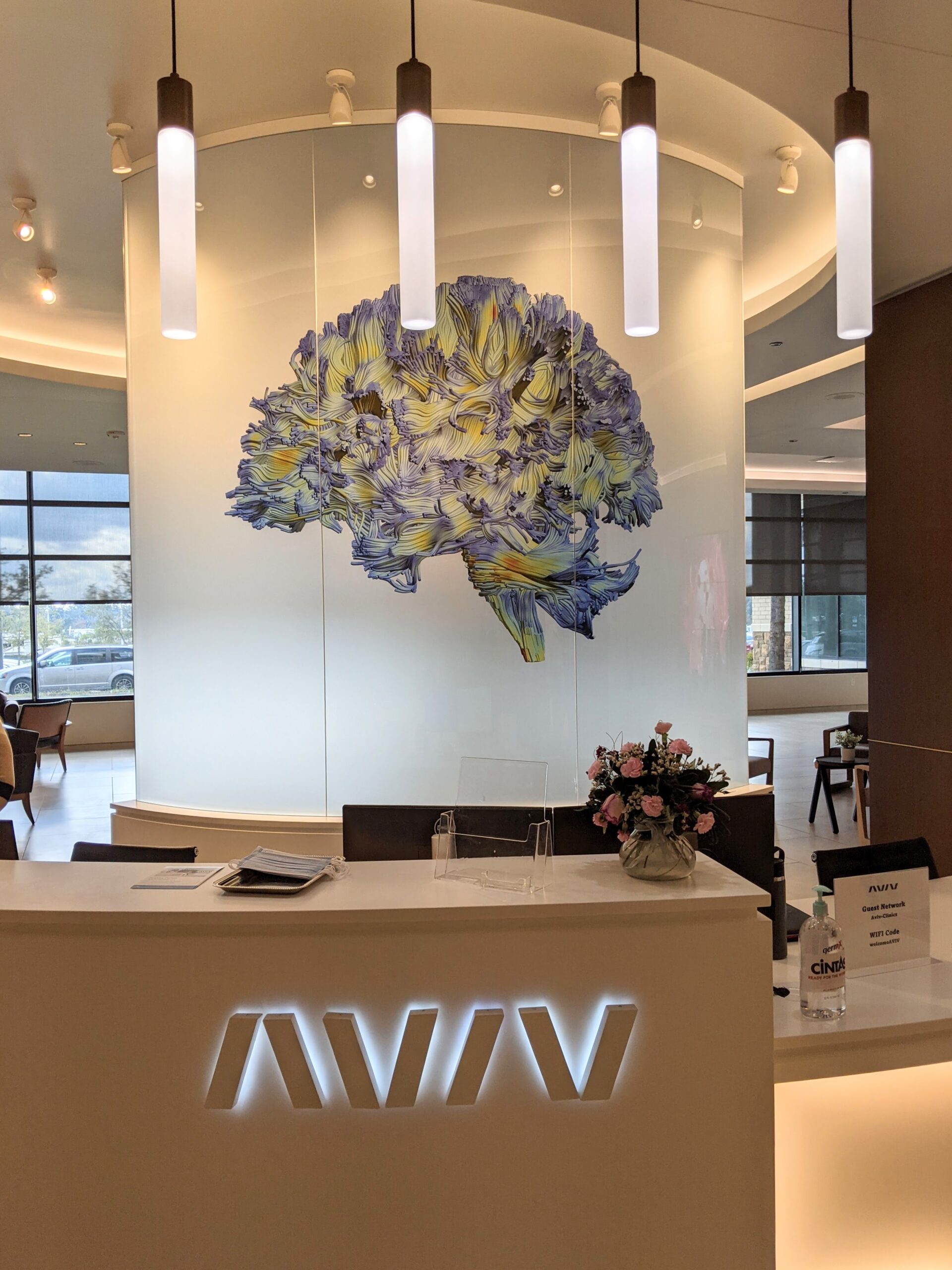 Smokers are not allowed in that program, and the inclusion of golf was not taken lightly.
Aviv made a major commitment to the sport as sponsor of November's Aviv Dubai Championships, which concluded the season for what is now called the DP World Tour. (That's the rebranded name for what had been the European PGA Tour). DP World had been Aviv's business partner in Dubai and got Aviv its first title sponsorship in golf.
Aviv's golf program begins with a week of testing that includes blood work, nutrition, a cognitive and genetic evaluation, brain scan and physiology and strength exams. Then the hyperbaric oxygen therapy sessions begin for each client, and they're supplemented by appointments with 50-60 staffers specializing in other areas of need.
Each client has a personalized treatment program. Golf sessions are included in that, and the golf professionals meet with Aviv staffers on a regular basis to analyze the needs and progress of each client.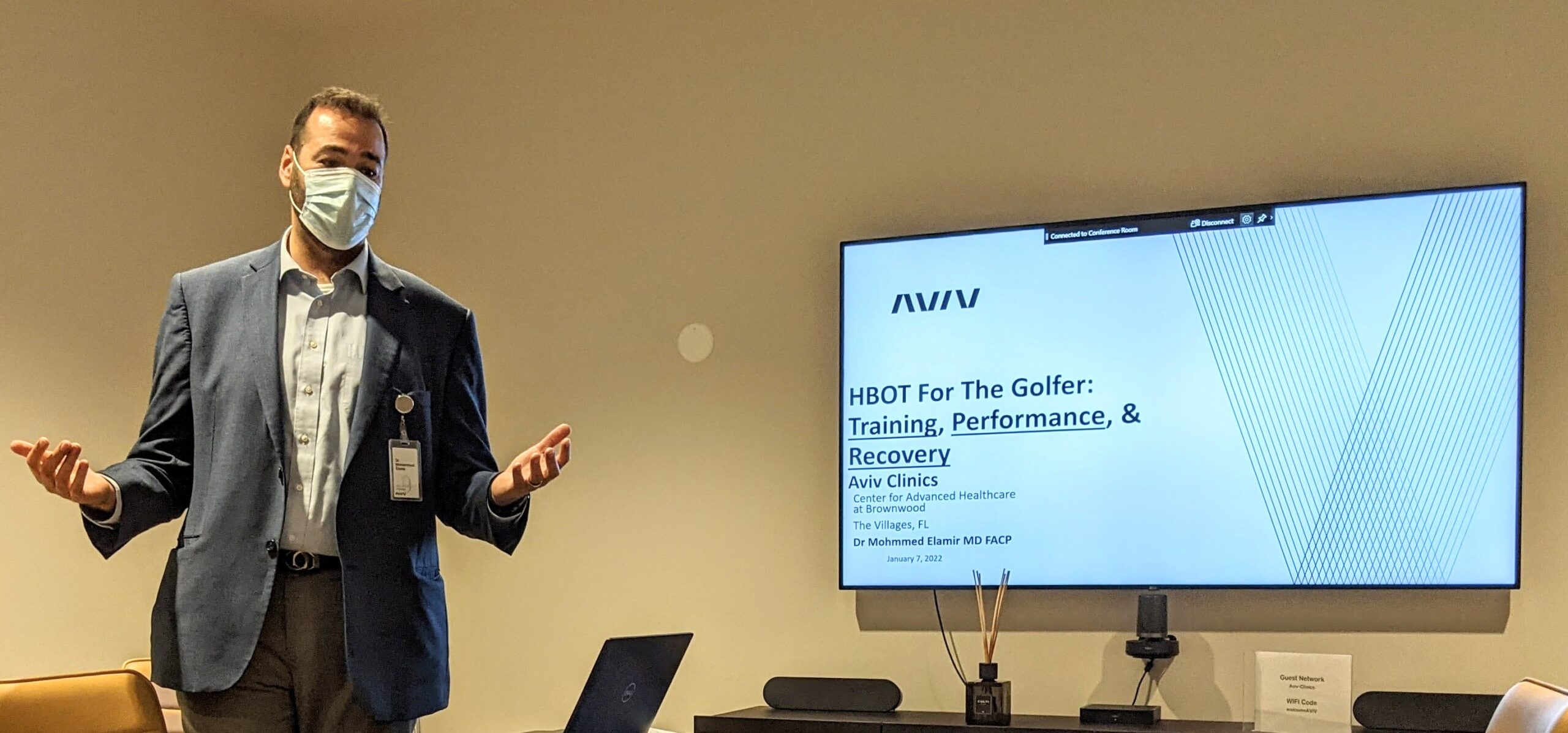 Hyperbaric oxygen therapy, and many of the other treatment programs, are conducted at the Central Florida Aviv clinic – a floor in the Center for Advanced Healthcare, It's a complex that includes the Brownwood Hotel & Spa, a Wolfgang Puck restaurant and offices for other  providers in the healthcare field.
The oxygen therapy is administered in "dives'' – rooms that have chambers (also called suites) for about 12 clients.  In the two-hour sessions the clients receive oxygen for 20 minutes, then are off for five minutes, and that routine is repeated until the two hours are up.  Clients wear oxygen masks (not the masks worn by so many to combat Covid in these pandemic times)  and they engage in cognitive exercises on a tablet during the process. Elamir says they only experience a popping of the ears for the first 10 minutes. Then he likens the experience to taking a ride in a small airplane.
The reward is stem cell, blood vessel and neurological growth that optimizes brain performance and improves overall health. Aviv's leadership claims that – in conjunction with the other treatments and coaching – will translate into better golf scores as well as better overall health.
Cognitive benefits are said to be improved hand/eye coordination, increased focus and attention and better mental clarity and patience. Physical benefits are enhanced swing quality, faster recovery after a round and improved strength, mobility and stability.
"One of the biggest challenges we have in health care is that it's so fragmented,'' said Globig.  "Can you find a similar program (for golf development)? I'm sure you could, but they won't have the clinical elements involved, and the foundation to go with it.''