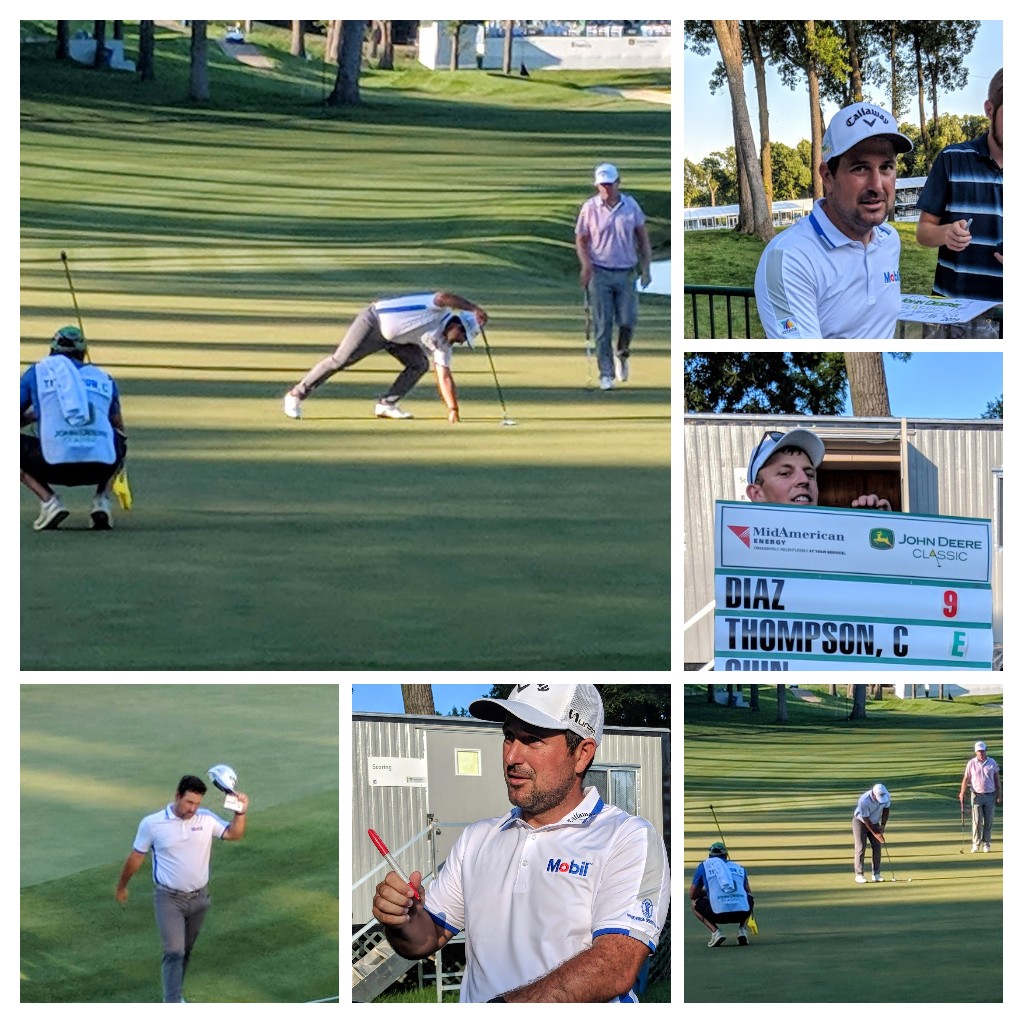 SILVIS, IL. – The 49th John Deere Classic meant the return of the PGA Tour to Illinois for the first time in 2019, but Thursday's opening round had a different feel to it.
There was the usual abundance of low scoring, with the best saved for last. Mexico's Roberto Diaz, in the last threesome to tee off, shot a 9-under-par 62 to open a two-stroke lead over Adam Long and Russell Henley after Round 1. Still, notable stars of the past were either missing or off form.
There was no Steve Stricker, a three-time winner and loyal JDC supporter who opted to play in the Bridgestone Constellation Senior Players Championship instead. Two-time winner Jordan Spieth thought about coming but didn't, and there hasn't much excitement over the defending champion, Michael Kim.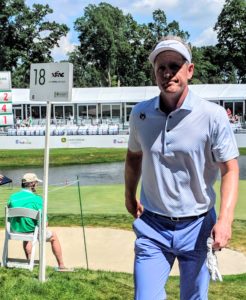 Kim set scoring records in his win at TPC Deere Run last year but took a string of 18 consecutive missed cuts into his title defense. He didn't show signs of shaking his slump, posting a 73. Then there was Zach Johnson, the face of the tournament on many levels. He shot 72, his first over-par round in the JDC since 2008. His streak of 41 in a row at par or better came to an end.
And finally there was the unusual shortage of local PGA Tour players. Not even Wheaton's Kevin Streelman was on hand – and the scenario surrounding his absence from the $6 million event was a weird one.
Streelman had just won Monday's Rockford Pro-Am, a fixture around John Deere Classic time, at the Aldeen course in Rockford. After shooting a 6-under-par 66 there he made a quick check of his emails and found a most interesting one.
It read: "There has been a withdrawal from The Open. There is a space for you if you'd like to play? Thanks.''
Jonathan Tippletts-Aylmer, the Royal & Ancient Golf Club's entries manager, had sent it and Streelman was at a loss for words.
"My mind's everywhere,'' he said then.
And it was. Streelman had already committed to the JDC, an event he had played in eight times since 2009. Coming off his best finish in the tournament (a tie for seventh) last year, Streelman has been a JDC mainstay.
The news of the player withdrawal – it was John Daly, who pulled out because he wasn't allowed to use a cart – made national news. Streelman's elevation to the field didn't. He got into the British off his place on the Official World Golf Rankings, where he is No. 85.
Streelman was left with decisions to make on the fly. He could have still played in the JDC because tournament director Clair Peterson provides a charter flight to the British site immediately after his tournament ends. Streelman, though, needed to get his passport and proper clothing. Both were at his home in Arizona, and he also needed to line up a caddie for next week because his regular bag-toter wasn't going to make the trip..
So, Streelman made a heart-felt apology to Peterson before withdrawing from the JDC, then had a session with swing instructor Jim (Doc) Suttie at Black Sheep, in Sugar Grove, picked up his necessities in Arizona and headed across the pond for more on-site preparation there. Streelman has played in five British Opens, the last in 2015, and never did better than a tie for 54th place at Royal Liverpool the year before that.
Peterson's charter flight will take off on Sunday, but will be only about half-full. In 2010 a second charter flight was needed to get all the JDC participants to St. Andrews but only about 60 will travel to Royal Portrush on Sunday night.
Getting on that plane isn't Diaz' main concern, however.
"My goal right now isn't to get into the British Open,'' he said. "That's not in my mind right now. It's to get enough points to make it into the (FedEx Cup) playoffs. There are four events left, and this is crunch time.''
Diaz, nicknamed Porky, needs to get into the top 125 in the FedEx standings to make it into the first playoff event. He is now No. 158. Diaz' previous best round on the PGA Tour was a 65. In the last five rounds on the PGA Tour a player has posted a 62, Diaz being the most recent.
Long and Henley would like to be on the jet. Long, with a morning tee time, won the Desert Classic in California in January, then missed 11 cuts in the next 17 tournaments including the last three in a row. Henley, an afternoon starter, is trying to snap a string of four straight missed cuts.
Henley was paired with former world No. 1 Luke Donald, who is in the JDC field for the first time since 2003. He posted a 3-under 68.