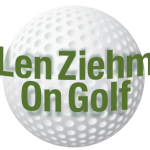 HILTON HEAD ISLAND, South Carolina – The Harbour Town Links, with its iconic lighthouse behind the No. 18 green, may give Hilton Head Island most of its international exposure, but this golf destination is more than just Harbour Town.
A lot more, in fact.
While Harbour Town — home of the PGA Tour's RBC Heritage tournament — celebrated its 50th anniversary this year, the rest of the island also enhances the area's reputation of being a golf mecca.
Harbour Town, along with Atlantic Dunes and Heron's Point, are all part of the Sea Pines Resort. Atlantic Dunes was the National Golf Course Owners Association 2018 Course of the Year.
"We're the drivers of why people come here,'' said Cary Corbitt, president of the South Carolina Lowcountry Golf Course Owners Association and vice president of Sea Pines, "but not everybody wants to just play Harbour Town and Atlantic Dunes – and we're fine with that.''
Fee to play Harbour Town generally tops $300 and at Atlantic Dune's it's upwards of $150. Both are extremely well-conditioned courses that draw about 30,000 rounds annually, but there's also perfectly fine public courses nearby that charge less than $100.
Those numbers are just fine with Corbitt, who came to Hilton Head when he was in college to work as a volunteer at the first Heritage tournament (won by Arnold Palmer), returned when he was done with college in 1974 and started at Sea Pines in 1978.
"Sea Pines is a family destination resort. We're not bashful about what we charge, but we don't feel we're uppity or better than anyone else,'' said Corbitt. "The other courses help round everything out.''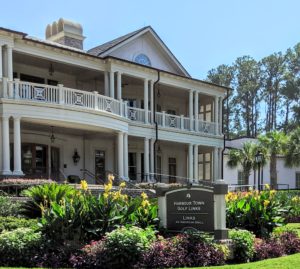 Hilton Head has 40,000 full-time residents. They benefit from the island's beautiful beaches as well as the golf, as both attract tourists. So does the nearly 300 restaurants – many of them solidly upscale – on the property.
Lodging is more than ample with more than 6,000 villas, condos and homes on the rental market and more than 20 hotels and inns also available. Custom-built golf packages are no problem.
The non-golf attractions are also plentiful. They're highlighted by the tennis academy at Sea Pines that is run by the legendary Stan Smith who won titles at both Wimbledon and the U.S. Open.
Hilton Head got its name because a ship owned by William Hilton first spotted the island over 300 years ago. Charles Fraser, son of one of the families that owned most of the island, started it on its way as a tourist destination when he drew up a master plan for a resort community in 1956. Hilton Head was incorporated as a town in 1983 but golf had arrived in 1962 when the Ocean Course opened.
Golf grew rapidly after that, but not without some major developments along the way. The Ocean Course was totally renovated by Davis Love III is now called Atlantic Dunes. Famed architect Pete Dye, who designed Harbour Town with consulting help from Jack Nicklaus, also is responsible for Sea Pines' other course, Heron's Point. That course started under the name of Sea Marsh.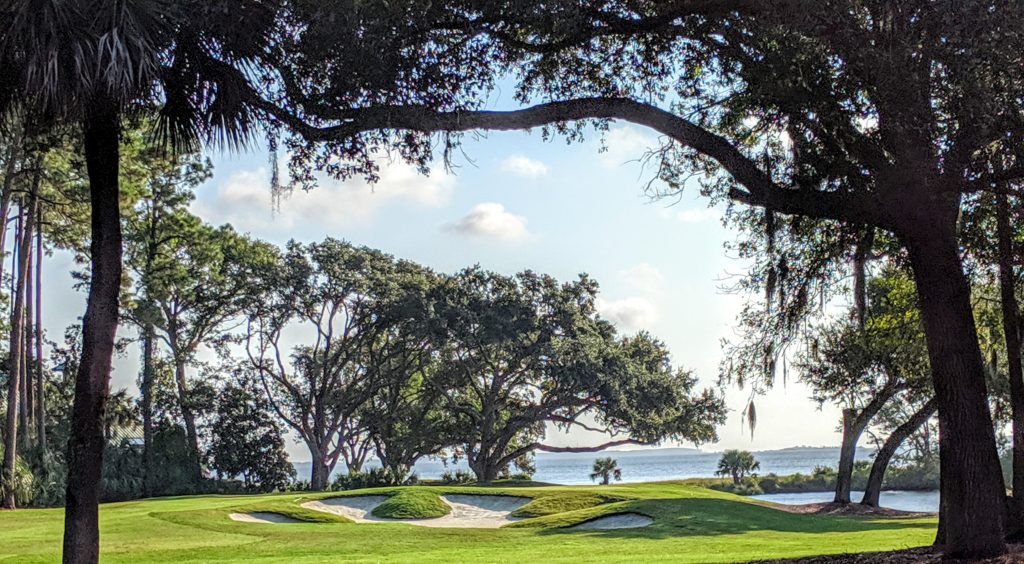 Now the golf landscape is spread around. Palmetto Dunes Oceanfront Resort has three courses on its 2,000 acres that are bounded by three miles of Atlantic Ocean coastline on one side and a sheltered Intracoastal Waterway on the other. This resort's featured course is the Robert Trent Jones Oceanfront Course, which has one hole on the ocean and was designed by Robert Trent Jones Sr. in 1967. The others at the resort were creations of George Fazio (the island's only par-70) in 1974 and Arthur Hills in 1986.
There's also the Heritage Collection, seven courses and 81 holes spread over three clubs. Oyster Reef, a Rees Jones design with – at least arguably – the best putting surfaces on the island, is not to be missed. Sixteen courses are on the island and there's also 13 off-island layouts close at hand.
All the courses are beneficiaries of the recently-expanded Hilton Head Island Airport. Last year it started twice weekly (Saturdays and Sundays) flights directly from O'Hare, so Chicago golfers could step right off the airplane and be on the first tee at many of the courses in a matter of a few minutes.
Even without that luxury transportation getting from Chicago to Hilton Head isn't a problem. Many more flights are available to the Savannah Hilton International Airport, which is just 45 minutes from the island.
And then there's the hurricanes. No doubt, they can be a problem but not even one of the strongest – Hurricane Matthew in 2016 – kept golfers off the Hilton Head courses for long.
Atlantic Dunes head professional Bobby Downs has worked in the golf industry on the island for 36 years. After 22 seasons at Palmetto Dunes he was eagerly awaiting the opening of Atlantic Dunes when Matthew struck at a most inopportune time.
"The Ryder Cup had just finished, and we (the U.S. team) had won,'' recalled Downs. "We had a great Grand Opening and Davis (designer and U.S. captain Davis Love III) was to be here on Sunday with the trophy, but three days prior we got hit by the hurricane and were shut down for three weeks.''
Tree damage was extensive, but Atlantic Dunes bounced back quickly, just like the Hilton Head courses have done for decades.
"In the end we were better off because a lot of trees that weren't meant to be there after 50 years were weeded out,'' said Corbitt.