HARBOR SPRINGS, MI. – Terry Carlson thought his working life was done after being a head golf professional in the Chicago area for 26 years and then getting a big sendoff into retirement at a prestigious club in Arizona.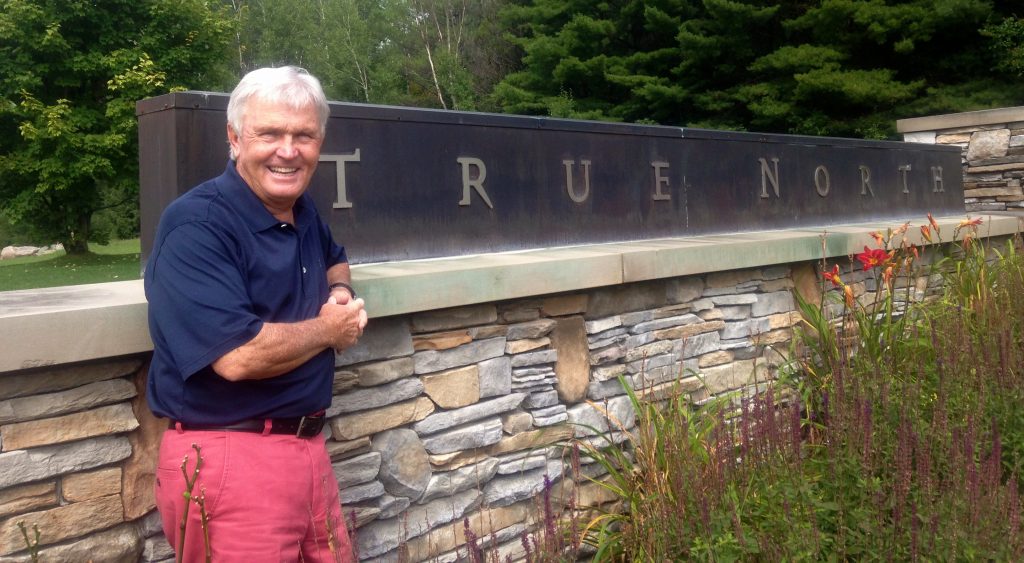 Forty years as a club professional plus one as a player on the Champions Tour seemed like plenty until Carlson got a call from one of his former members. He wanted Carlson to spend four summer months running the golf operation at True North, a northern Michigan club that had undergone an ownership change and was in transition.
"I never realized how beautiful the courses are here,'' said Carlson, who just reached his 70th birthday. "And I was overwhelmed when I saw this place. It's a top-50 golf course in America. Every hole is just gorgeous.''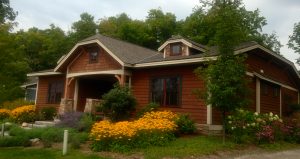 Carlson knows all about good golf courses. He was the head pro at Elgin Country Club for 10 years, then spent 16 in a similar position at Glen Oak in Glen Ellyn. While at Glen Oak he served term as president of the Illinois PGA.
Then he got a call from Estancia Club, a Scottsdale, Ariz., private facility that has a course ranked in America's Top 100 Courses by Golf Digest magazine. Its members include two-time Masters champion Bubba Watson and several other PGA Tour players. Carlson spent 14 years there.
In addition to his club duties in Arizona and Illinois Carlson was a good enough player to earn playing privileges on the Champions Tour for one season and play in nine major championships.
"I'm very proud of that. Club pros today don't get a chance to do that,'' said Carlson. "It was a great life for me.''
Carlson left Scottsdale after his retirement and moved to New Orleans to be close to family members. Then came the call from True North.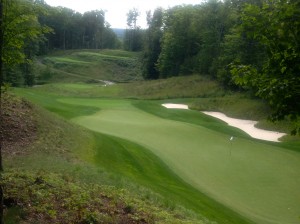 "I jumped at the chance to come here,'' said Carlson. True North has 67 members, and the list isn't quite like it was at Estancia with its array of PGA Tour players. True North, however, does have Notre Dame football coach Brian Kelly, former Michigan coach Lloyd Carr and the son of Hord Hardin, former chairman of the Masters tournament for Augusta National.
True North has an interesting history. Its designer was the well-respected Jim Engh, whose first Michigan design – Tullymore in Stanwood – was an immediate hit in the Midwest. True North, which opened two years later in 2003, is at least as good. Carlson calls it a "good, tough and fair'' layout. It measures 7,040 yards from the back tees with a rating of 73.2 and slope of 146.
"(Engh) has a specific style with his bunkering,'' said Matt Payne, True North's general manager. "What he did here was let the course flow with the natural terrain.''
The first ownership group wanted the course to be the centerpiece for a real estate development. That didn't work out. The next wanted to go fully public. That didn't work, either. The present four-man group of owners is moving in a different direction, with five new golf cottages built in the last two years to create a setting for a national membership..
"They wanted a fully private, low volume, high quality level experience,'' said Payne. "Our members just want a place to play when they come. We're pretty casual, a first-name club that's unique to the area. We don't need a lot of members to make the place successful. We just need the right people to make it successful.''



Northern Michigan is loaded with good golf courses, most of them public or resort layouts. But not True North. Payne says the initial target for members is 150.
"We're building a private club, which means we're trying to sell privacy,'' said Carlson. "We're kind of bucking the trend. This is a place where a guy who doesn't want to own a second home – and a lot don't these days – can come and stay in our cottages. We take care of everything from the moment he arrives until the moment he leaves and we can pick up him and take him back to the airport. For a guy looking for a vacation home, this is a pretty good choice.''
The club is offering generational memberships, meaning a member's privileges extend to a spouse, parents and all dependents of the members. The club is looking to fill the membership roster with more than just individuals, but with a lineage of legacy that will be with the club for many years down the road. The member also has the ability to transfer the membership to a dependent at any time.
National corporate memberships are also an option. The club is offering one-time visits for non-members to enable them to experience the club, the cost depending on rounds played, cart and lodging fees and transportation requirements. Details on how that works is available through www.truenorthgolf.com.